Former Indiana State Rep. Karlee Macer is officially running to become the next chair of the Indiana Democratic Party.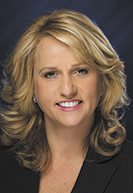 Macer, 49, who represented Speedway and the west side of Indianapolis from 2012 until Nov. 4, announced on Twitter on Monday that she would seek the position.
John Zody, who has been party chair since 2013, announced earlier this month that he would retire when his term expires in March.
Democrats suffered another round of losses in this year's election, losing the governor's race, the attorney general's race and the 5th Congressional District, even though political pundits believed the district was leaning Democratic.
Macer told IBJ on Friday that she was "certainly investigating the idea" of running for party chair.
"There is so much work that needs to be done," Macer told IBJ. "It seems insurmountable but it isn't."
One bright spot for the party was picking up one seat in the Indiana Senate, but the party lost four seats in the Indiana House, which allowed Republicans to strengthen their supermajority.
Democrats haven't controlled a statewide elected office since 2018, when then-U.S. Sen. Joe Donnelly lost his seat. In 2016, the party lost the governor's race, the U.S. Senate race and the superintendent of education race. In 2014, Democrats lost in three statewide races.
Macer told IBJ she wasn't blaming any one in particular for the losses.
"I believe we are all responsible for where we are today," Macer said.
In a statement on Twitter, Macer said the chair should lead the party "forward with energy, hard work and, most importantly, a solid plan for success."
The current challenges facing our party are immense but not insurmountable. I'm excited to announce that I will be running for chairwoman of the Indiana Democratic Party. Because now more than ever, it's time to roll up our sleeves and get to work. #DoingTheWork pic.twitter.com/A8wkCH0lzB

— Karlee Macer (@KarleeMacer) November 16, 2020
She said the party needs a "comprehensive strategy" and "workable infrastructure."
"We can and will operate as a well-oiled machine under strong leadership as we expand our outreach and continue our fight for all Hoosiers," Macer said on Twitter.
She told IBJ her goal is to have Democrats be in the majority in the Indiana General Assembly by 2030.
Macer is the first person to publicly announce plans to succeed Zody, but other candidates are expected to announce in the coming weeks and months.
Please enable JavaScript to view this content.