Benedict Polizzi started making comedy videos in high school, but it wasn't until he got a taste of the real world that he realized he'd rather make people laugh than toil away at a desk job.
Polizzi, 31, started making videos on TikTok last year, which caught the attention of the producers of HBO Max's "FBOY Island," a kind of self-parodying, in-on-the-joke reality TV show in which three women try to identify 30 men as either womanizers ("fboys") or genuine guys seeking a serious relationship. Polizzi shined in the show's second season, opening the door for new opportunities, like performing stand-up with Nikki Glaser, the host of "FBOY Island," in Las Vegas.
With more than 2.2 million TikTok followers and a blossoming career in comedy, Polizzi seems destined for more success—but he still carries Hoosier hospitality wherever he goes. When this reporter's pen stopped working, Polizzi offered him a Pilot G-2, which the reporter forgot to return to him. Call me if you want your pen, Ben.
What was life like growing up on Indy's south side?
I was pretty much raised in the Greenwood Park Mall. I played football at Roncalli High School. I never really got into comedy stuff there, just because of sports and everything. But I love the south side. I went to college at UIndy, then I transferred to Marian University, which was a good move, because I won the national championship there. After college, I went into a normal 9-to-5 design job because I really wanted to work for Nike. I got a job at Lids in Zionsville making apparel and hats, trying to break into the industry. And I was sitting there one day, and I was just like, "This isn't what I want to do."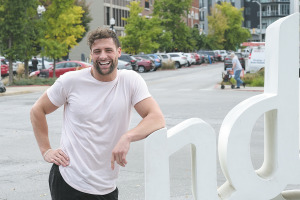 How did you get into comedy?
I was listening to podcasts andwatching stand-up while I was working at my desk, and I was like, "I want to do all this other stuff, not what I'm working on."
Then I worked at The Fan. I stayed up all night doing sports updates. … I was trying to get more into entertainment, but I didn't know how to do it, so I got into sports.
I always wanted to do stand-up, but I thought, "Who's going to come to my shows if they don't know who I am?" So I built a following online, doing videos. … I did my first show and sold it out, so I said, "Alright, I'm gonna keep doing videos and stand-up until I go broke or something happens." I just kept doing it and getting by, and I still do it. Not dead yet.
How did you end up on "FBOY Island"?
I was putting out content. … And they DM'd me, and they were like, "Do you want to be on the show? We think you'd be perfect for it." I wasn't going to, but when they told me what it was, I realized I would be perfect for it [laughs]. They flew me out to [Cabo San Lucas, Mexico], and we stayed in a hotel for two weeks. We couldn't even look out the door because they didn't want you to know who else was on the show. We didn't have our phones. It was crazy. I think they did that just so we'd lose our minds.•
Please enable JavaScript to view this content.