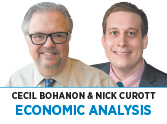 Anyone who wants to control the size of the federal government should be troubled by the budget policies of Congress and President Trump. On Oct. 26, the Treasury Department announced the deficit for fiscal 2019 was $984 billion, a seven-year high and a 28% increase over 2018.
Government expenditures have increased precipitously since Trump took office in 2017, while the federal budget deficit has grown nearly 50%. Consequently, the national debt has ballooned to nearly $23 trillion. That's more than $69,000 per U.S. citizen and a staggering $185,816 per U.S. taxpayer.
The debt explosion is disturbing because it has taken place during an economic expansion. Typically, the deficit shrinks when there is economic growth, because spending on unemployment relief and other programs declines and tax revenue increases. Not this time.
Spending has increased largely because of bipartisan deals struck by Congress last year. Democrats successfully pushed increases in other parts of the budget in exchange for supporting an increase in defense spending from $550 billion in 2017 to over $700 billion in 2019. Meanwhile, tax revenue has decreased, mainly due to the recent tax cuts.
Interestingly, the spike in budget deficits has occurred under a Republican president and, until recently, a Republican House and Senate. But is that really so unusual? Of the five presidents who presided over the largest percentage increases in the national debt over the last 70 years, four were Republicans. Ronald Reagan's term saw the largest increase in the debt, at 186%; followed by George W. Bush, at 101%; Barack Obama, at 74%; George H.W. Bush, at 54%; and Gerald Ford, at 47%.
Republican presidents have often been successful at cutting taxes but have not been as successful delivering on promises to cut government spending. Contrary to popular belief, every Republican president since Herbert Hoover has increased the size and scope of the federal government. Nothing different this time.
During the 2016 presidential campaign, Trump pledged to eliminate the national debt entirely in eight years. But so far, there has been little prioritization of policies to reduce the size of the deficit. Republicans in Washington who advocated fiscal responsibility while Obama was president have largely abandoned that goal.
Rhetoric is one thing, but actions speak louder than words. Both Democrats and Republicans are parties of big government, fiscal irresponsibility and unmanageable debt. We are not sure how this movie ends, but as of now, there is no happy ending in sight.•
__________
Bohanon and Curott are professors of economics at Ball State University. Send comments to ibjedit@ibj.com.
Please enable JavaScript to view this content.