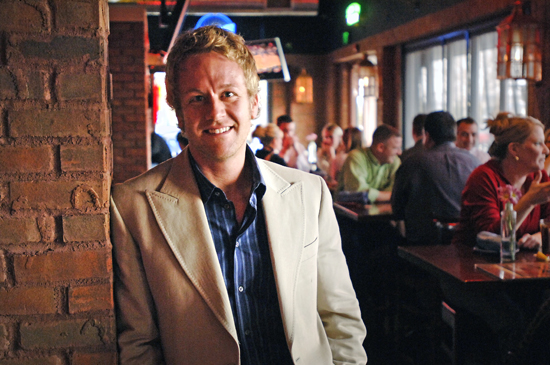 Longtime central Indiana restaurateur Scott Wise has joined commercial real estate firm CBRE as a vice president and broker in the Indianapolis office.
Wise, who founded the once-flourishing Scotty's Brewhouse restaurant chain, started Tuesday with the company. He joins a team of 12 brokers in the retail division of Los Angeles-based CBRE's Keystone at the Crossing office.
"I am thrilled to be an advocate for fellow restaurant owners," Wise told IBJ. "I think by using all the knowledge I've soaked up (over the years), I can now help somebody else either avoid a mistake I made in the business or maybe pivot and do something even greater with their lease opportunity."
Wise, 46, is best known for owning and operating Scotty's Brewhouse and its sister restaurant Thr3e Wise Men. He started Scotty's in Muncie in 1996, after graduating from Ball State University.
He opened 17 Scotty's restaurants in four states before selling his company to Scottsdale, Arizona-based Due North Holdings LLC and Japanese firm Sase Kosan K.K., in late 2016 for around $10 million.
Several locations closed in late 2018—including the original Muncie location—when Indianapolis-based Scotty's Holdings LLC filed for Chapter 11 bankruptcy. Most of the company's restaurants are now closed, though two independent locations in Illinois remain open.
Wise is still dealing with lawsuits related to the company's fallout, along with a personal bankruptcy that he said resulted from his decision to personally guarantee leases for some of the Scotty's locations.
He said the decision to try something new was made well before the legal issues began, when he was working to open new Scotty's locations as vice president of restaurant operations for the Luke Family of Brands after selling off his company.
He said it was then he began to talk with several friends working in the restaurant and commercial real estate industries, picking their brain about what his next move could be.
"I was on the fringe, watching what was happening with the whole Scotty's corporation," he said.  "I felt like it was time for me to figure out really what I wanted to be when I grew up."
Earlier this year, Wise partnered on a new venture, Roots Burger Bar, in the spot in Muncie where the first Scotty's was located.
At the time those plans were announced, Wise told IBJ he was "excited to get back to" more hands-on management of restaurants. 
Wise said he is one of six investors in the restaurant—the largest single shareholder—but told IBJ he does not have any involvement in the day-to-day operations, and those are handled by a general manager.
David Funke, managing director of CBRE's Indianapolis office, said in written remarks he is "tremendously excited" to have Wise on the roster, and said he believes the restaurant connection will be beneficial for both the newly minted broker and his clients.
Wise is not expected to carry listings right away, instead focusing on formal training, following local market research and building relationships.
He will work closely with industry veteran Steve Delaney—who also owned and operated restaurants before going into real estate brokerage—though they won't be official partners. Delaney joined CBRE when the company bought Sitehawk in 2015.
"The restaurant background will be a tremendous asset for him, which will provide instant rapport with restaurant operators and other retailers," Delaney said in written comments.
Wise said he is eager to help other entrepreneurs with site selection and leasing negotiations, along with the other ins and outs of the restaurant business he's come to know so well over the past two decades.
"This is a great crossroads that allows me to still kind of be on the fringe of this industry that I love," he said. "I'm thankful to have an opportunity where I I can help other people be more successful than I ever have been and avoid things that I've gone through."
Please enable JavaScript to view this content.