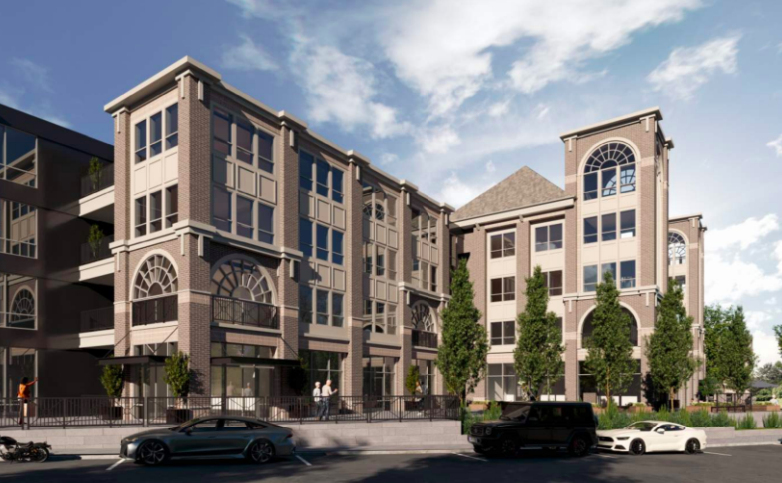 A Carmel location of Stout's Shoes has been absent from the northeast corner of Old Meridian and Main streets for about a year, but the longtime local retailer will return to the same spot as part of a mixed-use building known as The Signature.
Brad Stout, president of Stout's Factory Shoe Store Co., said his family-owned company will own a 16,000-square-foot "retail condominium" on the first floor of the building that's expected to open later this year.
Stout's plans to occupy as much as 3,500 square feet while leasing four other spots to retailers. Stout, the great-grandnephew of Harry Stout, who opened the Mass Ave location of Stout's Shoes in Indianapolis in 1886, said a fast-casual restaurant and a hair salon have signed letters of intent to become two of the tenants.
Stout's has landlord status within The Signature because the shoe store sold the roughly 4-acre site to Indianapolis-based Tegethoff Development, which is building condominiums and apartments as well as a 389-space public parking garage.
After closing in 2021 at 13155 Old Meridian St., Stout's entered a purchase agreement with Tegethoff that resulted in a horizontal property regime. A horizontal property regime allows for condominiums, such as the 16,000-square-foot retail space, to be owned independently while an HOA manages the entire property.
Leasing space to other retailers isn't anything new for Stout's, which bills itself as the oldest shoe store in the United States.
On Mass Ave, Stout's is landlord to next-door neighbor and taco restaurant Bakersfield.
"We wouldn't have been around for 136 years had we not owned the real estate to begin with," Stout said.
Stout said his company owns the Brownsburg shopping center that includes a Stout's Shoes location and the Greenwood shopping center that includes a Stout's.
In addition to Stout's roster of brick-and-mortar stores, the company has an ecommerce presence at Shoestores.com that accounts for about one-third of overall sales. Orders ship from the Greenwood store daily, Stout said.
The original Carmel store opened inside a former Burger Chef building in 1985. Stout said the retail environment near the intersection of Old Meridian and Main streets wasn't necessarily encouraging at the time, because of recent closings of a Kroger store and a Vonnegut Hardware location.
On the bright side, a St. Vincent hospital opened the same year at 13500 Old Meridian St.
"That was my inkling that things were going to start moving in the right direction," Stout said.
Please enable JavaScript to view this content.