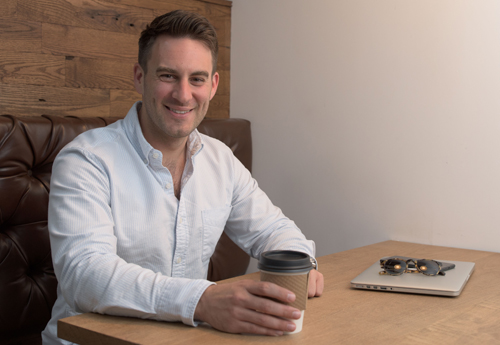 A leader in the Indianapolis tech community is jumping into state politics.
SupplyKick CEO Josh Owens confirmed to IBJ on Monday that he is running for governor as a Democrat because he thinks the state needs bigger and bolder ideas for the future.
The Shelbyville native has never held elected office, and his only campaign experience was an unsuccessful run for an at-large seat on the Indianapolis Public Schools board in 2014, but he said his experiences in teaching and managing one of the state's fastest-growing companies makes him qualified for the position.
"Our leaders should come from a diverse background, from a diverse set of experiences, and I think I help bring that to our state," Owen said.
Before joining SupplyKick about four years ago, Owens spent time working in marketing  and finance for Angie's List and as director of business development for One Click Ventures. He has also taught economics and statistics courses at Butler University, worked on economic policy for the U.S. House of Representatives in 2013 and served on the Indiana Charter School Board from 2015 until August this year.
"Politics and governing are different, but the lessons learned are all the same," Owens said. "It's about how you work with people, do you bring the right people to the table and are you meeting people where they are?"
Owens, an IBJ Forty Under 40 honoree in 2019, said education will be his top issue and believes that Indiana teachers need to be paid higher salaries.
At SupplyKick, Owens is known for implementing a policy several years ago that set the minimum annual pay for any employee at $50,000. He said he would be open to exploring a similar policy statewide for teachers.
"They are on the front lines of creating the next new Indiana economy," Owens said. "They're educating our future, and we have to treat them with respect and we have to pay them the right way."
He said will also focus on economic development, gun safety, health issues like the opioid epidemic, climate change and making the state inclusive for all Hoosiers.
Owens is the youngest candidate in the race so far at age 34 and would be the state's first openly gay governor. His husband, Andy, is an opera singer.
He said he thinks Hoosiers "are more than ready for a queer governor," but it's not the most important part of his campaign.
"Hoosiers are a welcoming group," Owens said. "I think sometimes our politicians and our policies haven't reflected that."
He said he was unhappy with the outcome of the hate crimes law passed earlier this year and would seek to change it to make it explicitly more inclusive.
"Indiana wound up with a bill that didn't protect all Hoosiers," Owens said. "All Hoosiers should be protected and welcomed no matter where they are in the state."
On economic development, he said he thinks the state's incentive program should be more focused on wage growth rather than job growth.
He also wants to increase the smoking age, decriminalize marijuana, implement universal background checks on a state level and require colleges to have pathways to degrees in three years rather than four to help reduce the cost of higher education.
Owens is the second Democrat to officially decide to run—former Anthem Inc. executive and state health commissioner Woody Myers announced his campaign in July.
Republican Gov. Eric Holcomb is seeking re-election and is expected to be favored to win, as he enjoys strong approval ratings and had $6 million cash on hand for his campaign as of July. Holcomb could also face a primary challenge from Brian Roth, president of a consulting and leadership development firm called Employment 2 Deployment LLC, who filed paperwork to create a gubernatorial campaign committee last week.
Owens said he will step back from his day-to-day role with SupplyKick while he focuses on his campaign, but for now he is not leaving the company.
He said he's been exploring the idea of running for the past three to four months and has been encouraged by early conversations with residents and Democratic party leaders.
"I think there's hunger," Owens said. "I think there's excitement."
Please enable JavaScript to view this content.