11:45 p.m., April 5
Local sports execs heap praise on city leaders
Officials with the Indianapolis Colts and Indiana Pacers are heaping praise on local leaders for their role in pulling off an entire NCAA Tournament with only a few months to prepare.
Pete Ward, chief operating officer of the Colts, told IBJ he's proud of what the city was able to accomplish.
"It's been a tremendously complex event, with the various teams and venues, but as far as I've seen it has been handled in typical Indy fashion—which is first class," he said in a text message.
Rick Fuson, chief operating officer of Pacers Sports & Entertainment echoed the sentiment.
"I could not be more proud of our city and our effort," He said. We are grateful to the [NCAA], the city and state and our thousands of volunteers.  Indy was built for this."
The praise is among the early rave reviews Indianapolis has received in its turn hosting this year's tournament and Final Four.
Local leaders and tourism officials were also celebrating Monday night, as they took in the game at Lucas Oil Stadium.
"Did I tear up [three to seven] times between the National Anthem, the starting line-up, and tip-off?" tweeted Taylor Schaffer, chief of staff for Indianapolis Mayor Joe Hogsett. "Yes, yes I did. No better place than Indy to host this once-in-a-lifetime March Madness."
Did I tear up 3-7 times between the national anthem, the starting line-up, and tip-off? Yes, yes I did. No better place than Indy to host this once-in-a-lifetime March Madness. pic.twitter.com/6XBZZk7mPJ

— Taylor Schaffer (@tschaffer1) April 6, 2021
—
11:30 a.m., April 4
Sunday's activities include Fan Jam on the Circle, Swish concerts
As the NCAA prepares for Monday's championship game between Gonzaga and Baylor, there are a few downtown activities today for those fans who want to get a taste of the Final Four experience.
The NCAA has a schedule of events for the full weekend, but here are the activities for today:
—
10:33 p.m., April 3
Nosebleed seats good for camaraderie
Section 619, Row 24 is perhaps as far as you can get from this year's Final Four court and still be inside Lucas Oil Stadium.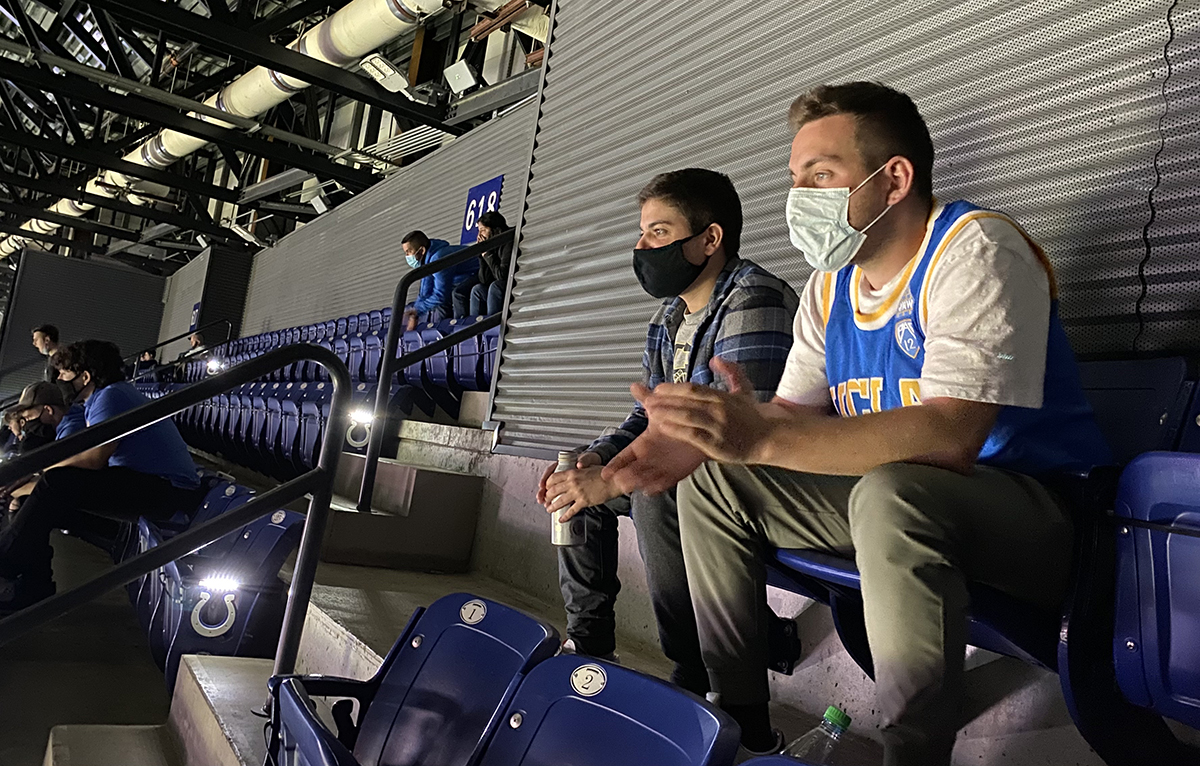 On Saturday night, that's where bandwagon UCLA fans Andrew Rosenstein and Michael Berman found themselves pulling for a Bruins upset against No. 1-seeded Gonzaga. The longtime friends and Philadelphia natives spent about $475 each for their seats, after fees (the tickets themselves cost about $400 each). Similar tickets are selling on the secondary market for no less than $550 for Monday's title game.
But to hear them tell it, sharing in the excitement easily beat watching from home.
Rosenstein is an Indiana University-Bloomington student, and Berman came to visit for the weekend to partake in the Final Four festivities.
"It was more [about] being in the building," said Rosenstein. "I went to three other games in the tournament, too. [Berman] and I came in for the weekend to witness the Final Four here and be in the city, enjoying the atmosphere. We just wanted to be here."
The men said they're cheering for UCLA because the No. 11-seeded team is the underdog, but also because Berman is a fan of the legendary, late Bruins coach—and Indiana native—John Wooden.
Rosenstein said the lower capacity due to COVID-19 restrictions made the court far easier to see than it would have been otherwise but left the experience somewhat lacking.
"I think that these seats would be a lot different—not for the better—if it was 100% capacity, with people standing up and not having a clear view path," he said. "But it would be crazy to see the atmosphere here with 100% capacity."
The men said the experience was well worth the price of admission, even with a first game that was a blowout—the 78-59 Baylor win over Houston. But it would be even better if UCLA pulls off the historic upset.
"UCLA has the chance to make history," said Berman. "If UCLA wins, who cares what happened the first game? This was incredible."
—
7:33 p.m., April 3
Baylor whups Houston to earn trip to championship game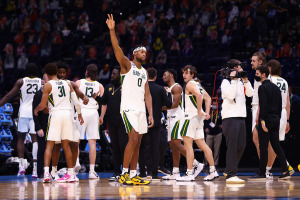 Baylor has cruised into the NCAA championship game and will wait to see if No. 1 Gonzaga can provide the much-anticipated final.
Jared Butler didn't score in the second half, but the second-ranked Bears didn't need any more points from their All-American guard after he scored 17 to help them take a 25-point halftime lead in a 78-59 victory over Houston.
Gonzaga, the tournament's No. 1 overall seed, plays 11th-seeded UCLA in the late game.
It's the second trip to the championship game for Baylor. The other was in 1948, when the Bears lost to Kentucky 58-42. This is Baylor's first trip to the Final Four since 1950, when only eight teams were in the tournament.
Read a full story and see a photo gallery.
—
7:00 p.m., April 3
Some suites in Lucas Oil Stadium occupied for Final Four
Despite some skepticism about demand for suites in Lucas Oil Stadium for the Final Four, most of the suites in the southern half of the stadium's seating bowl appeared to be in use Saturday night, with many occupied by alumni and fan groups.
The southern side of the stadium has 77 suites between two levels. At least 45 of them appeared to be in use—including eight upper-level suites reserved for media members covering the games.
At least four suites on the upper level appeared to be occupied by Baylor fans during the first game, along with one occupied by fantasy sports company FanDuel and another by Indianapolis-based Mays Chemical.
Experts have told IBJ that because many companies are still not traveling or spending money on luxuries, suite demand likely would be lower for this year's tournament than in years past.
Many corporate groups also quashed plans for parties and other gatherings outside of the games.
It was not immediately clear how much occupants of suites were paying for the experience. But the Suite Experience Group, a broker that sells suites for Lucas Oil Stadium, has a suite listed for the Final Four, with a starting price tag of $20,000. The lower, corner suite includes 10 tickets.
—
6:35 p.m., April 3
IUPUI journalism students get front-row, pro-level experience covering tourney
A student in IUPUI's Sports Capital Journalism program is covering Saturday's Final Four games at Lucas Oil Stadium—the ninth year since 2012 the program has been recognized as credentialed media for the event.
Alex Burr is covering both Final Four games for the program. Another student will work the national championship game on Monday night. Burr also covered a first-round game at Indiana Farmers Coliseum.
Both opportunities, he said, "have been mind-blowing to me," Burr told IBJ in an email at halftime of the Houston-Baylor game. "I cannot believe I am sitting on the baseline for the Final Four in the town I went to college in, having one of the best seats in the house for this set of games."
The program is run by longtime journalist-turned-educator Malcolm Moran, who last week was presented the Inspiring Sports Storyteller Award by the Indiana Sports Corp. for his role in fostering the IUPUI sports journalism program. Moran is also the executive director of the United States Basketball Writers Association.
"Malcolm and the Sports Capital Journalism (program) have given me a great resume builder here; I am just hoping I can make the absolute best of it," Burr said.
Seven students, including Burr, have covered the tournament's first 64 games: Masters candidates David Hayden, Owen Kaelble and Jordan Morey; seniors Caleb Lynn and Devin Voss; and junior Nicole Reitz.
The young journalists have authored sidebar pieces, listicles and other content for NCAA.com and the IUPUI program's website. IUPUI students have been credentialed for the Final Four since 2012 (but not in 2020, when the tournament was canceled), as well as other major sporting events held in Indianapolis and beyond.
—
3:56 p.m., April 3
National anthem singers represent Indiana's March Madness host schools
The singers performing the national anthem for the Final Four games on Saturday at Lucas Oil Stadium have been culled from the six Indiana universities that have played host to March Madness this spring.
The singers are also athletes representing Ball State University, Indiana University, Indiana State University, IUPUI and the Horizon League, and Purdue University.
The singers and their sports are:
—Lauren Hall, Ball State University, women's soccer;
—Megan Carr, Butler University, dance team;
—Max Scott, Indiana University, swimming;
—Emily Brady, Indiana State University, track;
—Shakana Norfleet, IUPUI, volleyball; and
—Will Champan, Purdue University, football.
The performance will begin at about 5 p.m., just before the tipoff of the Baylor-Houston national semifinal.
—
8:30 a.m., April 3
Schedule for Final Four games, broadcasts
Baylor (1) vs. Houston (2), 5:14 p.m., CBS, Lucas Oil Stadium
Gonzaga (1) vs. UCLA (11), 8:34 p.m., CBS, Lucas Oil Stadium
National championship: Monday
TBD, 9:20 p.m., CBS, Lucas Oil Stadium
—
8 a.m., April 3
Lots to do downtown this weekend
Don't have a ticket but looking to be part of the Final Four atmosphere? The NCAA has a schedule of events, experiences and opportunities for everyone. Here are the activities for today:

—
11: 20 p.m., March 30
Official collapses, wheeled off court on stretcher
Official Bert Smith collapsed on the floor early in the Elite Eight game between Gonzaga and Southern California and had to be taken off the court on a stretcher.
Smith had just set up on the baseline as the Trojans were moving onto offense when he collapsed and hit his head on the floor.
He stayed down for about five minutes, and then was able to stand up and move to a nearby stretcher. He was alert and sitting up with his arms crossed as he was taken off the court.
In a statement, NCAA spokesman David Worlock said Smith is "alert and stable," and won't be transported to a hospital. Worlock also said Smith has been in contact with his family.
Worlock's statement didn't specifically state the nature of Smith's "medical issue," though CBS Sports rules analyst Gene Steratore said on the TBS broadcast that Smith was feeling "lightheaded," leading to the fall. He said Smith was being treated by trainers in the locker room.
Smith was officiating his second Elite Eight. He was replaced by an alternate, Tony Henderson, who had been at the scorer's table. Additionally, Tony Chiazza—the standby official for the UCLA-Michigan game later Tuesday—would also serve as the standby official for the remainder of the USC-Gonzaga game, Worlock said.
The matchup was the 70th game Smith has worked this season, according to kenpom.com. He has officiated in multiple conferences.
—
11 p.m., March 29
Baylor women's coach calls for end of COVID-19 testing at NCAAs
Baylor coach Kim Mulkey thinks the NCAA should do away with COVID-19 testing for the Final Four and implied Monday night that players should be able to participate in those games even if they're infected with the coronavirus.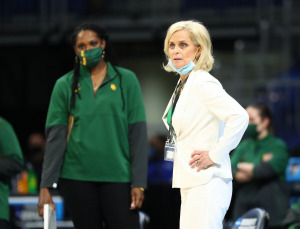 "I don't think my words matter, but after the games today, tomorrow, there's four teams left I think on the men's side and the women's side," Mulkey said, unprompted, after her team lost to UConn 69-67 in the Elite Eight. "They need to dump the COVID testing."
Players and coaches at both tournaments have been tested daily and have been wearing devices that help assist with contact tracing. As of Saturday, there had been two confirmed positive tests at the women's tournament with over 15,400 administered.
The last positive result among the players, coaches and others working at the tournament was reported on March 22 from daily antigen testing. Any false positives are quickly retested using a PCR test, which is considered more accurate.
"Wouldn't it be a shame to keep COVID testing and then you got kids that end up having tested positive or something, and they don't get to play in the Final Four," Mulkey said. "So you need to just forget the COVID tests and let the four teams that are playing in each Final Four, go battle it out."
Mulkey tested positive for COVID-19 in January, forcing the cancellation of Baylor's regular-season meeting with UConn.
—
11:15 a.m., March 28
Michigan women's team makes emergency landing in Indiana
The University of Michigan women's basketball team has safely returned to Ann Arbor after their flight was forced to make an emergency landing in Indiana late Saturday.
"We were flying through a storm and lost pressure on our plane," team spokesperson Sarah VanMetre said in a statement. "The oxygen masks came down and we made an emergency landing in Evansville."
No one was injured, she said.
The Wolverines were returning to Ann Arbor from San Antonio after they lost to Baylor 78-75 in overtime in an NCAA Tournament Sweet 16 matchup Saturday afternoon.
"Just went through the worst flying experience," Michigan assistant coach Toyelle Wilson wrote on Twitter. "We are flying back to MI & hit a storm-lost pressurization- the oxygen masks dropped from the compartments. Told bc we dropped at a certain feet & had to use them."
Wilson posted a photograph on Twitter of coach Kim Barnes Arico, her staff and team in the plane, a Boeing 737-400, about 15 minutes after it had landed in Evansville.
The team spent ordered pizza and eventually was able to board a flight that left the gate at 3:47 a.m. Central time, and was in the air at 3:54 a.m., VanMetre said.
The Wolverines landed at an airport in Ypsilanti at 5:54 a.m. Eastern time Sunday.
—
9:40 p.m., March 27
PAC-12 powers into Elite Eight
The Pac-12 will occupy at least 25% of the Elite Eight.
Oregon State's victory ensured the conference will have at least two teams in the regional finals. No. 11 seed UCLA would become the second of three Pac-12 representatives if its beats No. 2 Alabama in the East Region on Sunday. The final Sweet 16 game of the weekend is an all-Pac-12 matchup: Sixth-seeded USC against No. 7 seed Oregon in the West Region.
"Our whole league, Pac-12, we've been trying to tell you guys in the media for the last couple years the Pac-12 is really good," USC coach Andy Enfield said. "Last year was exceptional. This year, the same."
The last time the Pac-12 had at least two teams in the Elite Eight was 2007, when both UCLA and Oregon made it. The conference had three teams — Arizona, Stanford and USC — reach the regional finals in 2001.
—
9:30 p.m., March 27
Oregon State is 18th double-digit seed in Elite Eight
Add Oregon State to the relatively short list of double-digit seeds that have reached a regional final in the NCAA Tournament.
The Beavers became the 18th team seeded 10th or lower to reach the Elite Eight since the field expanded to 64 teams in 1985 when they beat Loyola Chicago 65-58 on Saturday. Coach Wayne Tinkle's team is the second No. 12 seed to make a regional final, joining Missouri in 2002. Those Tigers ended up losing to No. 2 seed Oklahoma 81-75 in the regional final.
"It's an amazing feeling to be just part of the success, really," Oregon State star Ethan Thompson said. "Beaver Nation has waited a long time. And when coach Tinkle and the rest of the coaching staff got here, this was the goal in mind to turn it into successful basketball. And we're here now. So it's just been a great feeling and extremely blessed to be a part of it."
Only five of those 18 double-digit seeds have gone on to reach the Final Four — three in the past decade. Loyola Chicago got there as an 11 seed in 2018. The others were Syracuse (No. 10 seed in 2016), VCU (No. 11 in 2011), George Mason (No. 11 in 2006) and LSU (No. 11 in 1986).
Other double-digit seeds to reach the Elite Eight include Davidson in 2008 as a No. 10 seed led by Stephen Curry; Gonzaga in 1999 as a No. 10 seed that started its run of 22 straight tournament appearances; and Loyola Marymount as a No. 11 seed in 1990 following the death of star Hank Gathers.
—
10 a.m., March 25
The Big Ten is making big mark so far on the Sweet 16—in the women's tournament, not the men's
The Big Ten Conference has made a major mark on the Sweet 16 with a record four teams left in the NCAA Tournament.
Indiana, Iowa, Maryland and Michigan have all reached the regional semifinals. The league had only four teams combined make the Sweet 16 in the four previous tournaments.
Big Ten Commissioner Kevin Warren couldn't be happier about his league making history.
"Thank you to our student-athletes, coaches, athletic directors, staff, chancellors and presidents for their tremendous effort, grit and leadership."
Wolverines coach Kim Barnes Arico, who's team ousted third-seeded Tennessee on Tuesday, said she left her former job at St. John's because she wanted to bring the feeling of success to Michigan's women's program.
"It's great for the rest of the country to see that Michigan is not only a football and men's basketball school but it's also a women's basketball school," she said.
Iowa, led by freshman guard Caitlin Clark, is part of the final 16 for the third time since 2015. The Hawkeyes reached the Elite Eight in 2019 before falling to eventual national champ Baylor.
Maryland, too, has a history of success in the NCAAs under coach Brenda Frese, reaching the Sweet 16 eight times since 2006 when it won the national championship. This, however, is the Terps' first such trip since 2017.
Indiana advanced for the first time in its history by defeating 12th-seeded Belmont.
—
10 a.m., March 22
Illinois' Cockburn targeted in racist post after NCAA loss
Illinois big man Kofi Cockburn is the second player to face racist comments on social media following a loss in the NCAA Tournament.
Cockburn shared on Instagram a racist social media post directed at him after the top-seeded Illini lost to No. 8 Loyola Chicago on Sunday.
Cockburn, who was born in Jamaica but later moved to New York, posted a screenshot of the post and responded by writing: "I blame his parents."
Cockburn's post came a day after Ohio State's E.J. Liddell received threatening and insulting social media messages following the second-seeded Buckeyes' loss to No. 15 seed Oral Roberts. He posted images of the messages, including one that said "I hope you die I really do." Other messages included racist insults.
"Honestly, what did I do to deserve this?" Liddell posted on Twitter. "I'm human."
Ohio State has contacted police about the language directed at Liddell.
A school spokesman said Illinois is still gathering information before deciding whether to involve law enforcement.
—
9:30 a.m., March 22
Conference power shuffle
The Big Ten and Big 12 were supposed to be the power conferences of this year's NCAA Tournament.
Only two of their teams made it past the second round.
The Big Ten, which led all conferences with nine teams in the bracket, started losing early and never really stopped.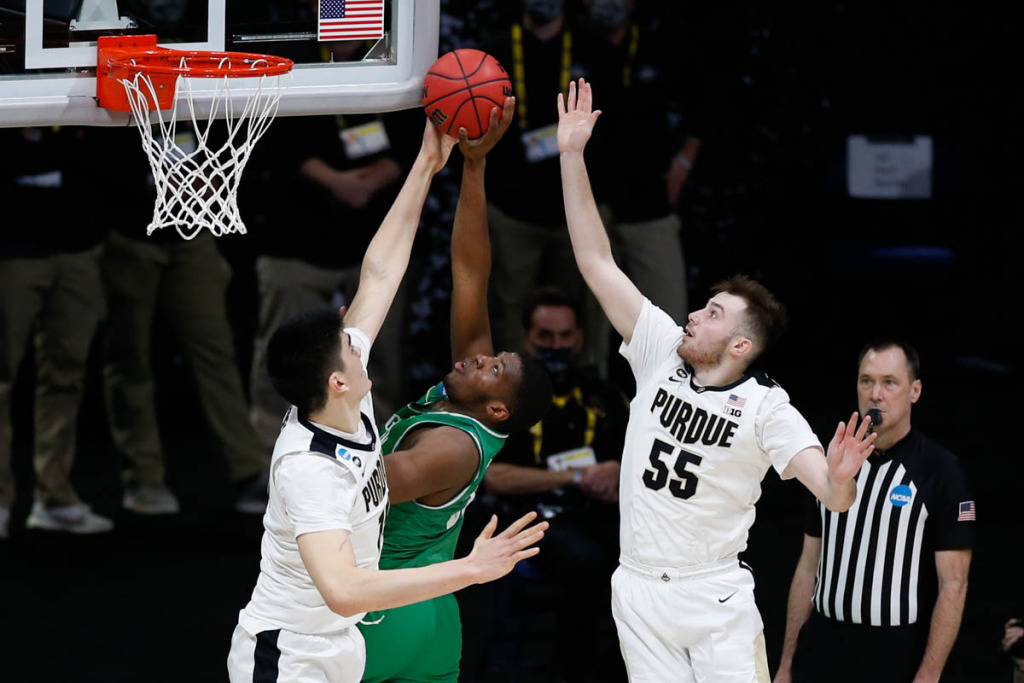 Ohio State, Michigan State and Purdue all lost their initial games. Wisconsin, Rutgers, Iowa, Maryland and Illinois lost after winning their openers. The Illini became the first No. 1 seed to be eliminated when they fell to Loyola Chicago.
Michigan at least lived up to its No. 1 seed, beating LSU to reach the Sweet 16.
The Big 12, which had seven teams make the bracket, didn't fare any better.
Baylor, the No. 1 seed in the South Region, has looked strong and is headed to the Sweet 16. Texas was upset in the first round by Abilene Christian. Texas Tech, Oklahoma, Oklahoma State and West Virginia each won their first games, but were gone after the second round. They were joined late Monday by Kansas, which was blown out by Southern California.
By far the best conference through the first two rounds was the Pac-12, with four teams in the Sweet 16.
Picked on for supposedly being weak, Pac-12 teams have been kings of the bracket. Oregon beat Iowa on Monday to reach the Sweet 16, giving the league wins in its first nine games. Those included the Ducks' first-round walkover against VCU, which couldn't play because of a COVID-19 outbreak.
Oregon State, the surprising Pac-12 Tournament winner, USC and UCLA also are through to the Sweet 16. The Pac-12′s perfect run ended when Colorado lost to Florida State.
"I feel like we don't get the respect that we deserve. It looks good on our conference," Oregon guard Chris Duarte said. "It tells you guys that our conference, we have talent, and we are really good."
9 a.m., March 22
A massive food tent
Fans headed to the Michigan vs. Louisiana State game on Monday night had to pass a huge "tent" under construction outside.
We put tent in quotes because it's a large steel-framed structure with canvas sides.
IBJ asked the Indiana Sports Corp. what's going there and we got this answer: "CBS catering."
Makes sense. The NCAA broadcast partner has thousands of staffers on the ground covering the games.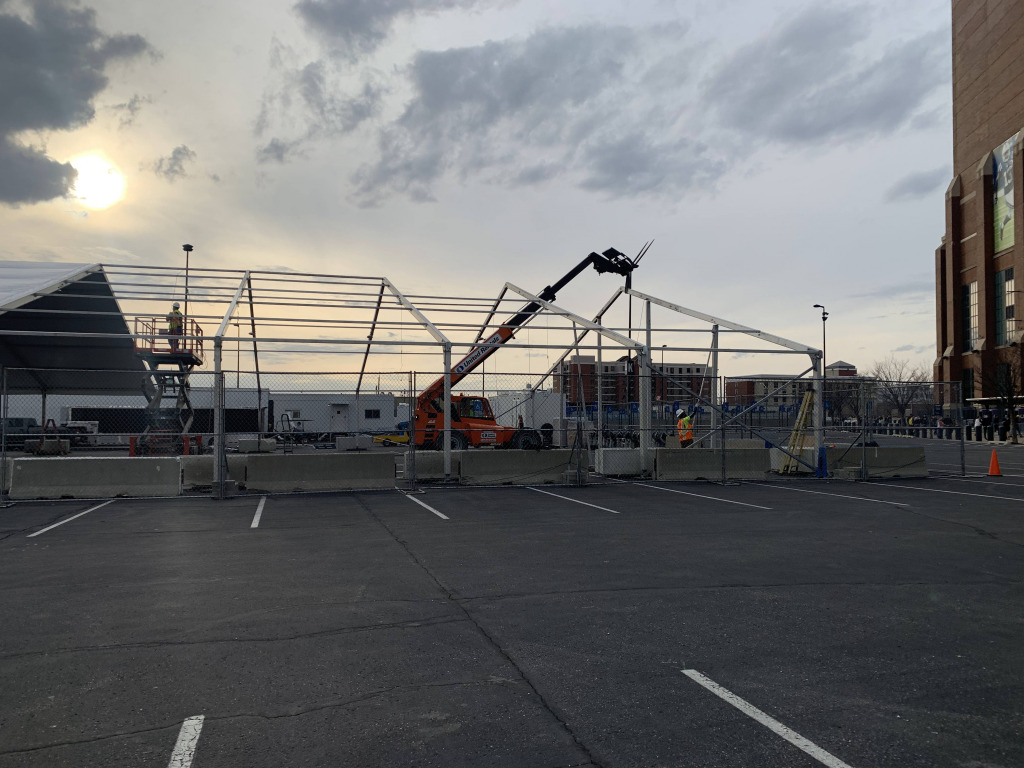 —
10 p.m., March 21
Power outage delays start of final second round game
The start of the Midwest Region game between Oklahoma State and Oregon State at Hinkle Fieldhouse in Indianapolis was delayed for nearly 20 minutes because of a power outage.
People inside the building heard a pop as the building lost most of its power, shutting off arena lights and the scoreboard as well as the postgame Zoom news conference for the teams after the Texas Tech-Arkansas game.
The lights and power came back up quickly, with tournament officials gathering on the court before team staffers and a few players returned to the floor for the final game of the day.
—
9:05 p.m., March 21
Crowd at North Texas, Villanova game small but loud
The final game of the night at Bankers Life Fieldhouse just tipped off to a relatively sparse crowd. Several of the suites for the game—between No. 13-seed North Texas and No. 5 Villanova—are occupied, but there aren't many people in the stands here.
That said, the North Texas contingent is rather loud and excited, erupting every time the underdog school forces a turnover or grabs a rebound—never mind when they score a three-pointer. North Texas has never been here before, while Villanova, the 2018 National Champions, has a multitude of times.
It'll be interesting to see if the crowd stays into it throughout the game, with a Sweet 16 berth on the line. Three more games are expected to start in the hours ahead, but this might be the one to keep an eye on for those watching at home.
—
4:30 p.m., March 21
Bottleworks District packed for third straight day
Hundreds of people packed Carrolton Avenue in the Bottleworks District on Sunday afternoon for a third day of tournament watch parties and other festivities there.
Most of the people were not masked, and the size of the crowd made it difficult for people to social distance to the standards set by local and federal health officials. The watch party is part of the Bottleworks B-Ball Bash event that has been underway since Friday.
The event features two 20-foot LED screens broadcasting tournament action, and dozens of tables set up along the brick roadway to welcome fans wanting to enjoy an outdoor experience.
Dozens of people also watched games inside The Garage Food Hall, although more people appeared to be taking precautions by wearing masks while walking around and sitting at tables that were not immediately next to each other.
Anecdotally, a security guard told IBJ that an unknown individual late Saturday night stole the letter C from the word "Welcome" on a massive sign in front of the Bottleworks Hotel. The sign is one of a couple placed throughout the city, and reads "Welcome to the Big Dance," next to a large basketball.
—
1:25 p.m., March 21
Fans get into games at Bankers Life Fieldhouse
The battle of Illinois kept fans at Bankers Life Fieldhouse on their feet for most of the game's first half, with Loyola Chicago leading Illinois by just six, 39-33, at the under-16 minute timeout.
And even with just a few thousand people in attendance—the capacity limit is up to 19% per game—fans say it still at times feels like a sold-out crowd.
"It does some of the time," said Chicago resident Mike Berago, a Loyola fan. "But when the teams get into those runs, and the fans get into it, you really feel it."
Berago, who spoke to IBJ from a concession stand line, also attended Loyola's First Round game against Georgia Tech, and said the size difference makes for a different experience than the one at Hinkle Fieldhouse.
"This [venue] is a little bit bigger, so it's not as loud as it was at Hinkle," he said.
Another Chicago resident, Tom Colovos traveled down to catch a few tournament games, as well. He was in Indianapolis last week for the Big Ten men's basketball tournament championship. He also attended the 2015 Final Four here.
"It's like having the place to yourself, but it's still good," he said of the experience Sunday at Bankers Life. "This town has always been great for college basketball."
—
5:25 p.m., March 20
Suites in use at Bankers Life Fieldhouse for Saturday's game 
Several of the suites at Bankers Life Fieldhouse are in use for the second game of the day at the venue, featuring No. 6 seed USC and 11-seeded Drake.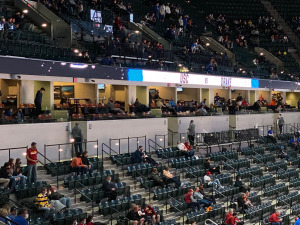 At least 25 of the Krieg DeVault Suite Level boxes at the Fieldhouse are occupied, along with at least another 10 on the lower Key Bank level, an initial IBJ survey found. It's tough to say for certain who is using the suites—for NCAA Tournament games users typically run the gamut from corporate groups, to schools, to wealthy basketball fans and donors. A Pacers representative wasn't immediately available to comment or provide exact figures.
The Pacers just completed the first phase of a multi-year renovation, which added 10 suites and two loge boxes on the lower level, along with tens of millions of dollars in other improvement.
—
2:25 p.m., March 20
Downtown restaurants experience long wait times Saturday afternoon 
Downtown restaurants had wait times ranging from one to three-and-a-half hours Saturday afternoon amid a slate of March Madness games at Lucas Oil Stadium and Bankers Life Fieldhouse.
With indoor dining limited to 75% capacity, multiple restaurants—most prevalently The District Tap at Georgia and Meridian streets—turned to outdoor dining to accommodate fans. Kilroy's had a line that wrapped around the north portion of its building.
—
12:30 p.m., March 20
Crowd gathers on Circle to protest coup in Myanmar
A crowd of more than 200 gathered on the steps of Monument Circle on Saturday to protest the military coup in Myanmar. The group—which included local Burmese immigrants—planned the demonstration without the knowledge of the NCAA Tournament bringing tens of thousands to the city starting this weekend, said organizer Peter Sang.
"It's coincidence," he said. "We did not know that there [are games] going on here at all."
The peaceful demonstration was expected to last a few hours, with a focus on drawing attention to the coup, which occurred in February and led to the military occupation of the country.
"We definitely want to encourage the people in Burma fighting for democracy and freedom," Sang said  "We are sending the message to them that they are not alone. We are helping them, in the international community, so they know they are not alone. We are fighting from all corners of the world."
A two-person delegation from the office of Sen. Todd Young attended the event to support the protest, which included the reading of a letter authored by his office. Young on March 11 co-authored a bi-partisan Senate resolution denouncing the coup.
Andrew Kossack, the state director for Young's office, said the senator was unable to attend himself but wanted to express support for the demonstrators and the cause.
"Hopefully, if anything, it would amplify" the message, Kossack said of the event occurring as people flocked downtown for games. "It is an impressive crowd here so you can see how important it is to this community. We have people from around the nation here (in Indianapolis) for the tournament, so it's a great thing for them to see how important this is."
—
12:30 a.m., March 20
BYU players get assist for freeing Wade from elevator
The BYU Cougars already have the biggest assist in the NCAA Tournament and they've yet to play their first game.
Jesse Wade was stuck in an elevator for 40 minutes at the team's Indianapolis hotel before his teammates forced open the doors and freed the junior guard.
The whole affair played out on Twitter Thursday night, including a video showing several teammates prying open the elevator doors and an ecstatic Wade popping out into the hallway to cheers.
"Scariest moment of my life but I knew the boys had my back," Wade tweeted.
BYU's Jesse Wade got stuck in the elevator in the NCAA bubble, but his boys came to the rescue 😅👏

(via @jessewade10) pic.twitter.com/uSmzSkMd4p

— ESPN (@espn) March 19, 2021
He also tweeted, "I'M OUT 40 minutes feels like a lifetime when you're trapped inside an elevator. All I can say is that if you think I had it bad in there…you should see the elevator door after the boys got me out…"
Coach Mark Pope had some fun with the situation. He was on a video hookup on his phone with Wade.
"We came down to dinner and right now we've got a fallen soldier. Jesse Wade is stuck in the elevator," Pope said to the sound of laughter in the background.
"It's been about 15 minutes. It's brutal," Wade said. "I'm starved. My thirst isn't being quenched. All the boys are eating yummy food without me."
Pope said he was passing around the phone so teammates could comfort Wade.
"Hey Jesse, most of the food is gone but we're going to save you a dinner roll," Pope joked. "I'm kidding, man. We've got a big spread here for you."
BYU, the No. 6 seed in the East Region, faces No. 11 seed UCLA on Saturday night at Hinkle Fieldhouse.
—
10 p.m., March 19
Purdue is 3rd Big Ten team to lose
The only Indiana team in an NCAA Tournament taking place entirely in Indiana is out.
The No. 4-seeded Purdue Boilermakers lost in overtime, 61-68, to the 13th-seeded North Texas Mean Green on Friday night at Lucas Oil Stadium.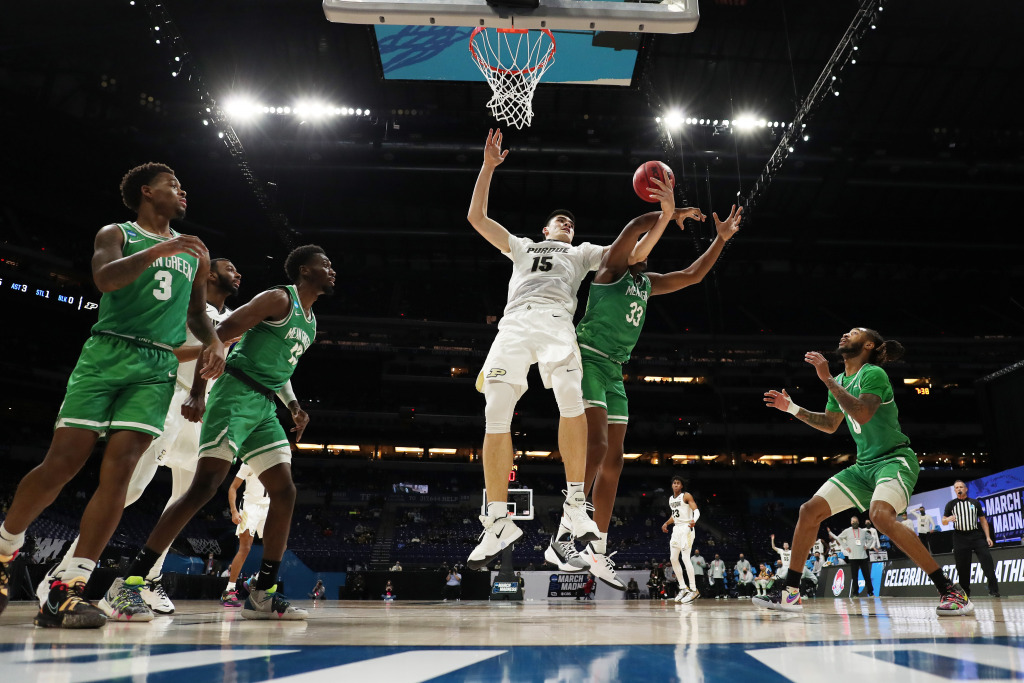 It was North Texas' first-ever NCAA tournament win.
The loss knocked out a third Big Ten team from a tournament the conference has hoped to dominate. A record-setting nine Big Ten teams made the field, but Michigan State lost in a First Four game, while Ohio State and Purdue lost in first round games Friday.
Rutgers was playing Clemson University on Friday night, while Wisconsin and Illinois, a No. 1 seed, won earlier in the day.
Michigan, Maryland and Iowa will play Saturday.
Purdue's loss is also a bracket buster for a number of Indiana's public officials who entered IBJ's bracket contest. Sen. Todd Young, R-Indiana; Rep. Andre Carson, D-7th District, and Indianapolis City-County President Vop Osili all choose Purdue to win the tournament.
Gov. Eric Holcomb picked Illinois to win the championship, but he had Ohio State in the Final Four. A bracket entered for First Dog Henry Holcomb picked Purdue to win.
Some elected officials play to the home crowd. Others want to win. See who 4 local politicos picked in their IBJ brackets to make it to the Final 4 and win the championship. You can compete against them by filling out an IBJ bracket at https://t.co/SnOZ6ZOTFI pic.twitter.com/5IMoNEqi64

— IBJ News (@IBJnews) March 18, 2021
The NCAA said earlier on Friday that Oral Roberts' upset of Ohio State scuttled a huge number of brackets in its Bracket Challenge Game. After Oregon State beat Tennessee (which occurred before the Purdue game), only 0.05% of brackets in the NCAA competition remained perfect.
—
Bruins' long, strange trip to West Lafayette
It didn't take Mick Cronin and UCLA long to realize that playing in the NCAA Tournament as the pandemic stretches into its second year is going to be a little strange.
Consider some of the things that happened to the Bruins in their 86-80 overtime victory over Michigan State on Thursday night in a First Four game in West Lafayette, Indiana.
There was the 90-minute bus ride in miserable weather from Indianapolis to Mackey Arena in three buses, an interesting bench setup involving center Dave Singleton and a 3 a.m. celebration to cap off the night.
"Look, there's reminders at all times, right?" Cronin said Friday in a video call. "When you go to put a guy in the game, and the game is at Purdue, they went a little in excess on the social distancing with the benches. I'm trying to put Dave Singleton in the game and he's in the fifth row. That's a reminder."
The bus trip was another.
"I mean, how many times do you play a game an hour and a half from your hotel?" Cronin added. "I don't know how far Purdue is, but when you're on a bus you get there slower with high winds and rain. The bus driver might have been the MVP getting us to the game. I was starting to worry the way the bus was swaying on a two-lane road."
The team didn't get back to its hotel until nearly 3 a.m. but it had one more task. It had to add its name to the bracket board for its game on Saturday night against BYU. Senior guard Chris Smith, who is out for the season after sustaining an ACL injury against Utah on Dec. 31, had the honor.
—
7:47 p.m., March 19
Boys & Girls club is NCAA legacy project recipient
The NCAA's 2021 tournament legacy project is taking place at The Boys and Girls Clubs of Indianapolis'  LeGore Unit at West Minnesota Street and Lynhurst Drive.
As part of the project, the club's basketball court is being refurbished and the library is getting new carpet and furniture. The far-west-side club will also receive new basketballs and backpacks full of school supplies and Degree deodorant and antiperspirant products.
—
12:40 p.m.
First round games get underway
The first game of the first round between No. 7 seed Florida and 10th-seeded Virginia Tech is underway at historic Hinkle Fieldhouse and a cloudless day outside has brought a significant amount of natural light into the arena.
Hinkle Fieldhouse has windows circling the concourse level of the arena and shades have been pulled down at the south end to try and help keep the sun out of the players' eyes. But windows at the top of the arched-roof building are still allowing in sunlight.
It's the first time Hinkle has hosted NCAA Tournament games since 1940. You can read more about Hinkle's history here.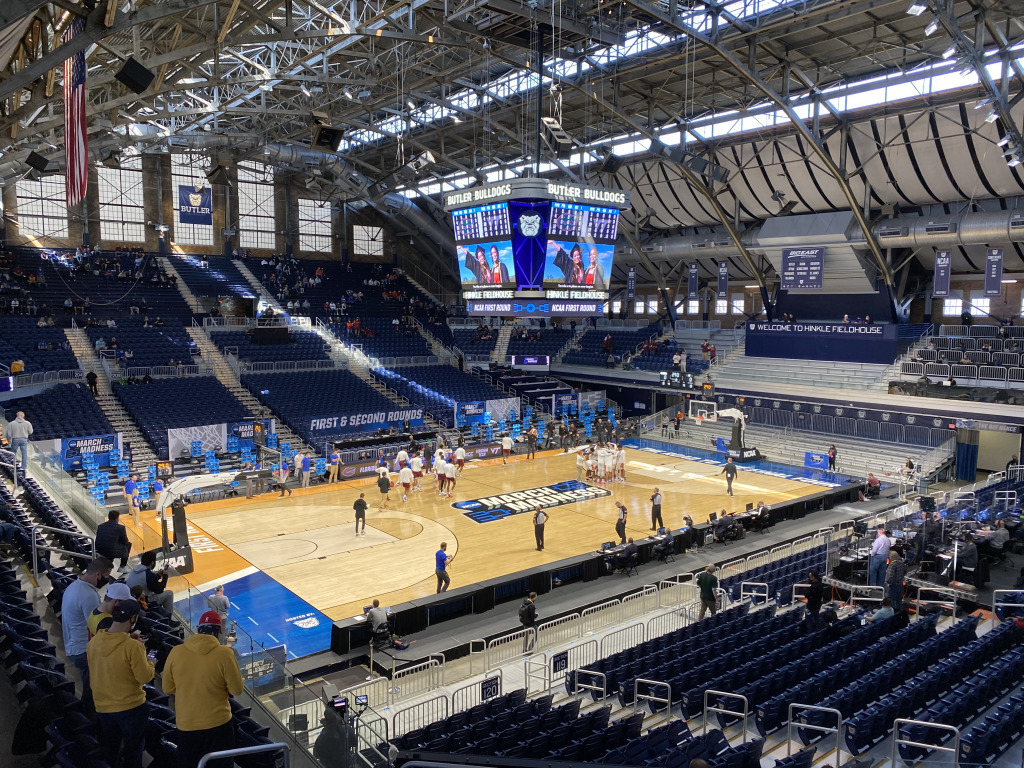 —
11:30 p.m., March 18
NCAA sets arena limits at 22% capacity, down from 25%
The NCAA has revised capacity figures for the six March Madness venues, saying that because of the COVID-19 pandemic, no arena will hold more than 22% of its capacity.
The NCAA had previously said the number would be 25%.
Lucas Oil Stadium, which will host the Final Four along with games over the first and second weeks, will hold 6,900 fans on one court and 8,500 on the other. That's 22% of capacity, which is the largest capacity of any of the six arenas.
Games at Indiana University—which started Thursday—are limited to 500 attendees, or 3% of capacity. Games at Purdue—which also began Thursday—were limited to 1,350 fans (9%). Farmers Coliseum will hold 1,200 fans (18%), Hinkle Fieldhouse will hold 1,250 (14%) and Bankers Life Fieldhouse will hold between 2,500 and 3,800 (13-19%) depending on the time of the games and postgame cleanup.
—
9:26 p.m., March 18
First Four: Texas Southern, Drake advance to first round
John Walker III scored a season-high 19 points and Jordan Gilliam had 12 to help Texas Southern erase a 10-point halftime deficit Thursday and beat Mount St. Mary's 60-52 in the first NCAA Tournament game in nearly two years.
The game took place at Indiana University.
It's the second straight First Four victory for the Tigers (17-8), who also won in 2018 — their most recent tournament appearance. Texas Southern, the No. 16 seed in the East Region, won its 10th straight game and faces top-seeded Michigan (20-4) on Saturday.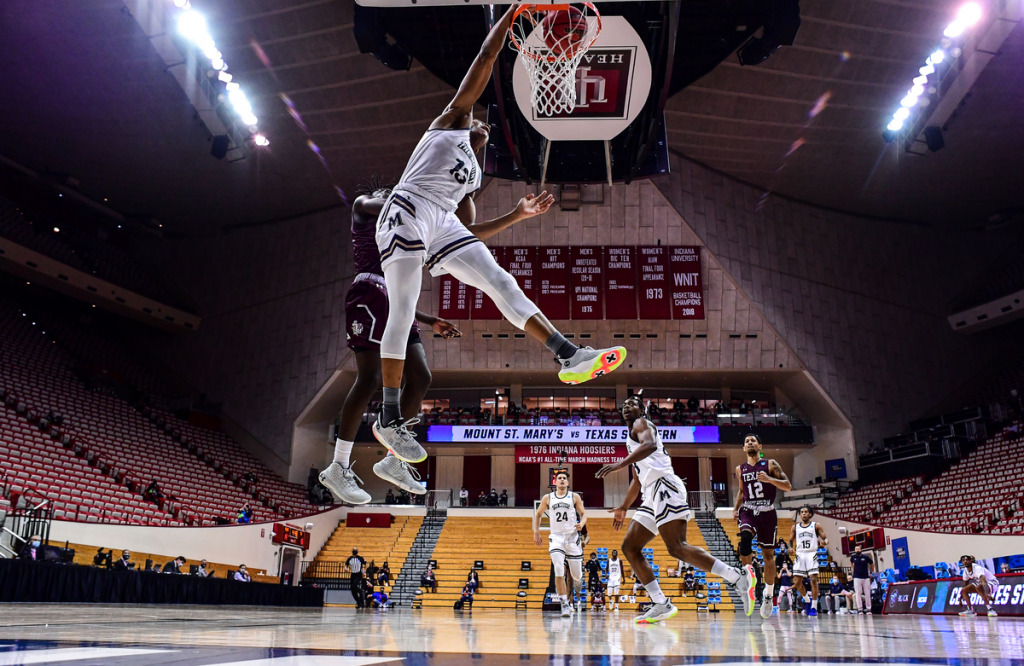 Meanwhile in West Lafayette, Joseph Yesufu scored 21 points and Drake beat Wichita State 53-52, the Bulldogs' first NCAA Tournament win in a half-century.
Drake's previous tournament victory was 50 years ago to the day—March 18, 1971, against Notre Dame.
Later at IU, John Walker III scored a season-high 19 points and Jordan Gilliam had 12 to help Texas Southern erase a 10-point halftime deficit Thursday and beat Mount St. Mary's 60-52.
It's the second straight First Four victory for the Tigers (17-8), who also won in 2018—their most recent tournament appearance.
In the night's final game, UCLA showed plenty of fight in an overtime win over Michigan State. The Spartans showed some fight, too—among themselves.
After coach Tom Izzo and forward Gabe Brown carried a shouting match into the halftime locker room, the Spartans proceeded to blow an 11-point lead over the next 20 minutes. UCLA forced overtime with Jaime Jaquez Jr.'s three-point play with 3.3 seconds to go, then pulled away in the extra session for an 86-80 victory at Mackey Arena on Thursday night.
—
8:22 p.m., March 18
Wait, don't I know you?
Nobody will get a lump in their throat or start sizing up glass slippers for programs like these—Alabama, Illinois, Baylor.
They're not underdogs. They're hardly unknown. What they are is a group of new teams with well-recognized names in the NCAA Tournament, and they're hoping to keep making life hard on some of the programs that have long had a stranglehold on March.
—
3 p.m., March 18
Pop-up shop opens south of the Circle
Read Mickey Shuey's story about other pop-ups selling tourney merchandise, including some at the Indianapolis International Airport.
—
1 p.m., March 18
Eight positive COVID tests of 9,100 administered
NCAA vice president of basketball Dan Gavitt said there have been eight positive COVID-19 tests among the more than 9,100 performed since teams started arriving in Indianapolis on Saturday.
Those include tests performed on all individuals affiliated with the schools—not just players, coaches and staff who are part of the schools' Tier 1 group and get tested daily.
Gavitt said any player who tests positive must isolate for 10 days. They have the choice to stay in the NCAA's "controlled environment" or be transported back to campus.
"If they decide to stay, they will be isolated in their hotel room. Not moved," Gavitt said.
The NCAA has taken over four hotels being used to house 68 teams and their up-to-34-person Tier 1 travel parties. Each person gets their own hotel room.
"They unfortunately will not be able to leave the hotel room, for obvious reasons. For their safety and health as well as others around them," Gavitt said. "But they certainly will be cared for by their institution and their COVID health officer, team physician. And the NCAA will provide support and monitor them to make sure that they are cared for their entire stay."
If their team is still participating in the tournament when their isolation period ends, they can rejoin the team if they are cleared by team doctors.
Please enable JavaScript to view this content.