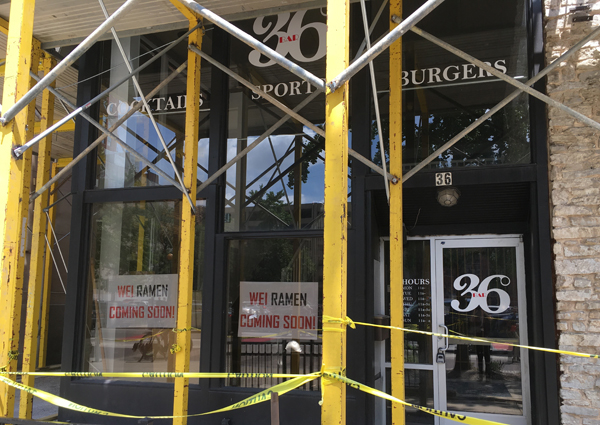 A ramen restaurant and a coffee/dessert cafe are coming to 36 E. Washington St., a downtown retail space that has seen numerous bar and restaurant tenants in recent years.
Wei Ramen is set to soon occupy the first floor. On the second floor, Indy Cyber Cafe will offer coffee, desserts and a business center where patrons can pay to use amenities including a conference center and computers.
The ramen shop and the cyber cafe are aiming for September openings, said Paolo Mendez, who will be general manager at both establishments.
Each space occupies 1,200 square feet, with an additional 1,200-square-foot kitchen in the basement.
Mendez said the cyber cafe aims to attract conventioneers and other travelers who need a place to work for an hour or two while visiting downtown. He also expects the second-floor spot to attract some crossover customers from Wei Ramen.
"Maybe after eating ramen on the first floor you can have dessert on the second floor, or coffee after eating," Mendez said.
Joe Zou is the owner of both Wei Ramen and Indy Cyber Cafe. Mendez said Zou also owns the Viet Hua Food Market grocery stores in Castleton and on Indianapolis' south side, as well as three Asian restaurants in Louisville and one in Cincinnati.
Mendez also serves as the manager of downtown location of seafood restaurant The Boiling, at 1 N. Meridian St.
The 36 E. Washington St. space, on the block between Meridian and Pennsylvania streets, has been vacant since the restaurant and night spot 36 Degrees Bar closed in 2017. Before that, the space housed 36 East Irish Pub and Grill, Club 36 East, Coal Pizza, Hue Dine, The Taste of Tango Argentinian restaurant and a deli that sold Broasted Chicken.
Right next door to 36 E. Washington St., a sign at 38 E. Washington St. advertises another Asian restaurant. "Go Stir Fry Cooking & Hibachi Coming Soon!!!" the banner says. Mendez said that establishment has no connection to Zou's Wei Ramen and Indy Cyber Cafe.
Please enable JavaScript to view this content.