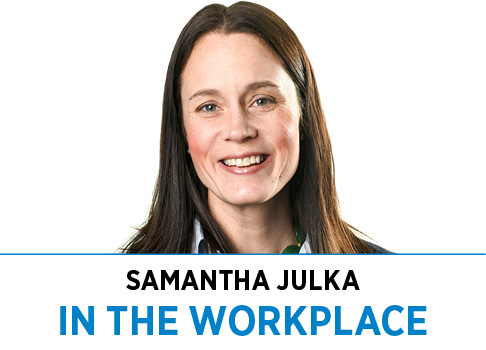 One day this summer, I had been in the office a few hours when I was startled by a small human with Heelys shoes rolling past my desk. I turned around and said to my colleague, "I had no idea your daughter was here today!" She had been reading and coloring in our production room the past few hours—and enjoying our big, empty training room with her wheeled shoes.
This is not an entirely unusual occurrence at our office; people bring in their kids, pets, plants and whatever else they need to make their lives work.
I say "make their lives work" because, as we've worked through the pandemic, we've realized at the leadership level that the concept of work/life balance doesn't meaningfully fit the bill anymore; probably, a better phrase is "work/life integration."
If we look to our friends at Merriam-Webster to closely examine these two words, we learn that "balance" is all about distribution, equal parts on two sides of an axis. In comparison, "integration" is more about blending or creating unification. The pandemic has taught us that work and life are pretty hard to treat as two dichotomous elements of a singular person.
In March 2020, people had to integrate work into their homes overnight. As a society, we implemented that change reactively due to the uncertainty of COVID-19. Now, as we ask people to come back to the office, we have the opportunity to be proactive about making the workspace desirable. There is plenty of room for change, as the perception of what workplaces should look like has changed in the last two years. Part of the optimization process is to think hard about how to integrate employees' homes and lives into our offices.
We see this a lot in our research as people ask for more flexibility, and when we decode that word in our analysis, what they mean is fluidity. Our research participants create models of a more ideal workplace that include their pets, their plants, and spaces to play and move throughout the day. Enabling an employee to be a whole person at home and work is probably the most people-centered thing we can do. It means finding ways not simply to make everything equal but also to make it equitable, based on job functions and life circumstances.
As leaders continue to ponder what might bring their workforce back to the office, the answer could be to think about what elements of your workforce's home life you need to welcome and accommodate in the office. That will go a heck of a lot further than offering free beer and pizza on a Friday afternoon.•
__________
Julka is founder of Indianapolis-based DORIS Research, which uses design thinking to organize workspaces.
Please enable JavaScript to view this content.