Locally owned  Gomez BBQ, which opened a spot at City Market two years ago, now plans to launch an eatery on the east side at 2827 E. 10th St.
The new location, which will occupy nearly 1,000 square feet, sits just east of Rural Street and across from the former Pogue's Run Grocer that closed last year. The space formerly housed the Kime Contemporary art gallery and, before that, a cell phone store.
Gomez BBQ owner Mike Gomez said he liked the space because it's not too big, and because of its proximity to other food and drink establishments. The newly-opened 10th Street Diner, the Tick Tock Lounge and the Mayfair Taproom are all within about a half-mile of the building where Gomez will open his restaurant.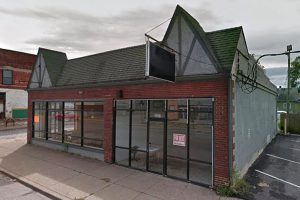 "It just seemed like a cool spot," Gomez said. "They have some food options (in that neighborhood) that are pretty great."
Gomez said he's now in the process of seeking permits and selecting a general contractor for the project. Barring unforeseen delays, he hopes to begin construction by the end of the year.
Gomez BBQ offers what the owner describes as "Indy craft barbecue," using a mix of several different barbecue styles. Pork barbecue is Gomez' most popular item, but the restaurant also offers barbecued chicken, brisket and sausages.
The new restaurant will serve lunch and may also be open for dinner depending on customer demand. Gomez said he's also considering applying for a wine and beer permit.
Gomez' financial partner in the business is his father, Dr. Gerardo Gomez, who served as chief of Eskenazi Health's trauma department before retiring in 2016.
The seeds for Gomez BBQ started with Mike Gomez barbecuing in his backyard. He then started doing catering and special events with help from his mother, Dorothy Gomez. A few years after that, in September 2017, Gomez BBQ opened at City Market.
Incidentally, Gomez BBQ soon will upgrade its City Market operations. Within the next few months, Gomez said he'll move his establishment to a larger space that was previously occupied by Market Square Popcorn Co. and, before that, The Amazing Potato Chip Co.
The new Market Square space includes an exhaust hood, a feature not available at Gomez BBQ's current space. This will enable Gomez to bring in a barbecue smoker and also make French fries and other foods he's not able to prepare at City Market now. "It just opens us up to do more things."
In other news this week:
—The exercise-equipment store Peloton is set to open its Fashion Mall at Keystone showroom today. To celebrate its opening, the Keystone showroom will host a "fireside chat" at 6 p.m., Aug. 15, with Peloton Tread instructor Matty Maggiacomo. IBJ first reported on Peloton's plans in March.
Founded in 2012, New York City-based Peloton sells stationary bicycles and treadmills along with accessories such as cycling shoes, headphones and heart rate monitors. Customers who buy Peloton's equipment can access live and archived class sessions for the experience of taking a fitness class at home. The company's showrooms are places where people can see the equipment, take a trial class and make purchases for home delivery later. The Keystone location is Peloton's first Indiana showroom.
—Culver's franchisee Jeff Meyer of Noblesville is working to open his 10th central Indiana store, this one at 2454 N. Lebanon St. in Lebanon.
Meyer opened his first Culver's, at 7105 E. 96th St., in 2005. Since then he's opened an additional Indianapolis store at 5020 W. 71st St as well as one each in Fishers, Noblesville, Greenfield, Anderson, Columbus, Bloomington and Powell, Ohio. He's also working to open a store in Richmond, which, like the Lebanon store, should be open by the end of the year.
Meyer said he has larger expansion plans, and he's eyeing sites in Whitestown, Carmel and the Broad Ripple area. He's also expanding his Greenfield store. He believes Indianapolis and its surrounding suburbs could eventually support about 40 Culver's.
"There's continued opportunity to expand and make (the market) a little bit more dense," Meyer said." "We're not taking our foot off the accelerator quite yet. We're just looking and finding those locations."
Based in Wisconsin, Culver's opened its first store in 1984 and now has more than 700 in 25 Midwestern, Southeastern and Western states.
—The Indiana Design Center in Carmel announced this week that it will add three showrooms this fall. The showrooms will feature products from Lorenzo Finestre, which makes windows and doors; furniture-maker MNK Furniture; and Rusted Window, a floral design business and lifestyle boutique.
Lorenzo Finestre is owned by Cori and Scott Brown, who also own Franklin Window & Door in Carmel. MNK Furniture is owned by Muniza Karim. Rusted Window, owned by Stacy Molander, is moving from another Carmel location.
The Indiana Design Center is an 82,000-square-foot facility that showcases more than a dozen design professionals, artists and resources for residential and commercial interiors.
—Lululemon Athletica will open its second area shop this month at the Clay Terrace shopping center in Carmel. The Vancouver, British Columbia-based retail chain sells men's and women's apparel for yoga, running and other athletic activities. Its other store here is at the Fashion Mall at Keystone.
—OK Asian Restaurant is moving to 8735 U.S. 31 South, in the Greenwood Corner shopping center just north of County Line Road. The restaurant is moving from 2310 W. Southport Road. Owner Bawi Thang said the new location should be up and running Oct. 1.
Please enable JavaScript to view this content.