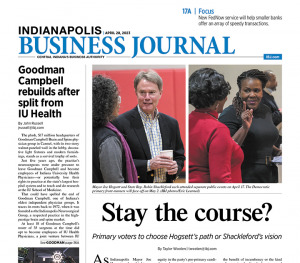 APRIL 28-MAY 4, 2023
As Indianapolis Mayor Joe Hogsett seeks a third term, he's facing opposition from a faction of his own party for the Democratic nomination. Taylor Wooten outlines the choice primary voters face between Hogsett's two-term record and the vision of state representative Robin Shackleford. Also in this week's issue, John Russell explains how the Goodman Campbell Brain and Spine physician group has rebounded from its split from IU Health. And Dave Lindquist profiles science fiction and fantasy author Maurice Broaddus, who has been hired by Marvel Comics and publisher Smart Pop to write stories featuring the character Black Panther.
Its new partner, Ascension St. Vincent, is building a four-story brain and spine hospital on its flagship campus on West 86th Street in Indianapolis, which will be largely staffed with physicians from Goodman Campbell.
Read More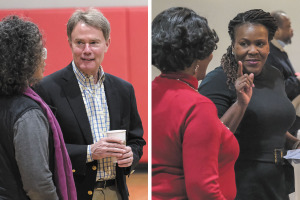 As Mayor Joe Hogsett seeks a third term, he is facing opposition for the Democratic nomination. State Rep. Robin Shackleford was among Black leaders last spring calling for racial equity in the party's candidate endorsement practices.
Read More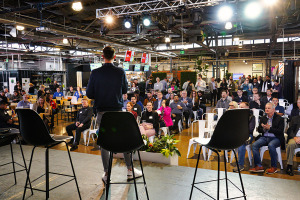 Indiana's business, academic and economic development leaders see the industry as a huge opportunity for the state.
Read More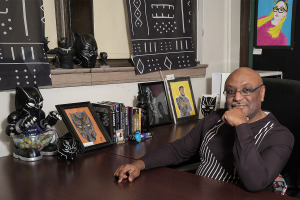 The author of sci-fi and fantasy novels was hired by Marvel Comics and publisher Smart Pop to write "Black Panther: T'Challa Declassified," scheduled to publish in January.
Read More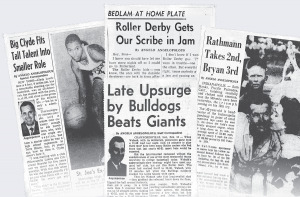 The Indianapolis News writer was so respected that his passing in October 1962 was treated as a major story in the local newspapers, even one he didn't work for.
Read More
Dr. Jerome Adams, a former U.S. surgeon general, serves as distinguished professor and director of health equity initiatives at Purdue University, overseeing development of the school's health equity strategy. A member of then-President Trump's coronavirus task force and a licensed anesthesiologist, he also serves as a WISH-TV Channel 8 medical correspondent while practicing and teaching […]
Read More
Company history: The mass production of noodles by Essenhaus Foods is an outgrowth of the traditional Amish-style food served by the popular Das Dutchman Essenhaus restaurant, founded in 1971 by Bob and Sue Miller in Middlebury. Through the years, the operation in northern Indiana's Amish country has grown into a tourist destination that includes a […]
Read More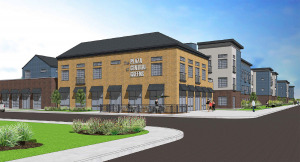 The Plaza at Central Greens project will comprise five buildings, including three apartment structures with 117 units, an amenity center and a retail building.
Read More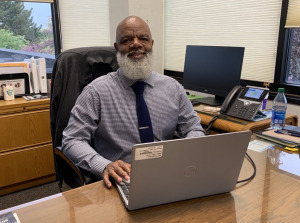 Hill, who has been with the library system for over a decade, says he's hopeful that the system can move forward despite continued calls for the board of trustees to appoint former interim CEO Nichelle Hayes as chief executive.
Read More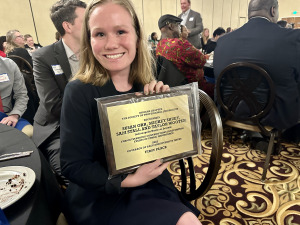 IBJ reporter Susan Orr and Managing Editor Greg Weaver each won two awards at the Best of Indiana Journalism Awards, hosted by the Indiana Professional Chapter of the Society of Professional Journalists.
Read More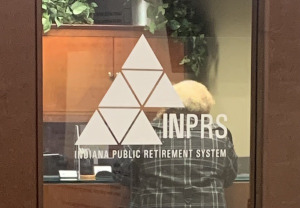 House Bill 1008 has been significantly watered down since it was first introduced, but Republicans say the anti-ESG legislation still accomplishes its intent.
Read More
A seven-year clinical trial concluded that NICO Corp.'s devices are safe and effective to treat intracerebral hemorrhage.
Read More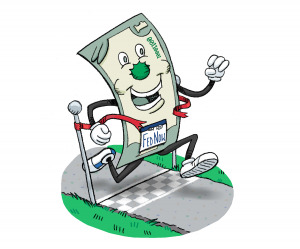 With help from a national pilot group that includes three Indiana-based banks, the Federal Reserve will soon launch the service, called FedNow.
Read More
Brazil, Russia, India, China and South Africase countries are threatening to create their own currency, in order to displace the U.S. dollar as the world's reserve currency, in which most transactions are denominated.
Read More
Take some time before 6 p.m. on Tuesday, when the polls close, to look at who's running, do a little research and cast votes for the people you believe would make the best leaders for your community.
Read More
Getting to meet our Leadership in Law honorees every year for their video shoots is truly one of my favorite parts of my job. It's fun and inspiring to hear from lawyers of all facets of the law and all steps of the proverbial ladder.
Read More
Investing in IPS is investing in our children, and we know that the return on that investment will be stronger neighborhoods and a vibrant community.
Read More
Career preparation should be part of every student's experience; undergraduates must develop "robot-proof" skills employers value, like critical thinking, analysis and problem-solving, and teamwork.
Read More
The reason AI can be so powerful in this process is the immediacy of the feedback. Behavior change and positive habit formation occur when one's pattern is disrupted, and the feedback received is immediate.
Read More
The NFL Draft and securities markets both provide researchers with huge amounts of data for analyzing judgment under uncertainty and decision under risk. Research leads to understanding how NFL general managers and investors make choices when resources are at stake and the outcome is unknown. In other words, you discover how forecasts are made and […]
Read More
Open-market operations are when the Fed increases or reduces the nation's money supply by buying or selling government bonds.
Read More