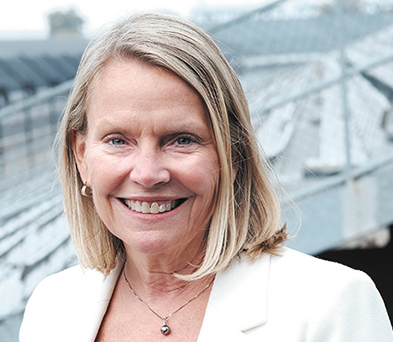 Chief Administrative Officer, Chief Financial Officer
Penske Entertainment Corp.
Major achievements during tenure
Cindy Lucchese steers the financial fortunes of Penske Entertainment, the Roger Penske-owned entity she helped create when the racing icon bought the Indianapolis Motor Speedway, the IndyCar series and IMS Productions from the Hulman family in a deal that closed the first week of 2020. It was a highly visible transaction but not the first she was involved in, having guided the sale of Hulman & Co.'s Clabber Girl baking powder unit to B&G Foods in May 2019. She was also in the thick of the Speedway's Project 100 partnership with the state of Indiana, which provided $90 million for IMS upgrades just ahead of the 100th running of the Indy 500 in 2016. More recently, she worked on the deal that made NTT Data the series sponsor for IndyCar and helped navigate IndyCar's migration from ABC to its new broadcast partner, NBC. Behind the scenes, Lucchese was busy overhauling the processes and systems that have resulted in comprehensive, insightful financial reports, reliable forecasts, automated purchasing and other upgrades required to run the business efficiently.
Career path
With a bachelor's in accounting from Indiana University, Lucchese joined Ernst & Young, where the names on her client list—including Eli Lilly and Co. and the Indianapolis Motor Speedway—became a map for her career. After earning her MBA, she started at Lilly and rotated through a number of positions, eventually landing in treasury, where she supported mergers and acquisitions—the role she held when Lilly decided to spin off its medical-device business, creating Guidant. Lucchese became its treasurer and spent a decade there in numerous executive roles before Guidant was sold to Boston Scientific in 2006.
That's when she was recruited to Thoratec, a medical-device company in California that was without a CFO and whose COO had died on United Flight 93, the plane that went down in Pennsylvania on 9/11. Lucchese provided the financial leadership and stability the company needed at the time, but she left after two years to return to Indiana and help Batesville-based Hillenbrand set up a new public company. After six years and a string of acquisitions that transformed Hillenbrand from a $600 million casket maker to a $1.7 billion diversified industrial company, Lucchese began looking for opportunities closer to Indianapolis. She was tempted by an offer to become CFO at Purdue University, but when she declined because of the commute, Purdue President Mitch Daniels recommended her to Mark Miles, who was looking for a new CFO at Hulman & Co. and IMS.
Challenges met
"COVID hit our business particularly hard. We had to take swift, difficult actions to reduce costs … . We worked on numerous plans and models to try to figure out what the financial impact would be. We had to determine how to execute our events, not knowing if we could even have the event, or … if fans would be able to attend." Ultimately, Lucchese and the Penske Entertainment team managed to salvage 14 of the 17 races that had been planned for the IndyCar season. "Although the financial impact to the business is severe, we believe we managed to keep our race teams reasonably financially healthy and we delivered most of our commitments to our partners and fans," she said.
Givebacks
Lucchese was appointed to the Next Level Fund Investment board by Gov. Eric Holcomb and serves on the IU Kelley School of Business Dean's Council. Lucchese and her husband also support The Family Promise of Indiana, The Villages, the Caroline Symmes Foundation, the United Way of Central Indiana, Park Tudor School, the Indiana Sports Corp. and the 500 Festival.
Downtime
Family has always come first during downtime, and these days the Luccheses are especially focused on their first grandchild, Adelaide. "She is the light of our lives!" Cooking and boating are favorite pastimes. So is traveling to visit her husband's family in Italy and walking the beach at their Florida residence. "The ocean is a gift for the soul."
My job would be easier if …
"there were two of me."•
Check out more CFO honorees.
Please enable JavaScript to view this content.