This month, inspired by "Urban Element II" (reviewed last week), we thought we'd focus on "elemental" places. That is, restaurants with earthy, fiery and watery monikers. And how much more earthy can a place sound than Mudbugs Cajun Café (20 W. Main St., Carmel. 843-8380)?

Mudbug is actually a Creole slang term for crawfish, and the crustacean is well represented in Mudbug's thick Crawfish Casserole ($4.95, $8.95). We sampled it as part of a Pick 3 Combo (a hearty bargain at $8.95), combining the cheesy, baked rice-based casserole with Red Beans and Rice ($2.95, $5.95 as its own dish) and a Shrimp Po'boy ($7.95 for a full sandwich). The mini-buffet works beautifully with these Creole standards, particular the Red Beans and Rice, whose slow cooking blurred the lines between the two named ingredients and the smoked sausage. The dish could easily overstay its welcome in a larger portion.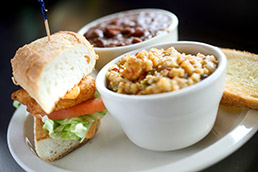 A Pick 3 Combo offers variety. Ours included a Shrimp Po'boy, Red Beans & Rice and Crawfish Casserole. (IBJ Photo/ Perry Reichanadter)
For the uninitiated, a Po'boy is a sandwich barely contained by a French baguette, and the selection of the right bread certainly makes a difference. This version featured battered and fried shrimp, lettuce, tomato and a remoulade sauce that reminded us Cajun doesn't automatically equal excess spice. The hearty two-hander (and fork for cleanup) comes with a choice of hush puppies, potato salad, or so-thin-you-can-see-through-them homemade potato chips.

An order of Shrimp Etouffée ($4.95, $7.95) proved Yat's isn't the only place to find satisfying etouffée in these parts. At Mugbugs, it's nearly thick enough that you could turn your bowl over without spilling any. Chicken Courtbouillon ($4.95, $6.95) was a new one for me—a spicy tomato-based stew with chunks of chicken. It was a bit on the spicy side for one of my companions, but a little plate switching solved that.

Our visit fell on all-you-can-eat Chicken & Sausage Gumbo day (usually $4.95, $6.95). One helping was plenty, not because of any lack of taste—there's flavor to spare—but because we all have our limits. Mudbugs prides itself on its flour roux-base (rather than tomato-base) soups, giving them a ruddier, more authentic feel. For some, it might take some getting used to. For me, I just wish I had room for more.

Of course, Beignets ($4 for $3.95, 8 for $6.95) are an essential end point. The New Orleans equivalent of elephant ears is here denser, flatter and crispier than some, which could be a disappointment to those who like the puffier variety. Not me. I appreciated the crunch and offer a warning: If you are grabbing a work-day lunch, there's a good chance you'll wear the powdered sugar back to the office.•

—Lou Harry

__________

Second in our month-long series of "elemental" restaurant reviews.