A push to eliminate township government will return to the Statehouse next year—this time with a better shot at success.

Township government reforms, which have been vigorously debated but never passed over the last few years, have been touted as a way to make government more cost-effective.

Sen. Jim Merritt, R-Indianapolis, wants to abolish township government in Marion County.
And next year, as local governments reel from the cutbacks caused by property tax caps that could be voted into the state constitution, proponents say efficiency will be needed more than ever.
Eliminating township government would free up tax money to give local government units more flexibility in spending.

"It would make sense that this session would be a time to confront the problem," said Michael Hicks, an economist at Ball State University who is co-author of a book on local government consolidation.

Rep. John Bartlett, D-Indianapolis, says there's a benefit to providing services at the most local level.
"The necessary parts of local government are feeling the constraint while the antiquated parts are not as stressed—that's precisely why you don't need the antiquated parts."

Sen. Jim Merritt, R-Indianapolis, is poised to put forth a bill for Marion County that would transfer township functions such as fire service and poor relief to the county level.

Sen. Connie Lawson, R-Danville, also is considering statewide reform but hasn't decided on specifics.

"We're just so ripe for it," Merritt said. "There's so much pressure on local government with the caps."

But the strengthened push for township elimination will be met with an equally aggressive effort to maintain it. Lawmakers on both sides of the aisle, many of whom have ties with those in township government, in the past have failed to reach consensus on the issue.

And this year there will be another policy alternative to intensify the fight. A task force assembled by the Indiana Township Association has prepared a list of 16 reforms for township government. Pending approval by the association's board, some of those will go before the Legislature—a sort of pre-emptive strike against doing away with townships altogether.

"There are areas where it may make sense to merge, but one size doesn't fit all," said Debbie Driskell, executive director of the Indiana Township Association. "We believe that those decisions should be made locally and people should have a voice in the structure of their government."

A money debate

Such philosophical arguments are at the heart of the fight over township government, whose main function in most counties is to provide poor relief administered by elected trustees, in addition to fire service.

In Marion County, the townships also host small-claims courts and elected constables who serve those courts.

But in the context of next year's legislative fight, the more critical question will be townships' impact on the cost of government.

Backers of abolishing township government say consolidating services such as fire and poor relief into the county can save hundreds of millions of dollars.

Hicks, of Ball State, ran a statistical model to show the impact of a gamut of local government reforms proposed as part of the Kernan-Shepard report in 2007. His calculations estimated $470 million in annual statewide savings from those reforms, about 90 percent of which would come from township consolidation.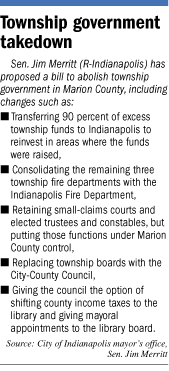 They would be achieved through efficiencies such as scaling back the number of government buildings to run, as well as eliminating redundant tasks.

Those who oppose doing away with townships dispute those numbers. They point to an academic theory that local government that gets too big becomes less efficient.

But Hicks said counties in Indiana are not big enough for that model to apply. And the core issue, he said, is not necessarily savings, but freeing up tax money that's currently mandated for township duties to be used by county officials as they see fit.

For instance, a county could choose—instead of issuing what are typically small stipends for poor relief—to hire a social worker to go door to door and inform residents about federal benefits that often are underutilized.

Or that county could spend the money to open a park pool or repair a street.

"This doesn't make government cheaper necessarily," Hicks said. "It's about local government providing the services that people want more. Right now, that choice is constrained by the funding system that requires us to have townships."

But township advocates counter there's a social value in providing services such as poor relief at the most local level.

Rep. John Bartlett, D-Indianapolis, said doing away with township government would make access to those benefits harder for residents who need them.

"You need the ability to go to someone locally and get assistance," said Bartlett, who leads the Indiana House's Government and Regulatory Reform Committee. "Most places in Marion County, you can catch a bus and get to the City-County Building, but in rural counties, they don't have that ability."

Some Indianapolis leaders, however, tout another financial benefit of abolishing township government: unlocking tens of millions the townships have in excess cash to put toward other government services.

In Marion County alone, the townships (excluding Center because its figures weren't available) had a cumulative cash balance of $41.3 million in 2009.

At the same time, property tax caps stripped $79 million from government agencies in Marion County this year.

"The [township] structure does not produce the kind of results that are necessary in modern-day government," said Chris Cotterill, chief of staff to Mayor Greg Ballard, who is backing the local reforms.

A matter of transparency

Merritt's proposal would send 90 percent of excess township reserves back to the areas of the county where they were raised.

It also would consolidate Marion County's three remaining township fire departments—Pike, Wayne and Decatur—into the Indianapolis Fire Department. Small claims courts, poor relief and elected positions of constable and trustee would remain in place but would be overseen by the City-County Council. Township boards would be dissolved.

While specific statewide proposals have not been floated, they could include merging fire and township assistance services into the counties and allowing each county to come up with a plan to execute those services.

Proponents of those changes say that, beyond the fiscal considerations, there's also an issue of accountability at stake.

"In many cases, township government is so far below the radar screen. People aren't aware of what they do," said Mark Lawrance, senior vice president with the Indiana Chamber of Commerce, which has backed the reforms. "People really are more interested in the services that are provided."

But Driskell, of the township association, said moving political control to a more distant body has the opposite effect.

"When you're spending tax dollars, you have to be responsible to the taxpayer," Driskell said. "The further you move into bureaucracy, the less ability a day-to-day person has to decide where those dollars are spent."•