The city has become the self-proclaimed capital of "measured marketing," with dozens of companies making everything from blogware to e-mail marketing software used worldwide.
Fortune 500 companies use their marketing tools to make precision strikes on teens and other demographic darlings.
But these online tools, along with social media genre a la Facebook and Twitter, can also be tyrants—with an insatiable appetite for content.
Taulbee Jackson recalled how his former clients at the Indianapolis office of Milwaukee ad firm Meyer & Wallis felt the burden grow.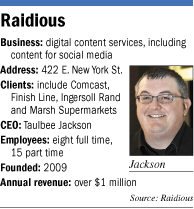 "They were coming to us saying, 'We need help'," said Jackson, who left the agency to found Raidious Digital Content Services.
Jackson's new firm isn't intent on replacing one's advertising agency or overall marketing strategy. Rather, Raidious is working in partnership with those firms and those strategies to help big advertisers do a better job of using online marketing channels and measuring results.
Unlike traditional media, online marketing occurs in real time. A company can instantly post a special offer on Facebook. Or it can immediately respond to an unhappy customer soiling one's brand via a rant on Twitter, and try to win him over.
While digital content firms aren't new, Jackson figures his approach is novel. His foot soldiers are contract employees with a journalism background, who produce content for online channels. Some of his folks used to work at CNN and MSNBC. Some are ex-bloggers from big companies such as Nike. Why this ilk? They're accustomed to research and working quickly on a deadline, Jackson said, calling them "an embedded brand news team."
They may, for example, produce content about new tax laws relevant to customers of a real estate brokerage who read its online newsletter or blog.
Sometimes Raidious enters the picture at the point of crisis, as it did for early customer Marsh Supermarkets. Last year, the chain offered a $10 coupon on its Facebook site. Marsh fans shared the coupons—apparently so much so that Marsh a few days later rescinded the offer, blaming "unauthorized distribution."
Jackson got a call from someone at Marsh asking him if he could help the chain quell the negative online reaction and win back customers in subsequent Facebook postings.
It was good practice. For example, his team detected some negative sentiment about the chain on a Twitter posting by a prominent downtown restaurant owner. It turns out the guy's grocery bag had broken after leaving a Marsh store. Raidious came up with a response to the man on Twitter, along with a gift certificate, resulting in the man's subsequent, positive post about Marsh.
This isn't as easy as it sounds, though. Many advertisers, particularly those in highly regulated industries, forbid or restrict online interaction with customers. Often, the legal department wants to weigh in first, or the marketing department. For one client, "it took two weeks to get content approval," Jackson said. Now the same client gives approval in an hour.
Providing such freedom to respond to customers can indeed pay dividends, said Lorraine Ball, CEO of Roundpeg, an Indianapolis firm that provides marketing services to smaller firms.
Ball recalled how her husband tweeted that he was at a Discount Tire store. The tire chain was monitoring tweets and thanked him for the shout-out—even going to his website to compliment him on his artwork, which he takes to exhibits. At that moment, the tire chain stopped being a company and "started being a person," Ball said.
Her firm takes a different approach than Raidious, instead preferring to train the client to conduct conversations, if only to deliver a consistent personality.
For Raidious' target client—the larger firm—that's perhaps not so much an issue. Larger firms can afford to have Jackson's team learn about their company and its customers and to be engaged with them online.•
Please enable JavaScript to view this content.