Caldwell VanRiper has been on a two-year tear since Paula MacVittie came out of retirement in 2008 and acquired the firm she formerly worked for from its Pittsburgh-based parent company, Marc USA.
Now, MacVittie is adding firepower—luring Kevin Flynn, one of The Finish Line's top executives—in an effort to grow its Internet, direct-to-consumer and sports marketing offerings.
Since rejoining CVR and turning its focus to the local market, MacVittie says the firm has more than doubled its employee count and revenue.
MacVittie thinks with the addition of Flynn, the Indianapolis-based agency is poised to double its size again in the next two to three years.
Flynn, 46, joined CVR in August, and on Jan. 1 will take an equity stake and replace MacVittie as the agency's president. Flynn will become the firm's third owner along with MacVittie and Chief Operating Officer Darlene Muncy.
MacVittie, who turned 60 this month, has no intention of retiring. Instead, she will become the firm's chairwoman, turning day-to-day operations over to Flynn and Muncy. She'll focus on business development and deepening her and the firm's community involvement.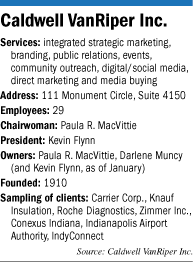 MacVittie was president and CEO of CVR from 1987 to 1999. She remained with the firm—under the Marc moniker—until embarking on a five-year retirement in 2003.
Flynn, a University of Notre Dame graduate, worked with MacVittie during the 1990s at Caldwell VanRiper before joining The Finish Line. Flynn also worked stints at ad agency Leo Burnett and at The Discovery Channel in Chicago.
During his 15-year tenure at The Finish Line, Flynn oversaw marketing, visual merchandising, web content production and sales, catalog and direct mail, event planning, and corporate communications.
At The Finish Line, Flynn was a key component to taking the sporting goods company into cyberspace. Now he'll be counted on to grow CVR's Internet marketing and e-commerce services.
"Kevin worked very closely with our IT department in not only marketing our e-commerce site, but in developing the operational backdrop for it," said Glenn Lyon, CEO for The Finish Line. "He was instrumental in taking The Finish Line from a small, local company to a national brand."
MacVittie said Flynn also will be key in helping push CVR's direct-to-consumer business. Lyon has little doubt Flynn will help the local agency grow.
"I found Kevin Flynn to be one of the most stimulating associates I've ever worked with at The Finish Line," Lyon said. "He made me think about things in a way I normally wouldn't. He's one of the most creative, innovative people I know."
The economic downturn hasn't slowed CVR's growth, MacVittie said, and she's projecting even stronger growth in 2011.
CVR now has 29 employees, and though MacVittie declined to divulge the firm's capitalized billings, industry experts estimated it between $25 million and $30 million. An agency's revenue is typically about one-third of capitalized billings.
"That type of growth, especially in this economy when so many ad agencies have been hurt, is an incredible success story," said Ball State University advertising professor Bob Gustafson.
CVR, MacVittie said, has recently signed new contracts to handle work for Roche Diagnostics, Zimmer Inc., Conexus Indiana, Indy Connect and the Indianapolis Airport Authority.
The growth comes as CVR, one of the city's oldest ad agencies, is celebrating its 100th anniversary. The recent growth may add a new chapter to the firm's story.
"Historically," Gustafson said, "this agency has been near the top in terms of agency size and number of quality accounts, but not at the top of this market. Now, it seems they have a chance to take a step up."
Lori Miser, executive director of the Indianapolis Metropolitan Planning Organization, said the firm's accessibility and availability to work long hours—as well as its proficiency using the Internet and social media tools, were reasons CVR was chosen to work on central Indiana's long-range transportation plan, IndyConnect.
"We knew this was going to be an intense project, definitely not 9-to-5," Miser said. "A good agency has to be there for its client, no matter what. [CVR] has definitely been there when we needed them."
CVR helped develop IndyConnect's name, brochures, website "and anything else behind its messaging," Miser said.
"They did a tremendous job using every means possible to help us educate the public," she said.•
Please enable JavaScript to view this content.