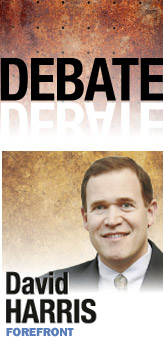 Question: What, if any, role should collective bargaining play in education?

Answer: Too often, teacher contracts have put the interests of adults above the interests of students. Adults have all the power. They negotiate contracts, they make policy, and they are the beneficiaries of public expenditures that have nearly tripled over the past 30 years.

Yet students continue to languish. Despite increased spending, performance levels are flat, and students in our urban centers have a 50-percent chance of earning a diploma.

If you look at any teacher contract in Indiana (they're often available online), you will find it filled with pro-adult, anti-kid rules.

Many contracts dictate that, during layoffs, teachers will be dismissed by seniority. The result? Young teachers are let go first—even if they're more effective.

We've seen this firsthand in Indianapolis; a few years ago, Indianapolis Public Schools laid off 22 Teach For America teachers, including a nominee for IPS Teacher of the Year, and another who led her students to the district's biggest reading gains. Within weeks, local charter schools had hired nearly all of them. The IPS kids fell victim to the contract.

Seniority-based decision-making is a national problem. The Los Angeles Times did a study to evaluate the impact of seniority-based layoffs in the Los Angeles Unified School District and found that the district laid off 190 young teachers ranked in the top 20 percent in raising scores.

Some contract provisions are bad for students and teachers. One such provision states that teachers with five years of experience may be evaluated only once every three years. What's worse, these evaluations don't even reflect the impact teachers have on student achievement. How can teachers improve their practice without regular feedback based on meaningful data?

Another problematic contract provision we found mandates that teacher-student contact shall not exceed six hours a day. A major reason for the success of many charter schools is they are free to extend the school day and year to give students more time to master skills.
IBJ.COM EXTRA
Click here
to read Teresa Meredith's viewpoint on this question.
Recently, President Obama called for extended learning time, declaring that we need to "rethink the school day to incorporate more time—whether during the summer or through expanded-day programs." Contracts that limit the time students spend on learning hurt kids in Indiana and across the country.

If we want schools to achieve better results, we need to ensure contracts don't prohibit what's good for kids.

One way would be to limit what contracts include to issues like wages and benefits. That would ensure that critical decisions about staffing, programming, evaluations and learning time get made at the school level. Another would be to move away from collective bargaining altogether, like most high-performing charter schools.

No matter what, we need to put students' interests first.

That means school leaders need more authority over personnel and programmatic decisions. Schools need the flexibility to extend learning time. And teachers and school leaders need to be evaluated in part by student achievement and growth data, and should be rewarded for strong results.

In short, we need to define a new professionalism, one that is driven by an urgent focus on children's success.

In a recent letter to The Indianapolis Star, two young, reform-minded teachers in Indianapolis who are a part of the Teach Plus program called for teachers to embrace this type of professionalism. They want to be evaluated by the impact they have on students. They want to work with colleagues who value accountability to improve instruction.

These teachers are the next generation of education leaders in our state. We should ensure that their vision for the profession—one that puts the needs of students first—becomes reality.•

____________
Harris is CEO of The Mind Trust, a not-for-profit supporting entrepreneurial education initiatives. Send comments on this column to ibjedit@ibj.com.