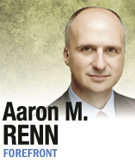 The census results for 2010 are in and Indianapolis is once again No. 1 for population growth among large metros in the Midwest.
The Indianapolis region population grew 15.2 percent in the last decade, ranking it No. 20 out of 51 metro areas greater than 1 million people on that metric, trailing just behind the perennial urbanist darling of Portland. Indy's growth far eclipsed the national growth rate of 9.7 percent. The 231,000 people Indianapolis added last decade is as big as the cities of Evansville and South Bend put together, and almost as big as the city of Fort Wayne.
Perhaps to no surprise, Indianapolis metro accounted for a big chunk of the state's overall population growth—57 percent of it. It's easy to understand why Indianapolis was a rare metro area to add jobs while the rest of Indiana lost nearly 200,000 of them.
In fact, population growth in Indianapolis appears to be partially related to population stagnation elsewhere. My analysis of migration data for the 2000s shows that, of the net in-migration that can be attributed to a particular state, fully 84 percent of Indy's net inbound migration came from elsewhere in Indiana. While Indy remains a magnet for Hoosiers, it is less so for the rest of America.
Growth in America generally appeared to lag previous estimates, and Indianapolis was no exception. In particular, Hamilton County, one of the fastest growing in the nation, actually came in below its 2009 population estimate. So while suburban growth in Indianapolis has been strong, it was not quite at predicted levels.
But urban core champions had little to celebrate, either. Previous census estimates showed Center Township had finally ended its 50-plus-year population slide, hit an inflection point, and started trending upward.
Alas, these estimates were faulty, and Center Township badly fell short of estimated population, losing over 24,000 people. If it is any consolation, this is consistent with other cities around the Midwest and the nation.
The real bright spots were in the outer townships of Marion County, particularly Perry and Franklin, which grew much faster than expected. Marion County as a whole, though growing slowly, is still growing, and broke through 900,000 for the first time.
Other census good news in Indianapolis came from minority populations. The black population grew 22.8 percent. However, this actually fell short of black growth in Columbus, Ohio, of 31.9 percent. Columbus has become a major destination for immigrants from Somalia and elsewhere in Africa, and its black population actually now exceeds that of Indianapolis on a regional basis for the first time.
Minneapolis-St. Paul grew its black population 54.1 percent, albeit on a low base, adding nearly double the black population of Indianapolis and almost catching up with Indy in regional black population. Indy ranked 24th nationally in black percentage population growth in large metros, and only third in the Midwest.
Indy posted a stronger performance in its Hispanic population growth, where it was third out of all large U.S. metros, growing at a blistering 160-percent rate, though with the caveat that it started from a low base.
Then, again, so did lots of other places. There are now over 100,000 Hispanics regionally. It was a similar story for the Asian population, which grew at the No. 5 rate nationally at over 100 percent growth to nearly 40,000 people regionally.
Add it all up, and Indianapolis appears to be demographically strong, with a strong appeal to Hoosier and ethnic newcomers, and an emergent black growth engine as well. The region's minority population share grew six percentage points.
While perhaps not being as strong a draw to non-Hoosiers as the city might wish, the Indianapolis' growth profile continues to be closer to the Sun Belt's than the Rust Belt's, which is nothing if not good news.•
__________
Renn is a former Indianapolis resident now living in Chicago who writes the Urbanophile blog, one of the nation's leading urban policy websites. Send comments on this column to ibjedit@ibj.com.
Please enable JavaScript to view this content.