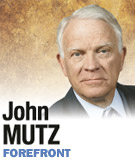 A fight for survival looms for many small and midsize Indiana cities and towns. The recent census provides ample evidence that economic decay portends a murky future for locales that once were an ideal place to live and raise a family.
Indiana's population growth ranked 31st, but 53 percent of the growth was concentrated in Hamilton, Hendricks, Johnson and Hancock counties surrounding Indianapolis. This means little growth occurred in other parts of the state.
In addition, young people are leaving their hometowns, incomes are declining, and the number of older citizens is increasing.
There are, of course, exceptions because certain cities or towns have a comparative advantage. Examples include a university or college, a large company that provides community leadership and helps maintain its employment base (think Cummins Inc. in Columbus), or a large industry cluster (orthopedics in Warsaw) that continues to attract investment.
Sometimes, a major recreational investment such as Holiday World in Santa Claus or the hotel renovation in French Lick can stall the trend toward decay. A few cities, because of a unique location on a waterway or other infrastructure connections (Evansville or Fort Wayne), can become a regional trading center. Another exception occurs when small towns are close enough to big cities that they become bedroom communities.
Although many planners and economists say some communities are a lost cause, local determination and leadership can make a difference.
The discussion starts with determining a comparative advantage. What is unique about the location? Is there a historical connection that might be exploited? Did celebrities or heroes grow up or live here? Is there an industry that started or once prospered here? Or is there a particular segment of the population that might be attracted to this area of the state?
As communities determine how to survive, certain local and state policies could influence the future. Local zoning regulations in the counties could be altered so that all new home construction, except farmhouses, must be built within the city or town limits. This policy should consolidate growth, prevent further sprawl, and preserve what is now becoming extremely valuable farmland.
Local educational resources such as high schools or Ivy Tech campuses can be developed as a magnet for population and industry growth. Quality-of-life issues can be crucial. Bike paths, parks, adult learning opportunities and recreational centers are needed ingredients. It also might help a small town survive if it tailors its lifestyle for seniors, making it the ideal place to retire.
A small community's retail future could be helped by a change in the sales tax rules. Members of the Alliance of Main Street Fairness coalition urged this year's Legislature to level the unfair playing field between retailers and Internet sellers. Web-based retailers are exploiting a loophole that allows them to forgo collecting the sales tax.
In economic development, communities are seeking a comparative advantage centering around a special industry or skill. Broadband capability should be available in every Indiana community so residents can work at home and deliver their work product to the home office over the Internet.
Even customized and mass manufacturing will eventually be done locally in small communities through a technology known as three-dimensional printing. (See The Economist, Feb. 12.) This revolutionary technology starts with a blueprint on your computer screen. A nearby machine gradually builds the object by depositing material from a nozzle or solidifying a thin layer of plastic or metal dust one layer at a time until you have a lampshade or a spare part for a car. This "additive manufacturing" system, now in limited use, will change where and how manufacturing is done.
The decline in small communities is likely to continue unless local and state action and an organized effort in the General Assembly is put in place to prevent it. Can we avert what now seems inevitable?•
__________
Mutz has held leadership positions including lieutenant governor and president of Lilly Endowment and PSI Energy. Send comments on this column to ibjedit@ibj.com.

Please enable JavaScript to view this content.