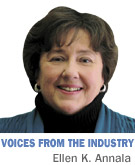 I've been doing not-for-profit work for a long time, and like to think I've learned a thing or two about civic engagement in the process. A few years ago, you might have caught me whining about a lack of volunteers. "Resource development" is about both people and dollars, and in the 1980s and early 1990s, the volunteer part of the equation seemed to go wanting.
But times have changed, and along with those changes during the past four-plus decades have come at least four aha's! for me.
Aha! 1: Community engagement is good business.
A few years ago, Steve Walker was United Way of Central Indiana's campaign chairman for two years in a row, and over 24 months he and I called on several CEOs, plant and branch managers.
I watched the reaction of these business leaders, not just when Steve was talking about why his company, Walker Information, supports United Way, but more so, why it's good business to be involved in the community. Disinterested, disengaged CEOs sat up and took notice as Steve talked about the relationship of community involvement and employee loyalty and retention, documented by Walker's research.
Aha! 2: Younger workers expect volunteer opportunities and expect employers to make it happen.
During a call on the managing partner of an accounting firm, the partner talked about how young accountants he hires expect their firm to provide volunteer opportunities. They have grown up in school with service learning experiences and expect volunteerism will continue in their working careers.
Like many organizations, United Way saw an aging cohort of supporters and wanted to connect with younger workers to develop and grow our volunteer and donor base.
At the kickoff for our Emerging Leaders group in 2005, I would have been delighted with 50 members. We had more than 120 who joined on the spot, and most of them signed up both as volunteers and givers.
Today, that group numbers just over 900 and collectively they give more than $1.5 million and have developed a program that meets their individual needs while doing good.
Aha! 3: Help is at hand.
CEOs are often surprised when I tell them I consider them to be both partners in improving our community as well as "customers." Yes, companies need to figure out how they will engage employees in community service. And not-for-profits must view companies as customers and help them achieve their civic engagement goals.
This means paying attention to the nature of volunteer opportunities, how well they are organized, and how well they meet a company's goals and the broader community goals for improving life in central Indiana.
Resources are available to help a company figure out what its civic mark will be and how it is going to make it. The Corporate Volunteer Council is staffed by United Way's Volunteer Center. Company representatives meet regularly to share successes and explore how to engage employees in meaningful volunteer opportunities.
In addition to the Corporate Volunteer Council, there are leadership programs that expose "up and comers" to opportunities. The Stanley K. Lacy Alumni group runs several programs, and United Way has four adult and one youth leadership program under the Leadership United banner. Indy Hub connects young professionals, and Indianapolis Ambassadors provides not-for-profits with volunteers.
Aha! 4: There's room for everyone.
In a meeting the other day, the speaker was introduced like this: "He's really important. … He is on 20 different community boards." I wasn't impressed. No one can do a good job on 20 boards, and organizations need board members who are totally engaged and committed. But it also makes no sense to spread one person so far when there is so much talent in the wings.
If these organizations want to thrive, they need to reflect our community's increasing diversity. We don't want to lose the wisdom of experienced civic and business leaders, but there is room for both.
Central Indiana has a great reputation for its volunteerism. But volunteerism is about much more than putting on the Final Four and the Super Bowl (though both are important).
My aha's! from volunteers in the for-profit sector have shown me that volunteerism is a business strategy for success and for retaining workers. It's a means of releasing and using new talent and energy to address community problems. And, it is a way to improve the quality of life for all our residents—including your workers.
Scientists claim that with every aha! moment comes a surge of electrical activity in the brain.
I'm hoping our business leaders get the bursts of insight they need about the importance of volunteering before our younger workers choose to search for what they need in another community that "gets it"!•
__________
Annala is president and CEO of United Way of Central Indiana. Views expressed here are the writer's.
Please enable JavaScript to view this content.