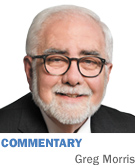 Earlier this month, I had the opportunity to preview the new Conner Prairie exhibit—"1863 Civil War Journey: Raid on Indiana."

I have to be honest. When I knew I was going to the exhibit opening, I was pleased to go because I'd heard so much about it, but I wasn't expecting to come out of there enthusiastically recommending it to just about everyone I talk to. Yet, that's what happened.

You must go. If you lived out of state, you would want to book a trip here to experience it. But, it's just a short drive for most folks reading this. Sometimes, the best things in life are right under our nose and we don't recognize them.

Congratulations to Ellen Rosenthal, Conner Prairie president and CEO; the entire board, staff and volunteers; and to Jonathan Bean Design Ltd. out of the UK for a job well done.

There was a lot of press when the exhibit opened, so I won't belabor the details, but here's a brief recap of how this exhibit came to be and what you can expect to see when you go.

Ellen explains on her blog that in 2006 and 2007, a committee of the board, staff and community representatives laid out a strategy for Conner Prairie's future and they hit on the idea of adapting the existing 1886 Liberty Corner area of the property to introduce different time periods.

After testing some time periods with focus groups, the idea of a Civil War exhibit rose to the top. They narrowed the focus to the most important event that occurred on Indiana soil: the raid in 1863 led by Confederate Gen. John Hunt Morgan.

While I did study in school, I'm embarrassed to admit I did not realize that the Civil War came to Indiana. I missed that. I think of battles at Bull Run, Gettysburg and the like, but not the battle of Corydon in Indiana. The great thing is, it's never too late to learn, and that's what I did as I moved through the exhibit. For the geographically challenged, Corydon is in Harrison County in far southern Indiana, just north of the Ohio River and about 30 miles west of Louisville. Corydon was Indiana's first state capital and was the home of former Gov. Frank O'Bannon.

On July 9, 1863, Morgan and 2,400 Confederate soldiers crossed the Ohio River and engaged in the battle of Corydon. They headed north and east and ended up camping in the tiny town of Dupont the evening of July 11. This is where you step in and become part of the action as Morgan's raiders ride into town and burn railroad property and plunder stores and homes. You volunteer to become a part of the 103rd Regiment Indiana Militia and you prepare to defend your homeland.

Through expert use of technology and theatrical wizardry that includes video, sound, staging and live people in authentic dress, you become a part of the story. That's the magic of how you learn so much and retain the information after your experience. It's fun. It's flashy. It's a hip, modern way to learn history. Even your tough-to-impress eighth-grader won't know this is an educational exercise.

Then you explore the raided village of Dupont at your own pace and learn the real stories of real people who lived in Indiana during the Civil War. I hope I've raised your interest level in attending. Bring the family, bring your friends, and invite out-of-town guests. You'll want to go back because there is too much to learn with just one visit.

Conner Prairie paid north of $4 million for this exhibit. Many generous individuals and companies helped underwrite this big expenditure. A tip of the hat to these folks for providing the financial backing to make this unique exhibit possible.

Here's a little more history for you. Conner Prairie Interactive History Park was created by Eli Lilly in 1934 and is Indiana's only Smithsonian Affiliate. Conner Prairie is also a 2010 Institute of Museum and Library Services National Medal award recipient. We're lucky to have such a fine institution right here in central Indiana.

As we recognize the 150th anniversary of the start of the Civil War this year, be sure to take a short drive to Conner Prairie and experience this wonderful exhibit for yourself.•

__________

Morris is publisher of IBJ. His column appears every other week. To comment on this column, send e-mail to gmorris@ibj.com.