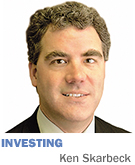 When we hear the term "global economy," most of us probably think of the United States, Europe, China, Japan, India, Brazil and Russia. Canada, Australia and Mexico might also come to mind.
However, the global economy extends to many regions and countries that, while smaller in economic stature, are often overlooked. Dynamic changes are occurring in places like Poland, Turkey, Iran, Qatar, South Korea, Indonesia, Malaysia, African nations and even Mongolia. Yes, it is hard to imagine, but people in the land of Genghis Khan are now shopping at Louis Vuitton.
Improvements in technology and transportation logistics and the ease of financial capital flows have left few corners of the world untouched. The large global banks have established offices in these countries providing capital to their fast-growing economies and funding investments in infrastructure and business development.
If you have what the rest of the world wants, business will find you. More governments around the world have come to understand the benefits of attracting foreign investment and, thus, seek to leverage their valuable assets and compete for capital inflows. Whether it's providing cheap labor, extracting vast natural resources or establishing a political climate that favors business, countries are in an economic competition to raise living standards for their citizenry.
The demand for natural resources has created new wealth in Mongolia. A $4 billion deal with Canadian and Australian mining companies will soon be followed with bids to develop the world's largest coal mine in the Gobi Desert, where a city of 60,000 will be built. Local officials expect Mongolia's $7 billion a year gross domestic product to grow at 20 percent annually for the next decade. Big companies like GE are already there selling MRI machines to Mongolia's nascent hospitals.
Per-capita income in Turkey has tripled in less than a decade from $3,000 to $9,000, while foreign capital flows have jumped from $1 billion to $20 billion annually. Turkey lacks the natural-resources-related wealth that is spurring growth in many countries. Instead, it has a political structure that encourages an entrepreneurial atmosphere that dates back to the Ottoman Empire. Turkey solved its debt problem over the past decade by moving from a 12-percent budget deficit to a slight surplus. The country's economy is growing 11 percent annually by expanding its financial, retail and construction sectors and is also a leading producer of agricultural products.
Poland was the only European Union member to avoid recession over the past two years. Its service-based economy is now ranked 20th in the world and has operations in the pharmaceutical, manufacturing and electronics industries. Its currency, the zloty, has fallen 18 percent against the euro, which has kept Polish exports competitive and helped insulate the country from the effects of the debt crisis.
 Indonesia and Malaysia are both rich in natural resources and, along with Singapore, have extensive financial services and serve as hubs for international trade. The area's three largest cities—Jakarta, Kuala Lumpur and Singapore—are vibrant contributors to the global economy.
Investors interested in potential investment opportunities in these countries might begin by focusing on the largest companies traded on their respective stock markets, which typically are banks, utilities, transportation and natural-resource businesses.•
__________
Skarbeck is managing partner of Indianapolis-based Aldebaran Capital LLC, a money management firm. His column appears every other week. Views expressed are his own. He can be reached at 818-7827 or ken@aldebarancapital.com.
Please enable JavaScript to view this content.