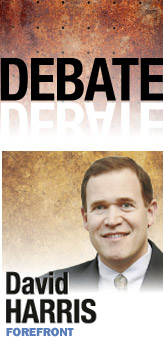 Question: Education reforms passed in this year's General Assembly addressed schools and teachers, but not parents. Should parents also be held accountable for the academic performance of their children?
Answer: Defenders of the status quo in public education suggest that it's not fair to hold only teachers and schools accountable for the performance of kids growing up in poverty. They say kids are coming to school under-fed and under-prepared, and they blame poverty and low parent engagement for why kids don't succeed.
It's true that kids from disadvantaged backgrounds present special challenges for schools. But the notion that kids from challenging backgrounds are destined to fail could not be more wrong. Indeed, research shows that if low-income kids have three great teachers in a row, they can overcome the effects of poverty and close the achievement gap with their wealthier peers.
President Obama was right when he said in 2008, "The single most important factor in determining [student] achievement is not the color of [students'] skin or where they come from. It's not who their parents are or how much money they have. It's who their teacher is."
So we should not talk about impractical policies like legislating parental engagement. For one thing, the only levers the state could pull are draconian and unfair. Should we threaten to take away poor parents' food stamps if their kids are truant? Should we punish a single mother when the father is nowhere to be found?
Instead, we should embrace proven strategies like improving teacher quality or creating conditions through which more great schools will emerge.
If we really want to get parents more engaged, let's replicate the approach of top-performing schools. The reality is that successful school leaders know how important engaged parents are, so they make parental outreach a priority.
Consider the KIPP network, where administrators visit the family of every incoming fifth-grader to engage the family before school starts. KIPP requires parents to check on students' homework every night, and teachers frequently reach out to parents to update them on their children's progress. Teachers even give students and parents their cell phone numbers in case they need help on homework, or other questions arise. KIPP builds a culture of high expectations and parents take part.
We should also focus on recruiting—and rewarding—educators who hold high expectations, and who have the passion and commitment to ensure each student reaches their full potential. They're educators like Mike Anderson, a 2007 Indianapolis Teaching Fellow, who was named the 2010 Teacher of The Year in IPS. Anderson's algebra students at T.C. Howe Community High School outscored other classes on the school's end-of-course math test by 189 points and averaged at least 10 percentile points higher than their IPS peers on each benchmark assessment.
Teachers like Anderson, and schools like KIPP, are proving every day that all kids can succeed if given the right opportunities.
Of course it would be better for everyone if parents were fully engaged with their children's education. But we can't let parents' absence or poverty be an excuse for denying their children the educational opportunities they need and deserve. As former President George W. Bush said, we must not perpetuate "the soft bigotry of low expectations."
We should not be distracted by policies like parental accountability that, as former New York City Schools Chancellor Joel Klein says, "lets the school system off the hook."
Let's not blame the victim; when poverty or family circumstances become an excuse for low expectations, we are missing sight of the simple fact that some schools and teachers are able to help children from all backgrounds achieve at the highest levels.•
__________
Harris is CEO of The Mind Trust, a not-for-profit supporting entrepreneurial education initiatives. Send comments on this column to ibjedit@ibj.com.
Please enable JavaScript to view this content.