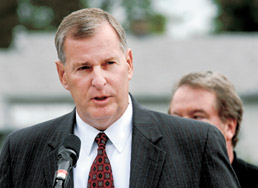 Mayor Ballard, seen here at a recent event promoting his infrastructure projects, pledged sweeping reforms four years ago. (IBJ Photo/ Perry Reichanadter)
When it comes to campaign promises, Republican Mayor Greg Ballard said he's fulfilled all the big ones he made four years ago: curbing the crime rate, making government transparent, and successfully pushing for property tax reform.

Democratic challenger Melina Kennedy, on the other hand, says he has failed to deliver on vows to repeal an income tax increase, to hire hundreds of police officers, and to make education a top priority.

The reality lies somewhere in the middle—something experts say is common among politicians.

"Candidates routinely try to keep campaign promises once they're elected, but that doesn't translate into results necessarily," said William Resh, an assistant professor at Indiana University's School of Public and Environmental Affairs who studies executive politics and public management.

Since taking office as a political newcomer in 2008, Ballard undoubtedly has accomplished some of his policy objectives.

He took control of the police department and implemented merit-based promotions and leadership training for officers that he says will make a long-term impact. He also was one of two Indiana mayors to advocate statewide property-tax caps that he said eased homeowners' financial burdens. And he enacted ethics reform, public budget reviews and neighborhood "Mayor's Night Out" meetings to meet his pledge to make government more open.

But there are other priorities Ballard touted as a candidate that he hasn't achieved.

For instance, he railed against an income-tax increase implemented by his predecessor, Bart Peterson. But as mayor, Ballard kept the tax mostly intact because he said the revenue was necessary to carry the city through property-tax caps and tough economic times.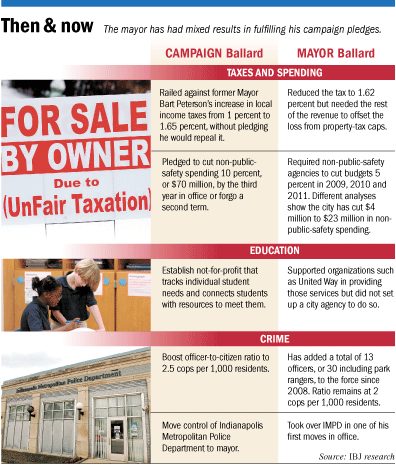 Ballard the candidate talked about the need to hire police officers. In his first year in office, though, he realized how challenging it was to add even 100 cops—ultimately electing to use the additional income-tax money to address budgetary gaps instead.

During the campaign, he highlighted his goal of making a drastic impact on K-12 education, including Indianapolis Public Schools, and criticized Peterson for focusing mostly on charter schools. But Ballard since has discovered his ability to bring about change in other schools is limited, since he lacks direct control. His efforts also have emphasized charters.

Kennedy, who served in Peterson's administration, also has made some ambitious campaign promises. And some in Ballard's camp are questioning whether her plans for improving K-12 education and adding police officers are grounded in reality (see sidebar, below).

When candidates don't follow through on campaign pledges, experts say, it's easy to shift blame to outside forces such as public-sector unions, changing economic conditions and opposition from other branches of government—all of which pose legitimate challenges to getting things done.

"There's great unpredictability in governing," said Bert Rockman, professor and department head at Purdue University's Department of Political Science. "There is little one can do in the face of insufficient support and dogged opposition."

Ballard had the benefit of having Republicans control the City-County Council, for example, but he faced the challenge of a sour economy that depressed tax revenue.

What matters in elections, however, is how candidates' records on promises influence voter behavior, and experts say it often doesn't.

Voters—particularly those who aren't aligned with a party—tend to rely mostly on current conditions to make their decisions, said Robert Dion, a professor of political science at the University of Evansville.

"It's all going to be distilled down" to one thing, Dion said. "Do people of Indianapolis feel better off now than they were before?"

Taxes and spending

What Ballard said: This issue overwhelmed the 2007 mayoral campaign, and Ballard emphasized the burden that Peterson's income-tax increase, from 1 percent to 1.65 percent, placed on Indianapolis residents.

He warned that increasing the cost of living would drive residents and businesses out of the county and touted the need to cut local government spending and avoid raising taxes.

He pledged to not seek a second term if he failed to cut non-public-safety spending 10 percent—a figure he placed at $70 million. He also said he would fight to eliminate property taxes, and if state lawmakers were not willing to make such a move, he would work to dilute their influence.

What he did: Early in his term, Ballard said he would repeal the income-tax increase, but only if the Legislature approved statewide government consolidation that would produce enough savings to offset the loss of revenue. That legislation did not pass, but Ballard still pushed through a tax reduction of about three-hundredths of a percent, to 1.62 percent.

Ballard also testified in favor of the state law that put into effect property-tax caps, which have reduced city-county revenue more than $66 million since 2009. With that reduction, Ballard said, money from the income-tax increase became necessary. But he said voters wanted property-tax relief, so he supported it.

Kennedy, however, said Ballard's failure to repeal the income tax amounts to a broken promise.

"The promises you make to voters are the ultimate indicators of success," she said. "Voters relied on him, and he failed them."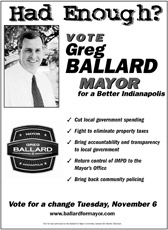 A political newcomer then, Ballard made many promises during the 2007 campaign. (IBJ Files)
It's difficult to determine whether Ballard achieved his goal of cutting 10 percent from the non-public-safety budget. That's because the Legislature in 2008 moved costs such as child welfare and certain police and fire pension payments to the state. Also, an influx of federal grant money has changed the spending picture.

Ballard said his administration cut the non-public-safety budget 5 percent every year since 2009.

But comparing certain numbers within the budget shows that, although spending was significantly reduced, the cuts don't add up to $70 million.

City officials provided data on non-public-safety spending adjusted for federal grants, election years and other state funding changes. That showed non-public-safety spending at $439.5 million in 2008, compared with $435.1 million in 2011, a reduction of 1 percent. When debt not funded through property taxes was excluded, the difference was about 7 percent—$312.4 million in 2008 versus $289.4 million in 2011.

Ballard said what's important is that he has created a stable fiscal climate for residents and businesses.
"Now we have consistency and predictability," he said. "I think there's a bigger sense within the city that things are moving in the right direction."

Ballard has avoided raising income taxes, even though doing so this year would have helped make up for a roughly $20 million drop in revenue for local government units. But he has raised money in other ways, in some cases increasing other costs for residents, visitors and businesses in the county.

For example, the city increased business licensing and permitting fees to fund and beef up service for the city's Department of Code Enforcement, shifting the cost to users.

The city also increased parking meter rates through a long-term lease of the meters to a private operator, which has netted additional money for road and street improvements and to help fund a Broad Ripple parking garage.

The $1.9 billion sale of the city's water and sewer utilities to Citizens Energy Group is expected to generate savings that will curb future rate increases. But the city captured some of that savings—which could have been applied to additional rate reductions—to spend on things such as infrastructure and abandoned housing.

Some fiscal experts say those additional expenses are not taxes in the literal sense, but they have the same effect.

"Any time money comes out of your pocket or my pocket for the purpose of funding government, it's the same thing as a tax on income or property," said John Ketzenberger, president of the Indiana Fiscal Policy Institute. "It's a distinction without a difference."

Education

What Ballard said: Improving public education wasn't a major talking point, but Ballard labeled it a key priority on his campaign website and in blog postings.

He criticized Peterson for failing to take a more vocal stance on the issue and, while he applauded Peterson's charter school work, he criticized the former mayor for focusing primarily on such schools as a solution. Ballard said he would form a coalition of not-for-profits that would work together to provide children additional help with schoolwork and use his bully pulpit to sway residents on the issue, encouraging them to volunteer in public schools.

What he did: Like Peterson, the bulk of Ballard's efforts have centered on charter schools. Ballard has taken several steps to promote charter schools, including approving eight new schools.

His office also lobbied behind the scenes on some of the education-reform bills approved during the last legislative session, according to those familiar with the efforts. Among them is a law that allows the Mayor's Office to ask the Board of Education for city control of failing Indianapolis Public Schools.

Last month, Ballard announced a plan to provide incentives for charter school operators to open schools in Indianapolis and not-for-profit education reform groups to locate in the city.

He's had far less luck making a direct impact on traditional public schools. In his first couple of years in office, Ballard visited the majority of schools in the city, meeting with school leaders, delivering speeches and hosting question-and-answer sessions with students. He also met occasionally with IPS Superintendent Eugene White, according to those familiar with the meetings, but did not meet with superintendents across the county on a regular basis.

He also did not launch the not-for-profit coalition he discussed as a candidate. Ballard and his campaign advisers said he found out upon taking office that other not-for-profits already were providing the services he discussed or were planning to launch similar services. Instead of duplicating their efforts, Ballard said, he decided to show public support for them.

Some experts say Ballard's experience is not unusual. The way the city's education system is structured—with mayoral oversight of charter schools and several other public-school districts under separate leadership—it's difficult for city leaders to make changes.

A mayor can use the office to influence policy, but there are few examples nationwide of mayors who have done that successfully, said Jonathan Plucker, director of Indiana University's Center for Evaluation and Education Policy.

"Unless the structure is changed—regardless of who the mayor is—it's going to be equally hard for him or her to get all of those school corporations to change," Plucker said.

That also could be a cautionary tale for Kennedy, who has touted bold proposals such as holding schools accountable for students achieving third-grade reading proficiency as part of her campaign literature.

Crime

What Ballard said: He criticized Peterson for putting control of the Indianapolis Metropolitan Police Department under the Marion County sheriff. His primary pledge was to take back control of the department.

He also advocated for significantly increasing the number of police officers, boosting the officer-to-citizen ratio to FBI-recommended levels, which he cited as 2.5 cops per 1,000 residents, and vowed not to cut public safety spending.

And he called upon Peterson to reopen substations in underserved areas and reinstate the former North District police station at 42nd Street and College Avenue to address neighborhood crime problems.

What he did: One of Ballard's first moves as mayor was to retake control of the police department. He said his placement of distinguished leaders in the position of public safety director—which oversees police, fire, homeland security and animal care and control—has helped lower the city's crime rate.

Crimes such as rapes, robberies and criminal homicides decreased from 2007 to 2010, according to figures IMPD reported to the FBI in May, while the number of aggravated assaults rose.

But Ballard learned quickly the challenge of funding additional police officers. The number of officers within IMPD stands at 1,632, including 17 park rangers who patrol parks and the Monon Trail—just 30 more than when Ballard took office.

Boosting the officer-to-resident ratio would require a force of 2,074 cops, based on Indianapolis' 2010 Census population of 829,718.

Ballard said the city would have liked to hire more officers, but given budget constraints, it's significant that his administration has been able to add any officers.

"It's a difficult climate right now," he said. "But I think you can see by our budget that public safety is important to us."

IMPD has been spared cuts the last few years, but the department is being asked to trim $6.6 million from its roughly $200 million budget for 2012. Changes to the budget could be made before it goes before the City-County Council for a final vote Oct. 17.

Budgetary constraints also have made it tough to open substations across the city. Ballard did reopen the 42nd Street and College Avenue substation, but it houses the community affairs unit, whose officers handle crime prevention programs rather than law enforcement. The city also intends to open a police substation in Broad Ripple.

Rockman, the Purdue professor, said a changing economy is among the factors that make following through with campaign promises more challenging.

"Economic circumstances have a significant impact on what one can do," Rockman said. "Prosperity gives a leader more degrees of freedom than do difficult times."•