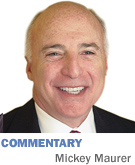 During two years of "face time with the governor," I absorbed a passable understanding of "Danielnomics." So Mitch Daniels' new book "Keeping the Republic" provided few surprises for me. For those of you who did not have that privilege, I recommend this treatise, which George F. Will referred to in the foreword as "conservatism for grown-ups."

Daniels offers few peeks at his positions on social issues: abortion, gay rights and illegal immigration. This volume is about economics, and as Daniels says, "The problem is mathematical, not philosophical."

He refers to our national debt—current and coming—as a second Red Menace, the ocean of red ink that may sink the country. He also says our personal freedom is at risk from a threat "that is not more terrible than the cold war Soviet nuclear menace, but is far more likely to befall us." And if the American Republic undergoes a full economic and social collapse, the consequences will be "beyond our ability to imagine."

Exitus in dubio est—the outcome is in doubt. As Daniels writes, resolving that doubt "is a task of our age and is [as] noble an assignment as any generation could wish for itself." In Hoosier speak: "We either deal with this problem soon or we're hosed."

Daniels riffs on unions, public education, lack of patriotic grace, and the emergence of Islamic religious fanatics and their potential to possess weapons of mass destruction. He also gives his take on attempts to limit the income of the wealthy, which he refers as "self-defeating."

He concludes that there is no path to national survival that leaves Social Security and Medicare as they are. He refers to these "retirement arrangements" as a form of child abuse because they heap tons of debt on future generations. Daniels declares that Medicare's unfunded obligations are more than twice as large as our current national debt and present by far the worst danger to our fiscal future. This is where the red menace must be stemmed—and time is short.

Much of Daniels' rhetoric is aimed at what is popularly referred to as "Obamacare," which he denigrates as a 2,400-page bill, unread by anyone and rammed through an exhausted Congress. Daniels believes the health care reform legislation fundamentally alters the terms of trade in the largest single sector of our American economy and embodies many of the reasons why the United States is now facing an existential fiscal crisis.

He says passing this legislation showed a reckless disregard for the federal government's ability to pay its bills. He calls Obamacare a disaster that is certain to aggravate the worst distortions and dysfunctions of America's accidental bizarre way of paying for medical treatment and says it is an insult to the intelligence of citizens who want to determine for themselves how to purchase protection.

Daniels adds that Obamacare must be undone and replaced, or it will hasten the bankruptcy of the American government.

Daniels optimistically maintains that our country can and will fight its way out of the "dangerous corner of debt and economic stagnation," but warns "the breakthroughs necessary to discipline government, restore national solvency, and reinstate freedom among Americans will require the realism to move now, as far and as fast as possible. If the measures achieved are less than optimal, we can always come back with the next round. But stalemate means ruin."

These prescient observations were penned before the near-disastrous lack of cooperation exhibited by the House majority, which included some members of the Indiana delegation.

For those of you in the Kindle age, let me suggest that you buy this book in hardcopy. "Keeping the Republic" belongs on your shelf to mark-up, underline, save and treasure. Laced with history and wit, it is a straight-talking Hoosier common-sense call to action.

The book leaves readers with a one-word response to Daniels' decision not to run for president: "Reconsider."•

__________

Maurer is a shareholder in IBJ Media Corp., which owns Indianapolis Business Journal. His column appears every other week. To comment on this column, send e-mail to mmaurer@ibj.com.