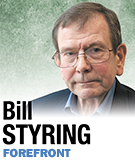 Alas, this is not the semester I'm teaching a graduate public finance course. I would have had great sport showing my students a home-grown example of how cartels behave when threatened, namely the September organizational meeting of something called the Indiana Coalition for Public Education.
Ramrods for this initiative included Indianapolis Public Schools Superintendent Eugene White, sundry other "public school" supers, editorial writers (not IBJ's) and, of course, teachers' union officials.
They all protested the "attack" on K-12 education by the Daniels administration in the form of school vouchers and charter schools. One suspects what White really protests is that the academic performance of most of "his" high schools and one middle school (Donnan) has been so consistently dismal that the state finally said IPS is no longer competent to administer them.
IPS is now left with just two high schools, Tech and Northwest, with the others—Manual, Washington, et al.)—being turned over to private management.
The government, aka "public," schools are a classic, textbook cartel: an arrangement among producers to rig the market. All who have children ages 6-17 are required by law to "buy" education.
Indiana is carved up into discrete regions (school districts), each of which has various "outlets" (schools). You can buy education for "free" at your designated high school. If you don't like their "product," tough. Your choices are to move somewhere else where you think the "free" government outlet is "better" (the more affluent can; the poor are trapped) or buy education in the private market with your own money.
This is a cartel on steroids. It routinely controls 90 percent-plus of the market of K-12 students. Try competing with someone who is giving away a product the law requires you to buy.
And there is a universal trait of cartels. They go bananas when their game is threatened.
Here's a small sampling of some of the reported remarks at the coalition conclave, with my comment.
White: "We have people who want to tell people that poverty doesn't exist. These are people who woke up on third base and thought they hit a triple."
Comment: I grew up on the lower south side of Indy in a lower-middle-class neighborhood. Manual High School was runner-up in the WTHR-TV Channel 13 "Brain Game" (then called "Exercise in Knowledge") in 1961 and won it all in 1963. Don't tell me I grew up on third base. The only third base I ever saw was on the Manual baseball team, which, by the way, you have petulantly refused to fund because Manual is no longer one of "your" high schools.
Joe Hand, coalition attorney who also directs a First Amendment challenge to religious school vouchers: The notion that the (public) schools have failed "has been crammed down the throat of the Legislature. It's a self-fulfilling prophecy … But there are taxpayer groups out there who are very committed to preserving … the things we take for granted."
Comment: If the Legislature is so far off base and all the government schools are wonderful, surely they can't object to a little competition, can they? By the way, for your lawsuit, you might want to look up Quick Bear v. Leupp (1886). Controlling precedent. You're gonna lose.
State Rep. Tim Skinner, D-Terre Haute: "Dr. White is right. This isn't about kids. It's about unions. It's an age-old fight."
Comment: To be fair, Skinner probably means to say those evil GOP'ers hate unions, but we-the-righteous think only about kids. He has it exactly backward. Teachers' unions—and their money—are a core constituency of the Democratic Party. Every sophomore econ student learns that a cartel enforces its interests, and consumers (kids and parents) come second.
So you see, there is wrath greater than that of a woman scorned. That's a cartel whose apple cart is being upset.•
__________
Styring is an economist, a former Indiana Chamber of Commerce lobbyist, and a former senior fellow at the Hudson Institute. Send comments on this column to ibjedit@ibj.com.
Please enable JavaScript to view this content.