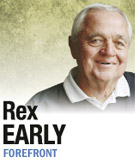 The newly elected Indianapolis City-County Council is made up of 16 Democrats and 13 Republicans. Their first act will be to join hands and sing "Kumbaya."
The new president of the council is Democrat Maggie Lewis. She has a reputation as a person who will listen to both sides, which bodes well for Republican Mayor Ballard.
Republican Mike McQuillen will probably be the minority leader.
Here are some of the issues the council will debate.
Smoking ban
I have always believed I have the constitutional right to kill myself by smoking. I do agree my constitutional right does not include my killing the bartender with secondhand smoke, even if he is a jerk.
Tobacco has always been a legal substance in this country.
I started smoking when I was in the service. A package of cigarettes was included with our C rations.
I do have a problem with anyone telling our veterans, who have risked their lives for our freedom, that they are not free to smoke at their gathering places. I hope the mayor holds out for that.
Health insurance for domestic partners
Now this is always a touchy subject. I do not care what people do as long as they don't do it in the street and scare the horses. I am not against this because of some kind of gay and lesbian bias.
I am against this because I, as a taxpayer, don't want to have to pay for it. It's that simple. It will raise the city's health care cost dramatically and, no, you can't insert your girlfriend as a domestic partner even if your wife has health insurance where she works.
New council maps
The Republicans, before Jan. 1, will put forth new district maps drawn by my good friend David Brooks. He is sort of a nonpartisan guy. The map will be voted on, it will pass, and the mayor will sign it.
After Jan. 1, the Democrats will introduce their new map. It will contain a lot of gerrymandering, but it will pass and be sent to the mayor, who will veto it because of the gerrymandering. So much for "Kumbaya."
There will be a lawsuit and a judge will decide on a new map.
Rapid transit/light rail
The promises are that, if we build it, we and surrounding counties will live in utopia. There will be new business, new jobs, a booming economy, and we will retain talent. We will attract the best and brightest and improve air quality. It will solve our housing problem, and that is just scratching the surface.
Supposedly everybody is for it including the governor, mayors, legislative leaders, newspapers, Democrats, Republicans, the housing industry, real estate agents and the big law firms.
I have heard the costs might be from $2 billion to $3 billion.
I do have a solution I have been working on and I hope it's considered. It is called Clunkers for Dollars. It could be implemented immediately.
For $3 billion, we can buy 300,000 used cars for $10,000 per car. That should take care of everyone who needs transportation. For those who are married or have a domestic partner, they could each have a $5,000 car.
Think about the economic impact. The automobile dealers will hire countless people to buy cars, for the government.
Now just think of the auto-repair shops and tow-truck businesses that will spring up and hire thousands of people (after all, these are used cars). The personal-injury lawyers will have a field day and hire more attorneys. I could go on.
Even my insurance agency will prosper as some will buy insurance.
I can envision Ballard and Daniels cutting the ribbon on a field of 300,000 used cars. It will look like Black Friday at Walmart.
My idea is a no-brainer—and I didn't even go to Yale.•
__________
Early served in the Indiana House and as a Republican state chairman, as well as on the Republican National Committee. Send comments on this column to ibjedit@ibj.com.
Please enable JavaScript to view this content.