When he took the helm of Indiana's public schools, many people greeted Tony Bennett's name with the joking reaction, "Like the singer?"

But no one's joking anymore.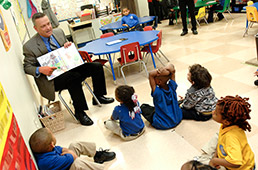 Bennett, who recently read "Hoosier Heart," by Luke Messer, to kindergartners at the Indiana Math and Science Academy in Indianapolis, faces fierce opposition from teachers' unions and school administrators. (IBJ Photo/ Perry Reichanadter)
In three years, Bennett has spearheaded a stunning overhaul of Indiana's education laws, unmatched by any of his predecessors. This included a major rollback of teachers' unions' rights, the creation of the nation's largest private school voucher program, and the unprecedented takeover of five schools by the state.

The Republican from New Albany has led this charge with a kick-in-the-pants, question-the-motives-of-any-who-oppose-him style that infuriated education professionals and left even some of his ardent supporters—particularly progressive Democrats—shaking their heads in disapproval.

Now, at least in Indiana, Tony Bennett the educator isn't confused anymore with Tony Bennett the singer (even less so after the singer tried his hand at drawing with a nude sketch of Lady Gaga).

The question is, does Bennett's name recognition—considering the way he has earned it—help him or hurt him as he seeks re-election in November?

Clearly, his record has delighted many business leaders, whose deep pockets have opened wider and wider for Bennett. Since August, he has pulled in $125,000 in big-dollar donations, including $25,000 from education philanthropist Christel DeHaan

and a $50,000 check from hotelier Dean White.

On the other hand, Bennett's style has angered so many teachers, he could face a much larger army of foot soldiers working against him than any state superintendent before. Add to that the axiom that Hoosiers rarely like radical change agents in the Statehouse, and Bennett has plenty of hurdles on his path to re-election.

Already, there are concerted efforts to draft a high-quality Democrat to run against Bennett this year. And poll data suggest the public's views on education diverge at key points with Bennett's record of accomplishment.

"There's certainly more of a concern now with what's happened. Now more than ever. Much more than ever," said Rick Muir, a retired teacher in Anderson who is president of the Indiana Federation of Teachers, one of the state's two main teachers' unions.

He said teachers' unions might not be able to match Bennett in dollars—especially since Bennett has been getting big donations from out-of-state groups, such as the Virginia-based voucher advocacy group American Federation for Children. But both teachers and administrators are ready to work to defeat Bennett.

"Citizens, teachers, anybody involved in education, administrators' associations, school board associations, superintendents' associations—I'm talking about all these groups." Muir said.

It's not hard to see that he's right. There's a Facebook page titled, "Tony Bennett [Indiana superintendent] needs to quit making new school laws," which features a photo of Bennett with a thick red line drawn diagonally over his face.



Bennett is also mentioned from time to time on another Facebook page titled "Educators AGAINST Mitch Daniels."

Bennett himself acknowledges that he faces a charged-up opposition this year. In a Dec. 15 e-mail soliciting donations from supporters, Bennett included a picture of a red bumper sticker that read, "Defeat Tony Bennett, Election 2012."

"There are certainly opponents to the progress we've brought over the last three years—and they've already started working against us," the e-mail stated.

But Bennett likes his chances. Sitting in a downtown restaurant in jeans and a navy pullover during a day off over Christmas break, Bennett said Indiana's schools have already shown improved performance since he took office.

"There is not an indicator in this state that isn't up," he said, touting higher graduation rates, higher ISTEP scores and other improvements.

Since the day Bennett won election in November 2008—with just 51 percent of the vote—there has been talk of his seeking even higher offices. Some in state political circles have speculated that Bennett could end up running as lieutenant governor in 2012, not state superintendent. But Bennett denied both ideas.

"No. Absolutely not," he said, adding, "I didn't have a political career when I started, and I have no intention of having one when I'm done."

The 51-year-old said he has never expected to serve more than two terms as superintendent—although he added the caveat "if we're successful."

One thing is certain. Bennett won't ease off the gas pedal in order to take the edge off his reputation. In numerous public appearances, he has stated that he's itching to make more changes.

Perhaps most notably, he wants the Legislature to give the State Board of Education the authority to intervene in struggling schools earlier. Currently, a school must be graded an F by the state for six years before the state can intervene. Bennett wants to reduce that to four years.

He also wants to remove most state regulations for struggling schools after two years so they have flexibility to try any reform possible to improve students' performance.

Longer term, Bennett said, he wants to make the $6.6 billion the state sends each year to public schools to hinge not merely on enrollment—as it does now—but on how well those schools perform.

Bennett detailed his plans for the 2012 legislative session during a Dec. 15 panel discussion at the Indianapolis Marriott Downtown, spending the entire 45-minute session bouncing his knees under the table like a third-grader needing to go to the bathroom.

Just minutes after Eugene White, superintendent of Indianapolis Public Schools, called state takeover of four of his schools "too radical for a place like Indianapolis," Bennett unapologetically called for quicker state interventions.

"It shouldn't take six consecutive years for us to give these schools the support they need," he said.

Cutting a big wake

In many respects, the exchange between White and Bennett encapsulates Bennett's three years as state superintendent. Rather than looking to find common ground with educators when they say he's moving too fast or too far, Bennett's typical response is to go faster and further.

It's the same kind of approach Bennett took with the high school basketball players he coached in the 1990s at Scottsburg High School. The superintendent of the small school told Bennett to win—even against much larger rivals—or he'd be out of a job.

"I want to impose the same pressure on the department and on the school corporations that I felt as a basketball coach," Bennett said three months after taking office.

But teachers and school administrators have not taken kindly to being treated as gym rats—and they have openly questioned Bennett's qualifications to be their coach.

They have noted that, for all his talk of high standards and providing education that doesn't leave kids behind, the Greater Clark County Schools, which Bennett led before winning office, had a poor record of achievement: just 56 percent of their students were passing the state ISTEP tests.

That same kind of criticism boiled up in March 2009, two months after Bennett took office. He issued a memo saying Indiana's public schools could no longer count snow days and teacher professional development time toward the state requirement of 180 days of instruction. That was a change from how Bennett's predecessor, Suellen Reed, interpreted the law.

School administrators reacted with shock. Some even pointed out that Bennett himself had applied for waivers from the state when he was Clark County's superintendent. Also, schools argued that they would have to pay teachers more in order to work more days to do professional development work.

Bennett not only dismissed the schools' objections, but suggested their practices were leaving kids stuck in a bygone era.

"Our intent is to help students be prepared for a 21st century economy," he said at the time.

Bennett's next target was teachers' colleges. He pushed to overhaul teacher and principal licensing standards in order to force all secondary teachers to major in a specific content area, and to limit elementary education majors to no more than 30 credit hours in pedagogy courses.

Bennett's view was that the teachers' colleges were spending way too much time on the methods of teaching, called pedagogy, and far too little time on the content of instruction. He also dismissed the idea that university education schools could teach math, for example, to the same rigorous levels as math departments.

Bennett's proposal created a firestorm. Scores of teachers showed up to testify before the previously obscure Division of Professional Standards Advisory Board. Education deans accused Bennett of usurping their authority over their curriculum and actually setting teacher-training programs back a notch in quality.

"This isn't a race to the top in these rules; it's a race to the bottom," said Ena Shelley, dean of Butler University's College of Education, at the time.

Eventually, a compromise allowed education departments to keep secondary teaching majors—as long as their programs include as much or more course credits in a specific subject, such as math, as math majors would take at that university.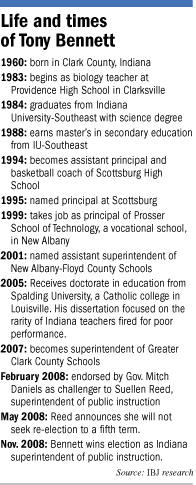 But by then, Bennett had dropped another bomb on educators: Indiana's application to President Obama's $4.3 billion Race to the Top competition.

Bennett dubbed his plan Fast Forward, and it was essentially a proposal to use the lure of federal money to get state legislators and teachers' unions to agree to sweeping changes, including using student test scores to evaluate teachers and principals, merit pay for teachers, as well as plans for intervening in struggling schools.

Bennett got 62 percent of local teachers' unions to sign on to the plan, but that was lower than in most states. In spite of Bennett's confident predictions, Indiana was not one of the finalists for the Race to the Top money.

So Bennett pressed the Indiana State Teachers Association harder to get on board. But the big teachers' union balked in a very public dispute with Bennett.

Nate Schnellenberger, president of the ISTA, told Bennett his demanding approach "certainly does not speak to either collaboration or cooperation with our association in developing a second Race to the Top application."

With their relationship in shambles, Bennett turned his attention to the 2010 legislative races. He and Daniels essentially promoted the Fast Forward plan to raise money to support a Republican takeover of the House of Representatives.

When Republicans, carried by a national wave of anti-Democrat sentiment, won a 20-seat majority, the Daniels-Bennett agenda was virtually assured passage.

The package of reforms pushed through the Legislature in 2011 required annual evaluations of teachers and principals, as well as encouraging the use of student test scores in those evaluations. The reforms also allowed for merit pay and paying hard-to-find teachers top salaries. They also limited teachers' unions' bargaining rights to just wages and benefits.

The reforms also created mechanisms to launch more charter schools (which are public schools run by private organizations)—and a program of vouchers (taxpayer-funded scholarships to private schools) for low- to middle-income families that is statewide and will eventually have no enrollment cap.

Those last two efforts—along with Bennett's decision in August to hand five struggling schools over to private "turnaround" operators—have led many Democrats (and a few Republicans) to accuse Bennett of privatizing public education.

Bennett's own education in Catholic schools—for elementary, high school and for his doctorate—only fuels that argument—even though Bennett notes that he and his wife, Tina, spent most of their careers working in public schools and sent their four kids to public schools.

"I don't even consider him to be the superintendent of public instruction. He has advocated for private schools, he has advocated for religious schools to receive vouchers. Which is really his history," said state Sen. Tim Skinner, D-Terre Haute, who retired last year after a career as a high school government teacher. "And he has downgraded public schools every day since he's been in office."

Rock star, with opposition

Charters, turnaround operators and, to a lesser extent, vouchers are being hailed across the country—even by President Obama—as ways to improve the nation's schools.

Bennett's success expanding those programs statewide has started earning him national recognition. In August, he won an "Education Reform Idol" competition, staged by the conservative Fordham Institute.

In September, Huffington Post published a story about Bennett's annual State of Education speech. And Bennett has testified on Capitol Hill multiple times.

Meanwhile, however, there might be trouble brewing at home. A survey released Dec. 15 by Ball State University said more Hoosiers (37 percent) opposed Bennett's expansion of vouchers than supported it (34 percent). Opposition neared 40 percent in the northern and southern regions of Indiana.

Meanwhile, parents with children in public schools still report high satisfaction rates—75 percent—for their local schools, according to Ball State.

Democrats are banking that those numbers show Bennett is vulnerable—especially because he built his case for reform by frequently saying too many schools and too many teachers were failing.

"There's interest in this thing. This is going to scare them," said Justin Oakley, a middle school history teacher in Martinsville who filed exploratory papers in November to run against Bennett.

Oakley, 34, acknowledged that he still must convince funders and Democratic Party leaders that he's able to win.

"But I do have a lot of volunteers, a lot of people working with me," said Oakley, adding that his Facebook page about his campaign has received 1,500 likes in just six weeks. "I'm going to have to raise quite a bit of money, but I don't think I have to raise millions and millions of dollars to get this message out."

Skinner also thinks Bennett's record has energized educators—including many Republicans—to work against him. Skinner is part of an informal group of about a dozen people working to identify and fund a strong challenge to Bennett.

Skinner wouldn't rule out that he himself might challenge Bennett in the election.

"My sole objective is to take Tony Bennett out of office. Whatever that takes," Skinner wrote in an e-mail. "He has disgraced our public schools, our children, and our educators."

Other potential challengers to Bennett, according to multiple sources who wished not to be identified, include Rep. Terry Goodin, D-Crothersville, superintendent of the Crothersville Community Schools, and former state Rep. Joe Pearson, D-Hartford City, who ran unsuccessfully in 2006 for Indiana secretary of state. Neither Goodin nor Pearson could be reached for comment.

Any challenge to Bennett would have to get non-educators to share their concerns—which will be a tall order.

Also working against these candidates is an effort by some Democrats to encourage Indiana's teachers' unions to pour their substantial resources into the 2012 governor's race rather than into the state superintendent's race.

That argument is particularly popular among progressive Democrats, who support Bennett's agenda even though they disagree with his methods.

Part of the reason for focusing on the governor's race is that some legislators have been negotiating to support a plan in the 2012 election to make the state superintendent a position appointed by the governor.

Whether such a plan will pass this year—and whether that would affect Bennett's 2012 race—is still unclear. Rep. Bob Behning, R-Indianapolis, chairman of the House education committee who has introduced such bills in the past, said he will not do so in 2012. Also, Rep. Greg Porter, D-Indianapolis, the top Democrat on the House education committee, has publicly opposed the idea.

What isn't in doubt, however, is that Bennett plans to run and plans to win. And he plans to use his position to keep shaking up Hoosier education for several more years to come.

"I want to crystallize, I want to galvanize, what we've done so it becomes the norm," Bennett said. "I think if it becomes the norm, people won't ever want to go back."•