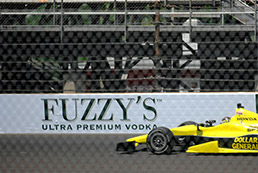 After placing ads on turns three and four, Speedway officials are considering making deals for turns one and two and other IMS landmarks. (IBJ Photo/ Perry Reichanadter)
The Indianapolis Motor Speedway is selling ads along the world-famous, 103-year-old race course for the first time ever, a break with tradition that promises to boost its financial firepower as racetracks nationwide are struggling.
With Fuzzy's Ultra Premium Vodka and Shell Oil Co. signs hung on the walls of turns three and four, Speedway CEO Jeff Belskus is predicting double-digit percentage increases in Indianapolis 500 advertising and sponsorship revenue.
Belskus is confident the change will lead to an overall revenue bump for the track of more than 10 percent for the month of May.
"We're running a business," he said. "And we're going to continue to look for creative ways to generate revenue. There's a lot of inventory here we can brand."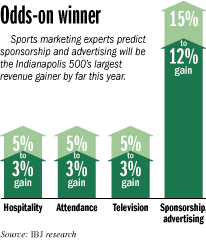 Belskus is now promising to look at all inventory at the track that could be sponsored or have corporate signage hung on it.
Motorsports marketers are salivating over what the IMS might offer next.
"They're dangling a huge carrot," said Zak Brown, president of Just Marketing International, a Zionsville-based marketing firm that represents some of the world's biggest racing sponsors. "Now that the door is open, this is something that is certainly high on our radar screen."
Tim Frost, a Chicago-based racing business consultant, calls the Speedway wall ads the biggest motorsports marketing development in more than a decade.
"Interest in this sort of advertising opportunity will be off the charts," Frost said.
Industry experts say offering signage and sponsorships on key Speedway landmarks could generate more than $7.5 million annually.
"The Speedway has left a lot of money on the table in the past in the name of keeping the facility pristine," Brown said. "Now I think we're going to see the real commercial potential of this facility."
The deals for Fuzzy's and Shell signs in turns three and four apply only to the Indy 500. Belskus said income from the signs is worth more than a million dollars and that the deals were used to leverage additional income from the sponsors, whose brands will be promoted elsewhere at the facility this month.
With the first step off the ledge in his rearview mirror, Belskus now has his foot to the floor in his effort to bring in new revenue. He's already considering ads in turns one and two and signage and sponsorships for the Pagoda, media center, pit lane and the Speedway's hall of fame museum. Ads were initially targeted for only the corners of the track, Belskus said, to give advertisers the most exposure on ABC's telecast of the race.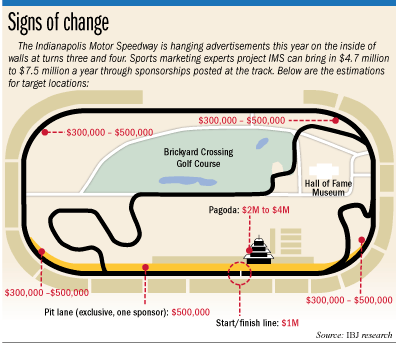 While naming-rights deals for the Indianapolis Motor Speedway or Indianapolis 500 are out of the question for now, Belskus said, a "presenting sponsor" for either of those is a possibility.
Belskus makes no apologies for the dramatic departure from tradition.
"Our traditions are important and we want to continue them, but sometimes we can't," Belskus said. "We want [changes] to be tasteful and appropriate, but the world is changing, and we're changing with it."
Belskus hasn't heard any complaints from fans about the new signs or his plans to further commercialize the Brickyard.
"People understand that sponsorships and advertising are a part of racing and sports," he said. "Lucas Oil Stadium and [Bankers Life] Fieldhouse are full of corporate signs. As long as we don't block anyone's view or disturb the experience, I don't expect many complaints."
About the biggest reaction so far has come from the drivers. Several said they were stunned to see ads on the walls as they went around the track. Will Power said the black Fuzzy's vodka signs were especially eye-catching, almost "startling" at first.
New board members, new thinking and direction
There have been a couple of instances in the Speedway's past where landmarks have been sponsored, including the Bombardier/Learjet Pagoda and the MCI WorldCom Media Center.
But Belskus' current approach promises to be much more methodical and aggressive. Motorsports sources say it's no surprise that it coincides with recent additions to the Speedway's board.
"We have new board members and a new thinking now," Belskus said.
Under the leadership of the Hulman-George family and most notably Belskus' predecessor, Tony George, the board was composed almost entirely of family members intent on keeping the track commercial-free.
That began to change in 2009 when George was fired and replaced by Belskus, previously the track's chief financial officer. Since then, several board members have been added to the mix, notably LDI Chairman Andre B. Lacy and former Anthem CFO Michael L. Smith.
Indiana Pacers President Jim Morris and Central Indiana Corporate Partnership CEO Mark Miles, who chaired the 2012 Super Bowl Host Committee and is former CEO of the ATP Tour, were added this year, as was Belskus.
Board members began discussing aggressive ways to generate revenue, Belskus said, and left it to him and his staff to determine exactly how to do that.
Belskus said he decided to place 16 signs—eight each for Fuzzy's Ultra Premium Vodka and Shell Oil Co.—on the walls at the track's north end after careful consideration of the Brickyard's heritage and the board's desire to increase revenue. Each company has about 800 square feet of ad space.
"It's important for us to use these opportunities to leverage larger deals and to reward our most loyal partners," Belskus said.
Belskus added that the signs were offered only to companies that were already involved with the IndyCar Series at the league and/or team levels.
"You can't just walk up off the street and buy one of these," he said.
Not that myriad companies haven't tried. For years, Belskus said, companies have inquired about hanging signage on the walls that line the famed 2-1/2-mile oval.
That has intensified since the Fuzzy's and Shell signs were unveiled for the Indianapolis 500's first day of practice May 12.
"We've had a number of companies just this week ask about space on the walls," Belskus said. "This has opened up a lot of conversations for us."
Fuzzy's surprise
The initial pitch caught Fuzzy's officials by surprise.
"The Speedway proposed it to us earlier this year, and I said, 'Wait, you've never done this before,'" said Fuzzy's CEO Eric Timmerman.
Smaller Shell signs were hung on pit lane last year for the first time, but those pale in comparison to the ones now in turns three and four.
While the Indiana-based vodka maker was eager for the exposure, company officials had some concern about backlash from longtime IMS fans.
"We didn't take this decision lightly," said Timmerman, whose company is also a team and series sponsor. "I'm sure some people are saying we're desecrating a monument. But remember this was a track that was developed as a proving ground, and Tony Hulman used it to promote his grocery business and Clabber Girl. The history of the track is about promotion."
The IMS' approach is still a marked contrast from most North American racetracks, which are littered with signs and regularly sell spots along the walls for $100,000 to $200,000 per year. Belskus promised the IMS won't become cluttered with ads.
The new signs are a primary driver, Belskus said, in boosting Indianapolis 500 ad and sponsorship revenue more than 10 percent over last year. He added that he expects smaller, yet significant increases in both ticket and hospitality revenue, which—along with sponsor and TV money—represent the race's four largest revenue streams.
"Overall, I'm confident that we could see a double-digit-percentage revenue increase for this year's Indianapolis 500 compared to last year," Belskus said. "That's a significant increase in this economy, especially considering that we're coming off a strong year last year with our centennial celebration."•
Please enable JavaScript to view this content.