Recovery in manufacturing—one of Indiana's best-paying employment sectors—has been a much celebrated change after years of decline. But many of those jobs are returning with lower wages as employers keep up with growing global competition.
The state's manufacturing sector hasn't fully recovered since it hemorrhaged more than 100,000 jobs, or about one-fifth of its work force, in 2008 and 2009. But since bottoming out in June 2009, about 60,000 of those positions had returned as of April.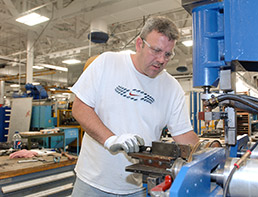 Marty Walker spot welds an engine fan blade at Rolls-Royce's Indianapolis plant. (IBJ photo/ Perry Reichanadter)
Those jobs still serve as a backbone of Indiana's economy, producing nearly $33 billion in personal income in 2011, according to the U.S. Bureau of Economic Analysis. Manufacturing accounted for about 14 percent of all personal earnings—more than any other industry in the state.
But on an inflation-adjusted basis, the average Hoosier factory worker today is earning $1.07 less than he was three years ago. While the average Hoosier manufacturing paycheck in real dollars has bumped up to $23.50 an hour, the uptick hasn't kept pace with inflation.
The trend is even more stark if you factor out higher-paying positions such as engineers and managers that are counted as part of the state's manufacturing work force. Production workers alone saw their pay peak at $17.74 in 2003. To keep pace with inflation, they'd need to be earning $22.18 today but actually are making just $18.83.
Corporate executives say they have to hold down wages to remain competitive with low-cost foreign manufacturers. And even with wages trending lower, some Hoosier companies say it still is more economical overseas.
Pendleton-based auto-parts maker Remy International Inc., for instance, for decades was one of Madison County's biggest employers. But since Remy's 2007 bankruptcy, the company has shifted its production to such low-cost countries as Brazil, China and Mexico.
"When someone finds me a customer willing to pay more money for a product made in Pendleton, Indiana, I will be glad to put a facility in Pendleton, Indiana," CEO John Weber told IBJ last year.
The weak job market also gives companies latitude to pay less. About 255,000 Indiana residents needed jobs as of April. And even with depressed wages, manufacturing pays far better than many other employment sectors, such as retail.
"There's still quite a few former auto workers that would probably still be happy to have any jobs at all," said Timothy Slaper, director of economic analysis at Indiana University's Indiana Business Research Center. "That supply, no doubt, is suppressing wages to a degree."
Tough choices
Out-of-work laborers accepting the lower-paying jobs have been people like 50-year-old Michael Kent Hanlon.

Two years ago, he was out of work and needed surgery.
Hanlon accepted that he probably would not find another $24-an-hour construction electrician's job like the one he had. And he needed medical insurance. So he settled on a $13-an-hour welder's position at Great Dane Trailer in Brazil.
Hanlon dislikes his pay and working conditions so much that he's trying to unionize his co-workers. Representatives at the semi-trailer maker did not respond to voice mails seeking comment.
As Hanlon tries to set up a collective bargaining agreement at Great Dane, he's applying for other jobs. So far, the only leads have been through temp agencies.
"Those usually are $8-, $9-an-hour jobs, nothing in the skilled trades," he said. "You can't live on those kinds of wages."
Many longtime Hoosier manufacturing workers have been able to maintain hefty wages. But they and their unions have done so partly at the expense of younger, new hires.
Detroit's Big Three automakers, for example, introduced two-tier wage structures for their workers.
Under the system, new hires making Silverado and Sierra pickup trucks at Fort Wayne's General Motors Corp. assembly plant make about $14 to $18 an hour. That compares with roughly $28 to $32 for existing workers.
The automaker has used a variety of tactics to cut its cost per employee from $78 an hour in 2007 to $56 an hour in 2011, according to the Center for Automotive Research in Ann Arbor, Mich.
Pushing back
Not all Hoosier factory workers have been willing to negotiate lower wages.
After GM announced plans to close its metal stamping plant in downtown Indianapolis, union workers there in 2010 rejected a proposal from Illinois-based JD Norman Industries that would have kept it open while reducing wages about 50 percent.
The dynamics of the vote were complicated. Many of the United Auto Workers members voting "no" were old enough to retire. Others had the right to transfer to other GM plants where wages are higher.
At other factories, workers have responded differently.
A year ago, Rolls-Royce reached a collective bargaining agreement with UAW workers at its Indianapolis plant that set new hires' wages between $18.25 an hour and $21.25 an hour. On average, the plant's 1,750 UAW Local 933 members earn $27.25 an hour.
Rolls-Royce last fall said that, because of the new agreement, it would shift production of a jet engine part to its Indianapolis plant from an outside supplier, creating 100 local jobs.
Costs are one of the major areas Rolls-Royce is focusing on as part of its strategy to double business in five to 10 years, said John Gallo, the company's executive vice president of business operations.
Gallo lauded the union for working with Rolls-Royce and making "tough decisions" that he said allowed the company to move forward with its investment.
"The previous [union] contract that we had wasn't going to be a competitive arrangement for these components," he said.
"Two labor contracts ago, the company talked to the union and said that certain things needed to be changed. Not only would we get new work [through a new contract], but we would lose some of the work we had" if the former agreement didn't change.
Contract negotiations require a balancing act between the desire for robust pay and benefits and a desire for job security, said Wayne Dale, a subdistrict director for United Steelworkers in Indianapolis.
"It's a bottom line—without a job, we don't have anything," he said. "What we always do is look at, when we're negotiating with employers, their ability to pay."
But that doesn't mean pay concessions are a given, Dale said. United Steelworkers members did not have to give ground on pay to secure Alcoa's $90 million investment for a new aluminum lithium production line at its Lafayette plant, he said. The project, which broke ground last month, will add about 75 jobs.
Globalization has forced both employers and workers to keep in mind how production costs here compare with those of manufacturing havens overseas, said Jerry Lynch, a professor of economics at Purdue University.
"This sounds so cynically easy to say when you're a tenured professor, but life has changed," Lynch said. He referred to his own childhood as an example. "Neither parent went past eighth grade, but Dad worked in construction and made a decent living."•
Please enable JavaScript to view this content.