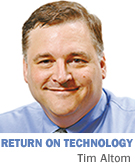 I'm willing to irritate my colleagues in human resources and bet that they aren't asking all the questions they should ask of candidates. To be fair, the questions I have in mind might not occur to a modern HR interviewer—because they simply expect employees to have particular skills. You might be surprised by how many don't. I suggest that your next interview include the following questions.
• Can you touch-type? Amazingly, even many younger people can't. They fake it. Keyboard skills are vital in most of today's offices, but even doing mundane tasks like entering data into spreadsheets can be a forbidding task for a lot of employees.
In today's computer-centric business world, I'd suggest giving everybody who applies for any sort of office job a typing test. Even if today's employee can type, it might be at a slow rate. This won't make or break a candidate's chances, but it's something to consider.
• Do you know how to back up data regularly? Even the most dedicated of employees might not back up their own home computer often, but they should be backing up your data. Backups can be as complex as enterprise-wide efforts, or as simple as copying directories to network drives on a regular basis.
Many companies do this automatically, but today's tablets and laptops may not be active during optimal backup hours, so the employee may have to kick off a backup routine. Has the candidate done this before? Can he or she be relied upon to do it regularly, if it has to be done manually?
• Are you comfortable communicating with e-mail? Don't assume that just because someone is young, they're comfortable with e-mail. Many people are reluctant to use e-mail. They may be poor spellers, or they don't write particularly well. It's one thing to reveal your shortcomings to friends on Facebook, but another to show them to co-workers.
Further, some people just don't like writing down their thoughts. Today's offices often run on e-mail, so prospective employees should either be comfortable, or capable of getting comfortable, with electronic communication.
• Do you know how to manage antivirus software? Many companies have IT staffs who manage security, but many microbusinesses don't. They rely on run-of-the-mill protection, often just what comes with the computer itself.
A lot of organizations also rely on their non-technical employees to keep antivirus software up to date, and run checks on downloaded applications and files. Ordinary employees can be trained to update and manage security, but you should know at the outset if the new guy needs a training class.
• How do you manage your passwords? As you probably know, most people do a lousy job of picking and organizing passwords. Ask them if they write down the passwords, and if so where they write them down. Ask them how they pick passwords. Do they reuse passwords for multiple places and purposes? Do they change passwords regularly, or do they need reminders?
Don't expect to be told the absolute truth, but a little digging will get you tolerably truthful answers. When it comes to passwords, everybody seems to know what to do, but few of us do it.
• How would you handle a suspicious phone call from what seems to be an executive of this company?
Say that Bombadil Q. Bombast, a fellow so high on the executive ladder that the new employee has only heard rumors of his existence, apparently calls one evening, identifies himself, and asks for your password so he can get into some of your vital files on the network while he works from home.
He knows your boss's name and says the boss has given you permission to give Mr. Bombast whatever he wants. Mr. Bombast is living up to his name, and threatens to eviscerate you when he gets in the next day if you don't comply at once.
What do you do? Let's hope the candidate knows that hackers known as "social engineers" specialize in attacks of this sort. You should hope the candidate will tactfully but firmly say he must call his boss himself to confirm the permission, or take some other reasonable step before letting someone on the phone have his password.
See? Just six questions that will tell you rather quickly if the person sitting across the table has been properly trained for life in a computerized office. And even if the applicant is deficient in any of these skills, you now know what training he needs.
Don't assume that a college degree in any discipline is a passport around the questions, either. Lots of graduate-level engineers and MBAs can't compose corporate-standard e-mails or field that compromising phone call with aplomb.•
__________
Altom is an independent local technology consultant. His column appears every other week. He can be reached at taltom@ibj.com.
Please enable JavaScript to view this content.