More
Stories
U.S. Attorney Joseph Hogsett's openly tough-on-crime approach has some political insiders speculating whether he's seeking a higher office.
The U.S. Senate confirmed Hogsett as the top federal prosecutor for central and southern Indiana in September 2010, after he withdrew from the race for Indianapolis mayor.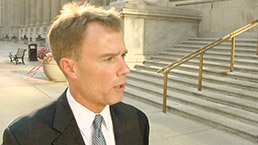 (IBJ file photo)
Now some Democrats can't help but wonder if he's eyeing another run for city office in 2015.
The Indy Democrat Blog insinuated as much in June when it recapped Hogsett's previous run, which ended when he bowed out to eventual candidate Melina Kennedy.
"He made a lot of friends in his run for mayor, and he would also be an excellent candidate again," the blog said, noting that his political Rolodex includes the likes of Bill Clinton, Evan Bayh and many others.
For his part, Hogsett told IBJ in December that he's "busy serving southern and central Indiana as the United States attorney" and any talk of where he might be in the future is speculation.
Hogsett, 56, has a political pedigree that spans nearly 25 years. He was Indiana's secretary of state from 1989 to 1994 and ran unsuccessfully for the Senate and state attorney general. He was a chief of staff for then-Gov. Evan Bayh and is a former state Democratic chairman.
But the anti-crime initiatives he's introduced and the convictions he's won as U.S. attorney have brought him back into the political spotlight.
The conviction on fraud charges his office secured against Tim Durham helped send the Indianapolis businessman to federal prison for 50 years. Along with two associates, Durham defrauded hundreds of investors of $250 million.
Hogsett lauded the sentence as the longest in Indiana history for a white-collar fraud conviction.
"We hope that today's decision does send a warning to others in Indiana that, if you sacrifice truth in the name of greed, if you steal from another's dream to enhance your own, you will be caught and you will pay the significant price that Mr. Durham will now begin to pay," Hogsett said following the November sentencing.•
 
Please enable JavaScript to view this content.