More
Stories
After an aborted attempt to go public in 2007, marketing software giant ExactTarget rang the bell on the New York Stock Exchange last March in an IPO that raised $162 million.
It priced the shares at $19, with the first trade at $23. Lately, the stock trades at around $19.
The company was founded by Scott Dorsey, Chris Baggott and Peter McCormick in 2000, initially operating out of cut-rate space in a Greenfield business park.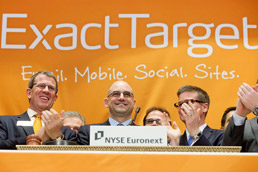 ExactTarget CEO Scott Dorsey rang the New York Stock Exchange's opening bell on March 22, his company's first trading day. (AP photo)
The company, which started with a mere $200,000 in friends-and-family funding, now has a market value of $1.4billion. Revenue is expected to reach $275 million this year.
All but about 500 of its 1,500 worldwide employees are based in the Indianapolis area.
ExactTarget made its name in permission-based e-mail marketing. These days, its bag of marketing tools helps some of the nation's biggest retailers strike up interactive relationships with consumers not only on websites, but also through mobile and social media.
Among its more than 4,600 clients are Microsoft, Papa John's and Universal Music.
Since the IPO, ExactTarget hasn't wasted time strengthening its position as a nexus of interactive marketing. In October, it bought Atlanta-based B2B marketer Pardot LLC for $96 million.
Around the same time, it snapped up Carmel-based iGoDigital, which helps companies recommend products to customers based on their personal information, for $21 million.
Those acquired firms might contribute $24 million to $26 million in revenue next year, according to a report by J.P. Morgan.
The stalled IPO attempt in 2007 turned into a blessing for the company, allowing it to invest heavily in R&D before having to live up to the quarter-by-quarter performance expectations of public company investors. Helping fund that investment was venture capital from firms such as Boston-based Battery Ventures and Palo Alto, Calif.-based Technology Crossover Partners.
Those firms cashed out big chunks of their holdings in September as part of a follow-on offering of 7.5 million shares.•
Please enable JavaScript to view this content.