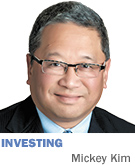 Investors fret about the stock market. The market has more than doubled from its low four years ago. Am I too late? There is still so much uncertainty, here and abroad. Are stocks too risky?
Carl Richards, a financial planner in Park City, Utah, is expert at translating investment concepts into easy-to-understand visual images. His book, "The Behavior Gap," was published last year. He is also a regular contributor to The New York Times' Bucks blog, where his columns and sketches are archived.
So, what should you do now?
Richards says investors should focus on things they can control, such as how soon they start and how much they invest. Further, "investing done right is short-term boring but long-term exciting." The reason, he says, is the power of compounded interest.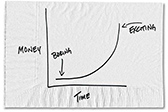 (Graphic: BehaviorGap.com)
Compounded interest might be one of the most powerful forces in the universe, but Richards notes it's not one of the most exciting—at least in the short term. Further, "nothing really great happens until after years and years of discipline and patience."
Imagine you start with a penny and double it every day for 30 days. As Richards says, the initial ramping stage is extremely boring as you go from 1 cent to 2 cents, 2 cents to 4, 4 cents to 8, 8 cents to 16, and so on.
In fact, this initial stage is so boring you might be tempted to abandon your plan and switch to something you think will make you rich right now. Don't do it.
If you stick to the plan and allow the power of compounding to work for you, unlike the first 20 or so days, the final three days of the sequence are very exciting. On Day 28, you go from $671,088.64 to $1,342,177.28. On Day 29, you go from $1,342,177.28 to $2,684,354.56. On Day 30, your original penny has grown to $5,368,709.12!
An investment doubling every day is obviously both simplistic and unrealistic. However, it illustrates the point that the true power of compounding manifests itself only after a long period of patience and discipline. As Richards says, "We have to live through the boring parts in order to reap the benefits down the road."
Look at Richards' sketch. Every day you wait, you're not cutting off the flat, boring end of the curve. You're cutting off the steep, exciting end. Richards observes, "You can't skip the boring part and get right to the excitement."
You can't start investing or saving too soon. Richards' advice is to teach your kids, "If they want to enjoy the shade of the oak tree, they better darn well plant the seed now."•
__________
Kim is the chief operating officer and chief compliance officer for Kirr Marbach & Co. LLC, an investment adviser based in Columbus, Ind. He can be reached at (812) 376-9444 or mickey@kirrmar.com.
Please enable JavaScript to view this content.