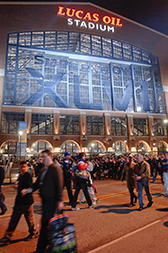 Indianapolis won accolades for its hosting of the 2012 Super Bowl. (IBJ file photo)
NFL owners at their October meeting in Washington, D.C., voted Indianapolis one of three cities to be invited to bid to host the 2018 Super Bowl. The city will make its case at the May 19-21 owners' meeting in Atlanta, alongside fellow finalists New Orleans and Minneapolis.
Dallas, Miami, and Tampa also sought to host the 2018 event, but were eliminated by the 32 owners.
Many NFL insiders think Indianapolis is well-positioned to win the big game after successfully hosting the 2012 Super Bowl. But Minneapolis is expected to have a new stadium built by 2018, and New Orleans will celebrate its 300th birthday that year.
Indianapolis officials likely are emboldened by the direct economic impact of $176 million from the 2012 event, a figure put forth by Rockport Analytics.
Indianapolis Super Bowl Bid Committee chief Allison Melangton promised to come up with a new and creative way of delivering the city's bid. In 2008, Indianapolis grabbed headlines by using school-aged children to deliver the written bid for the 2012 game and sending owners servings of St. Elmo shrimp cocktail.
Bid specifications for the 2018 Super Bowl aren't expected to be significantly different from the 2012 specs, and Melangton felt that despite some complaints about a lack of downtown hotel rooms, the city has enough hotel rooms to win back the big game.
The city's bid could get a boost with a new hotel in the 10-story Illinois Building at Illinois and Market streets. Officials for Keystone Realty Group, which recently bought the building, said one possibility to redevelop it into an upscale boutique hotel with nearly 200 rooms.
Owners of the Pan Am Plaza site, Kite Realty Group Trust, have said they're considering putting a hotel at the site, which is about a block from Lucas Oil Stadium. But it's uncertain if that project would be finished in time for the Super Bowl in February 2018.