I'm not going to try to convince you that Café Soleil (720 Eskenazi Ave., 880-0000) qualifies as a destination restaurant. But I will say that if you happen to be at the new Eskenazi Hospital and could use a peaceful, inexpensive lunch that makes some effort at quality, this oasis is worth searching for.
You'll find it next to Eskenazi Hospital on the first floor of the Fifth Third Bank building, which largely houses classrooms and administrative offices. There's little signage anywhere, so you might think you're in the wrong place before you know you're in the right spot.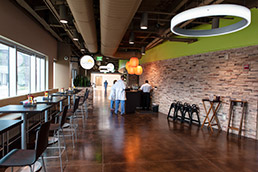 Café Soleil (IBJ Photo/ Eric Learned)
While not the open-air café its name might suggest, Café Soleil is airy and attractive. Alas, unlike the main building's Ingram Micro Mobility Marketplace, it's open for breakfast and lunch only. (For grab-and-go, there's Café Soleil Express just outside the restaurant entrance, next to Starbucks.)
The fresh-ingredient-focused offerings include a pick-your-ingredients Pasta Toss ($6.99, which includes two toppings; extras, including steak strips or baked ham, only 49 cents each) as well as an assortment of wraps and flatbreads. We hit a dud with the latter, the Pulled Pork Flat Bread ($4.49), which inexplicably featured a mountain of cole slaw on top, not only over-moistening the goods below but also making the whole thing impossible to manage by hand or by fork.
However, the Buffalo Chicken Wrap ($5.79) proved substantial and well-crafted and the Jungle Wrap ($5.79) turned out to be a surprising find. Not that I haven't seen peanut butter and banana sandwiches before; it's just that most versions don't find the sweet spot where the two key ingredients aren't fighting each other. Here, they're mixed with California raisins, diced green apple, red grapes and just enough Summer Blossom Honey. The result: pleasure without sending your system into shock.
It might be hard to believe at these light prices, but all the entrées come with a side. The list includes Cilantro-lime Rice, Spicy Black Beans (although not very spicy), and Hoosier Green Beans. And a no-tipping policy makes a lunch even more palatable.•
—Lou Harry
Please enable JavaScript to view this content.