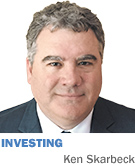 Computers loaded with proprietary software developed by Ph.D.s run some of the largest hedge funds. Complex mathematical algorithms ("algos") direct the trading of stocks and other financial instruments based on the output of secret models that crunch market data and other "big data" items.
Some algos comb search engines like Google and social media sites like Facebook and Twitter to discern consumer trends that might offer clues to business profits. Still, every now and then, an algo falters and a hedge fund blows up.
On another front, speedy computers facilitate high-frequency traders and dark pools, providing liquidity for buyers and sellers. This function used to be handled by specialists (people) on the floor of the stock exchanges. A key concern is whether these high-speed computers have an unfair advantage over the typical investor.
The latest trend enabled by computers is "robo-advisers." These computer-driven financial advisers are springing up to offer low-cost, automated portfolio management. Startups like Betterment, Financial Engines, Wealthfront and Personal Capital offer portfolios constructed with ETFs and index funds for annual fees as low as 0.25 percent. Their services include asset-allocation portfolios that automatically rebalance the mix between stocks and bonds.
Venture capital firms are directing significant funding to robo-advisory firms. They view millennials as robo clients, and have low account minimums for young investors who at present might not have much money to invest. They are also aware that millennials stand to inherit trillions of dollars in assets.
Industry giants like Fidelity and TD Ameritrade, fearing an exodus of their clientele, have scrambled to team up with these firms to offer a similar service. Last month, Charles Schwab dropped a bomb on this nascent industry by announcing it will launch a no-fee robo-adviser. Schwab's robo-portfolios will not charge portfolio management fees, commissions on trades, or account service fees. The investor will pay only the management fees charged by the investment funds or ETFs.
Naturally, some investment firms fear robo-advisers will steal clients and/or drive down their fees. Firms that charge management fees to oversee portfolios of mutual funds and ETFs—where the investor is effectively paying two levels of fees—fall in that camp.
While robo-advisers might present challenges to old-guard investment firms, investment portfolios managed by computers might not be as great a deal as they appear. Investors who invest directly in index funds will still pay less than the investor who pays a fee to a robo-adviser.
In addition, a wise man once noted that an investor's greatest cost is poor performance. The software robo advisers develop to manage their portfolios might do a poor job with asset allocation. Factoring in both low fees and errors in asset allocation almost assures they will underperform.
So rather than a game changer, robo-advisers are destined to be another alternative that will appeal to certain kinds of investors. Advisers and investors who understand business valuation and market psychology will have no use for a computer program designed solely to shift money between asset classes.•
__________
Skarbeck is managing partner of Indianapolis-based Aldebaran Capital LLC, a money-management firm. His column appears every other week. Views expressed are his own. He can be reached at 818-7827 or ken@aldebarancapital.com.
Please enable JavaScript to view this content.