To address a troubling trend he noticed while operating running retailer Blue Mile, Bob Kennedy launched Indianapolis-based eRun Solutions LLC to help the mom-and-pops of the running world go toe-to-toe with their larger retail rivals.

It was no small gamble for Kennedy, who started the company in late 2012 with $500,000 from a combination of personal finances, a "friends and family" capital campaign and bank debt.

Less than 18 months after sales efforts began, eRun Solutions has signed deals with 24 store owners operating 75 running stores from California to Maryland. Kennedy is optimistic he can double the client list and triple revenue in 2015.

Kennedy
Eventually, he said, eRun can do business with 200-plus store owners with a combined 750 or so stores.

"That could be just the beginning for us," said Kennedy, who declined to divulge eRun's revenue. "If we figure this out for the specialty running segment, I think we could move this into other fragmented retail channels. If we can do that, growth could be exponential."

While running Blue Mile, the former Olympic distance runner discovered that only about half of new customers to his chain of specialty running stores in central Indiana and Kentucky were returning within 18 months. After talking with other running-store operators, he discovered his problem wasn't unique.

"It was a nationwide issue in our industry," Kennedy said. "So I wanted to know why this was happening and what could be done about it."

Keeping customers

As for the why, Kennedy said the shopping habits of U.S. consumers had changed dramatically—even since he founded Blue Mile as The Running Co. in 2000—and small specialty stores had failed to keep pace.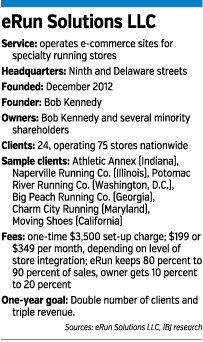 Customers liked the expertise and personal service of specialty running stores, but once they gleaned the knowledge they felt they needed, they made future purchases elsewhere.

"With the explosion of big-box retailers and the Internet, it became all about selection and convenience," Kennedy said.

He concluded that, if customers had the choice to return to their favorite specialty running store with the same convenience offered by the big boys, customer retention would dramatically increase.

Simply putting up an ecommerce site and slugging it out with the Internet and retail behemoths was easier said than done. During his days as Blue Mile co-owner, Kennedy discovered it was prohibitively expensive and laborious for single-store or small-chain operators to produce and maintain their own ecommerce site.

That's why the vast majority of specialty running stores don't have one. Sales were being lost, Kennedy said, to sites run by manufacturers such as Nike and Brooks, and to the massive and online-only operators such as Road Runner, RunningWarehouse.com and The Finish Line—which operates Run.com.

eRun Solutions handles all aspects of ecommerce for its clients. Kennedy's company runs and maintains the ecommerce portion of the client's website; does customized email and other marketing; maintains inventory; and handles payment collection, order fulfillment and shipping out of a warehouse at Ninth and Delaware streets. eRun also handles customer service and returns.

Sales are made through a link on the local store's website, and the packing slip is customized to indicate the merchandise came from the local store.

In essence, eRun Solutions is operating its own online sales operation, but to the customer, it appears they are dealing with the local store. By aggregating the ecommerce business of all its small and midsize clients, eRun offers scale to compete with larger retail operators.

"We're really a B-to-B company," Kennedy said. "We service the local running stores. The stores own the customers."

The one snag might be that, since Kennedy operates the eRun warehouse independently from his clients' stores, his inventory might not perfectly match what's offered at the brick-and-mortar store.

But Kennedy is working with David Becker, CEO of Indianapolis-based RICS Software and First Internet Bank, to upgrade eRun's software so it can integrate the client's inventory into what is offered through eRun. That will allow each client to advertise its own excess or aging inventory through the ecommerce site. Think blow-out sales.

There's also an arrangement in place that allows customers to return or exchange items bought online at the corresponding brick-and-mortar store.

eRun Solutions charges clients a one-time $3,500 set-up fee, plus a monthly subscription rate of $199; it's $349 if they want the more advanced email marketing. Since eRun Solutions pays for and owns the inventory, it keeps 80 percent to 90 percent of the sales revenue and the client gets the remainder.

Brand extension

Typically, a running store would make about $45 on the sale of a $100 pair of running shoes. Making $10 to $20 by selling a pair through the eRun-operated site isn't as lucrative, but the alternative is no sale at all, Kennedy said.

Some of eRun's early clients are among the biggest U.S. specialty running companies, Kennedy said. Among those are The Naperville Running Co. in Illinois; Potomac River Running Co. in Washington, D.C.; Big Peach Running Co. in Georgia; and Charm City Running in Baltimore. Athletic Annex, of which Kennedy is a part-owner, also uses eRun.

Naperville Running Co. owner Kris Hartner tried to launch his own ecommerce site, but scrapped it to join eRun Solutions in May 2013. It cost $25,000 just to get his own ecommerce site up and an additional staffer was needed to manage it, Hartner said.

"When Bob pitched his idea, it made total sense," he said. "We saw our email and online communication with our customers go from about three or four times a year to 12 to 15 times a year and that has increased our sales online and at the store."

Hartner had no trepidation about having eRun Solutions employees interact with Naperville Running Co. customers through online purchases.

After Kennedy sold his interest in Blue Mile, he bought a majority stake in Movin Shoes Inc., a three-store chain in the San Diego area. This year, he bought a stake in Athletic Annex on Indianapolis' northwest side.

One challenge eRun Solutions will face is search engine optimization, or getting its clients' sites up high in the results of running-related searches.

"They're going to be going up against the Amazons and Zappos of the world and those companies spend big marketing dollars to make sure they have the best [search engine optimization]," said Dave Moroknek, president of Indianapolis-based MainGate Inc., which handles ecommerce sites for several NFL and NBA teams as well as other well-known retail brands. "The marketing they need to do to compete on that level could really be costly."

Kennedy said eRun will assure strong search engine optimization for its clients based on the way the site is built and the use of unique product descriptions.

Moroknek also cautioned that, just because Kennedy knows how to run a retail store, that doesn't make him an ecommerce expert.

"It's a very different enterprise," Moroknek said.

But, he added, "if retailers can convince the consumers the website is an extension of their brand, it's a good way to grow their business. Given the challenges and expenses associated with ecommerce, a cooperative effort like this could be a smart play."•