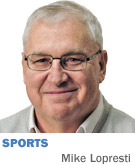 Winter's officially here, as if your window defroster didn't already know. So before we next hear those two golden words of the season—polar vortex—is there a way to blow a warm breeze through the premises?

Sure. Talk a little baseball.

The Winter Meetings just came and went, and it is apparent that Indianapolis sits at the epicenter of a division turned bare-knuckled, the National League Central. Even the Chicago Cubs are thinking big. Or as Pittsburgh General Manager Neal Huntington said over the phone the other day, "We are in an incredibly challenging division where we're going to have to play well every day to have a chance to get back to the postseason."

So where does that leave the Pirates, and by extension, their feeding tube, the Indianapolis Indians? Should we even care in December? Well, envisioning June might be worth a couple of degrees off the wind chill. So let's line up three guys for a friendly little first-names-only chat about all things baseball, since it's—what?—60 shopping days until spring training? Here are Huntington, Pirates Director of Minor League Operations Larry Broadway and Indians Vice President of Baseball and Administrative Affairs Cal Burleson:

You first, Cal.

"The Pirates have signed about five or six middle infielders. Two or three will end up with them and we'll get the others, so we'll have a new look to the middle infield. I think I feel better about our pitching depth than last year. The other big signing for Indianapolis was Gorkys Hernandez. He's as good a centerfielder as there is in baseball."

That's helpful, since the Victory Field outfield is vast enough for its own ZIP code.

Lots of Pirates starting pitching candidates mean some of them will be in Indianapolis. Remember this name: Jameson Taillon. The top pitching prospect in the Pirates organization is coming off Tommy John surgery, and will likely be in Victory Field sooner or later.

Right, Larry?

"We're probably looking at some time in the second month of the season. His rehab is going well, and he should be toeing the rubber in Indy by the time it gets nice and warm there."

Nice and warm. Well, that might be a while. Anything else about the Indians?

"They should be fun to watch. There's a good mix of high-profile prospects and some veterans. It's going to be an athletic club, so it'll be good to see them run around. From a pitching standpoint, we're going to have some power arms. There's going to be a few guys who can hit a hundred."

Presumably, he meant with the fastball, not on I-465.

These are not the old Pirates, handcuffed to the burden of trying to end a generation of losing seasons. That was cured a couple of years ago.

Neal can handle that one. "Our mind-set has never changed. Our mind-set has been to put this club in a position to win the World Series, and wake up the next day and try to figure out how to do it again. The goals have never shifted. There may have been a public perception that we wanted 82 wins. We never wanted 82 wins. We want to win the World Series."

Anything to add, Larry?

"It's moved guys forward from the process of hoping to win, then you go to believing you can win, and now there's an expectation to win. And so when the game punches you in the face, you get back up because you expect to win tomorrow."

Speaking of being punched in the face, how about Gregory Polanco? Big name in Indy last season. His bat nearly burned a hole in Victory Field, then he went to play right field for the Pirates and was nearly as torrid. But major-league pitchers are conniving folks, who search for flaws and mercilessly exploit them. Polanco's batting average shrank like cotton in hot water.

Neal?

"He broke in with an incredible splash. The league made an adjustment to him and he struggled a little bit. We feel like over the course of the summer he was able to understand how quickly the league adjusted to him, and now he's going to have to adjust back."

So the Pirates are confident, which is good for the winter fan fests. And they've become experienced at winning, which is good for the standings. And they're deeper, which is good for the Indians.

Any last words, guys?

Neal? "We feel like, as we head for spring training, we're hoping to make other moves, but if we don't, on paper it's the best club that we've had in our time here.''

Larry? "The focus has been on improving our major-league club, which obviously trickles down to Indianapolis."

Cal? There was this about the Triple A championship game, which is now bid out to host cities and will be in El Paso next season. Maybe Indianapolis one day? "It's not something we have looked at yet. The challenge is, chances are you're not going to be in it. But it's becoming more of an event. It might be something we take an interest in down the road."

We now return you to winter. Victory Field sits dark and cold. Won't be that way forever, though.•

__________

Lopresti is a lifelong resident of Richmond and a graduate of Ball State University. He was a columnist for USA Today and Gannett newspapers for 31 years; he covered 34 Final Fours, 30 Super Bowls, 32 World Series and 16 Olympics. His column appears weekly. He can be reached at mlopresti@ibj.com.