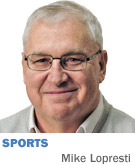 As Paul George roams the land running up numbers his boss, Larry Bird, would die for, one hurdle to true fame comes to mind.

He is said to be arriving among pro basketball's very elite. Fine. But a man is not a full-blown superstar— particularly in the NBA—until only his first name is sufficient. LeBron. Michael. Magic. In these parts, Reggie. Larry. Notice how it always seems to work best if the name is multisyllabic, preferably two. Paul just doesn't quite roll off the tongue right, does it?

That issue came to mind because of so many icons at the twilight of extraordinary careers. A bumper crop of Mount Rushmore-level legends. And how first names are all we'll need to remember them.

Kobe ...

Twenty years, one team. Who does that anymore? Unfortunate that one of his signature moments will always be Game 4 of the 2000 NBA Finals, when he gunned down the Pacers in overtime.

It is easy to forget he was drafted at the age of 17. Here's a sign of a man who kept attacking: He is closing in on 14,000 missed shots, more than anyone in history. NBA franchises should thank him for announcing his retirement now, since his farewell tour has made the moribund, irrelevant Lakers a hot ticket again. His last Indianapolis appearance will be Feb. 8.

Peyton ...

Who here remembers he threw 28 interceptions his first season? Or how it took him six years to win a playoff game?

OK, he has three fewer Super Bowl championship rings than Tom Brady and one fewer than his brother, but Lucas Oil Stadium is still the house that Manning built. Best of all, when children are sick, they will often be healed at Peyton Manning Hospital.

Serena ...

She's still piling up the major titles—21 in singles at last count—but she's 34 years old. How many more? She's already the eldest woman to win a major in the open era. Only lately, just in time, has the non-tennis public truly caught on to her dominance.

There is a similar inevitable departure coming soon for the men. Roger. Maybe if Federer can talk Andy Murray, Novak Djokovic and about 15 other guys into going with him, an American man could actually win a big tennis tournament again.

Tiger ...

He turns 40 this month. The last major championship was more than seven years ago, when he was supposedly going to pass Jack Nicklaus' record as if he were in a Ferrari. Since then have come scandal, multiple surgeries and swing retools, frustration, pain, questions. His words this week seemed those of a man resigned to the end. Maybe he'll play again, but the Tiger who dazzled has probably already retired.

Vinnie ...

That's Vin Scully. Next season will be his 67th calling Dodger games, and probably his last. He just turned 88. How many 88-year-olds do you know who can still say they are the best in their field? Next summer, go to MLB.com, go to SiriusXM radio, go anywhere, to listen to this man describe baseball for a few innings.

Coach K ...

Never mind Mike, or Krzyzewski. It is forever Coach K, who has nearly owned March for three decades. He is not yet finished. He has even turned into John Calipari at Duke, thriving with one-and-doners.

But he is 68, and the lasts are beginning. Next summer will be his final Olympics. Then again, since three of his five titles have come in Indianapolis Final Fours, maybe he'll stay at Duke for the city's 2021 Final Four. He'd be only 74.

TimDuncan and TomBrady ...

See the thing about one-syllable names? Duncan has won as many NBA titles as Kobe and way more than LeBron, but you never hear talking heads call him just Tim. Brady is the most decorated quarterback of his time and—grumble about Deflategate all you want—still the fairy tale who went from being taken 199th in the draft to all those Super Bowls. But he's never Tom.

It's more like their two names have been soldered together. TimDuncan, TomBrady. The first will turn 40 during the playoffs, the second is 38, and seems to have caught his second wind. But the clock is ticking. He won't torment the Colts forever. Will he?

Quite the gilded class of soon-to-be retirees, isn't it? Meanwhile, the Bankers Life Fieldhouse buzz is growing. Just wait until the Golden State Warriors come to town Tuesday. They'll be facing the exploding talents of a man who, like TimDuncan, will also probably need his names spliced together on the road to superstardom. Now on fire for your Pacers, PaulGeorge.•

__________

Lopresti was a columnist for USA Today and Gannett newspapers for 31 years; he covered 34 Final Fours, 30 Super Bowls, 32 World Series and 16 Olympics. He can be reached at mlopresti@ibj.com.