Officials say the first phase of a rapid transit line that should eventually connect Westfield to Greenwood won't be delayed even though the Indianapolis region missed out on a share of $84 million in state funding from the Regional Cities Initiative.

The Central Indiana Regional Development Authority, which represents a nine-county area, had requested $15 million for the bus line plus an additional $15 million for two other projects from the state program, which pitted region against region in a competition for the dollars.

But the Indiana Economic Development Corp. voted to give the money—plus additional funds collected through this fall's state tax amnesty—to proposals in northeastern and southwestern Indiana as well as to the South Bend region.
Hicks
Michael Hicks, director of the Center for Business and Economic Research at Ball State University, said the Indianapolis area's plan didn't match the goals of the Regional Cities Initiative as well as those from other regions.

The program is designed to help transform areas to promote population growth—and Indianapolis isn't struggling with that as much as other areas in the state, Hicks said.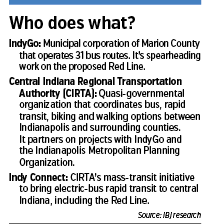 And "$40 million isn't going to make a difference for central Indiana," he said. "Central Indiana is kicking everyone else's ass."

The top priority in the local application was financial support for the Red Line, which is a proposed 35-mile electric-bus rapid-transit route that would connect Hamilton, Marion and Johnson counties. The proposal also included money for local trails projects and 16 Tech, a 170-acre project just northwest of downtown that is to combine high-tech businesses, academic and health care uses with residential and retail space.

The first phase of the Red Line—in Marion County, from Broad Ripple to the University of Indianapolis—is estimated to cost $96.3 million to construct and $6 million annually to operate. It would be part of a $1.2 billion bus rapid-transit system known as Indy Connect.

IndyGo, which operates the Indianapolis bus system and is overseeing the first phase of the Red Line, would have used the $15 million in regional cities funding as part of a local match for a $75 million federal grant it applied for in September. But officials had always planned to move forward with or without the state award.

Kaplan
"It would have been great to get the money," said Lori Kaplan, executive director of the Central Indiana Regional Transportation Authority, which is coordinating with IndyGo on the project. "But plans are moving with the Red Line."

Bryan Luellen, spokesman for IndyGo, said $6 million in downtown tax increment financing dollars and $6 million from the Department of Public Works has been approved for the Red Line. Local funds had to be secured before applying for the federal grant, according to Luellen.

Fisher
Mark Fisher, vice president of government relations and policy development for the Indy Chamber and an IndyGo board member, said the $15 million in state support would have strengthened the federal grant application and could have allowed IndyGo to reserve the local money for a different part of the project.

"We probably would have repurposed it," Fisher said. "I guess that's a hypothetical."
Results from the federal grant request should be released in February or March. If Indianapolis fails to secure that funding, then the future of the Red Line is in jeopardy.

"The project is completely contingent upon the federal grant. We don't have a plan B," Luellen said. "We are optimistic, but of course, there's no guarantee."

Four other electric-bus rapid-transit lines are proposed as part of Indy Connect, and surrounding counties are working on systems that could link to the routes. The Red Line has been considered the starting point for those projects.

"We see it as part of the larger regional plan," Kaplan said. "Even if not everybody is going to ride it, it's good for our area."

Cindy Benedict, former community engagement manager for Noblesville who now works with CIRTA and the Indianapolis Metropolitan Planning Organization on mass transit, said even if the Red Line is never constructed, Hamilton County could still launch its own bus system.

"I'm hesitant to say it's the backbone," Benedict said of routes with Indy Connect. "But they are certainly critical components of the network."



Hamilton County's bus system could cost $10 million to $25 million annually. It would require passing a referendum to impose an income tax.

Hicks said some of the problems that make mass transportation attractive won't disappear if and when Indianapolis does launch a system. Other cities with strong mass transit systems still have traffic congestion. That's another reason regional cities funding wasn't appropriate for Indianapolis.

"If you think about the problems that you have, they're the problems of a very rapidly growing urban area that aren't going to go away," Hicks said. "This just isn't a solution to your problem."

But there is hope that the Regional Cities Initiative could expand, and Indianapolis could collect some of the future funding.

"I think one of the really great things about the whole initiative has been that folks have gotten together and collaborated regionally," said state Rep. Jerry Torr, R-Carmel, author of the legislation that led to the Regional Cities program. "I think the whole concept is going to be transformative in what it does for the state."

The state's tax amnesty program funded the first round of grants and surpassed Gov. Mike Pence's original goal of collecting $90 million from individuals and businesses given the chance to pay overdue tax liabilities without penalty.

As of Dec. 14, the amnesty program had brought in $138 million. Revenue exceeding $90 million had been earmarked for the state's general fund. But IEDC members now want that additional money spent on the winning Regional Cities proposals.

IEDC's strategic review committee recommended—and the full board agreed—to fund three regional proposals rather than two when the selections were made Dec. 15. Each region will receive $42 million, assuming the General Assembly approves the additional funds.

That's not a done deal, however. Just a day after the IEDC vote, House Speaker Brian Bosma, R-Indianapolis, said during a panel discussion that he wished he'd been asked in advance if such spending would be palatable to lawmakers.

Regardless, Hicks said the Indianapolis area could benefit from continuing to work on regional planning—and should include more cities. Although the Central Indiana Regional Development Authority represented nine counties, only four cities officially voted to join the proposal.

Fisher said he expects local leaders to consider that in the coming weeks and months.

"It did bring communities together," he said of the initiative. "From our perspective, it was still a win."•