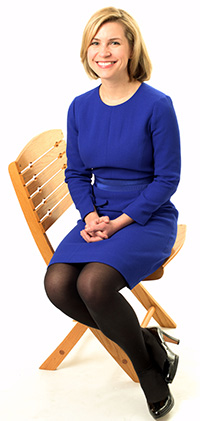 Vice President of Administration
LDI Ltd.

Extensive experience working in a variety of positions—including campaign, fundraising and press roles—for former U.S. Sen. Richard Lugar put Emily Krueger in a unique position to transition into corporate leadership. Now a vice president at more-than-a-century-old LDI—which funds and operates high-potential middle-market companies—she also serves on the board of Timmy Global Health.

Office politics: On lessons from eight years with Lugar: "He's someone who approaches each day with tremendous discipline. He studies issues and applies his judgment to make decisions, approaching life with tremendous integrity. Observing that as a young professional really made a strong impact."

Self-starting: As the first person named LDI's chief of staff (before being elevated to vice president of administration), Krueger found herself in the unusual position of having to write her own job description. "It's not the first time I've done that for an organization," she said. "I believe I have a strength in knowing what the needs are."

QUICK FACTS
Age: 35
Hometown: born in Indianapolis, grew up outside Pittsburgh
Family: single
Social media: Facebook and LinkedIn
Reading pile: Lots of "leadership and management books, some literary and historical fiction, biographies … ." Most recently: Eric Larson's "Dead Wake," about the sinking of the Lusitania
Playlist: big fan of NPR and podcasts
MBA-list: Experience broadened her perspective when she went for her MBA. "Unfortunately, not enough MBAs work in the government sector. I believe that society is better when business understands government and government understands business."

The LDI idea: "Even with a 100-year history, LDI has a culture of entrepreneurialism and innovation," Krueger said. An important trait, she added, is keeping an eye on the future. "Our companies are in diverse industries and geographies. They have different characteristics and there are cultural differences. But they have a shared commitment to creating long-term value."

Time for Timmy: At Timmy Global Health, she has been actively involved in recruiting board members, launching a new governance structure, and leading a search committee for management. She's also on the advisory board for the new YMCA at CityWay and works with the Greater Indianapolis Progress Committee. "I seek to be involved in those organizations that are addressing root problems."•





Check out more 2016 Forty Under 40 honorees.