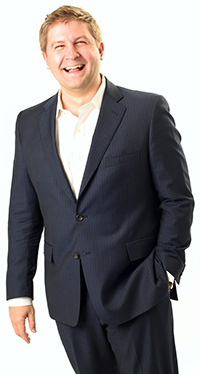 Senior Vice President and Partner
PK Partners

Wes Podell is responsible for leasing, development and investment activities for PK Partners, a privately held real estate development and investment company focused on developing, owning and operating first class retail, office and mixed-use properties in the Indianapolis area. Projects include the mixed-use River North at Keystone.

Selling himself: With a father who has worked for Duke Realty for 25 years, he remembers touring warehouses from a young age. "I spent a lot of time at Park 100," he said. After college, he worked for Duke, helping launch the Anson project. During the economic downturn, he transitioned into a more national role at Duke. "All of a sudden, the world changed. We had to figure out what to do with non-income-producing assets." He sold one such building to PK Partners in 2009 and joined the company in 2013.

Real estate menu: PK projects under Podell include several SoBro acquisitions: 46th Street and College Avenue (former Double 8 Foods) and Kessler Avenue and College (former Broad Ripple Animal Clinic). Podell finalized construction and lease-up of 8555 N. River Road (Five River Crossing), transforming it from Class B to Class A. He has also been key in making local restaurants a part of the PK mix, notably Late Harvest Kitchen and The North End Barbecue & Moonshine. "We've found [partnering with local restaurateurs] really has a positive impact and can be a driver for the rest of the center."

Quick Facts
Age: 32

Hometown: Carmel

Family: wife, Allyson

Social media: LinkedIn and Twitter, both personally and professionally, largely to connect with other urban planners and to
get ideas from outside Indiana

Reading pile: "The Obstacle is the Way," by Ryan Holiday.

Playlist: "I'm all over the map—everything from country to hip-hop." Right now, Coldplay is
getting a lot of play.
Better living: "Companies and people are interested in improving their well-being and a big part of that is living or working in an environment that is enriching," he said. "We look for places that are walkable, amenity-rich, and allow for human connections."

Impactful choices: A board member for the Indiana University Benecki Center for Real Estate Studies, Podell also serves as development chairman and CICEO co-chairman of the Urban Land Institute Indiana District Council board, on the steering committee of the Nora Alliance, and was a promotions subcommittee member on the Indianapolis Super Bowl Host Committee.•



Check out more 2016 Forty Under 40 honorees.