This famous line comes from 19th century poet John Greenleaf Whittier, who, as far as anyone knows, never filled out an NCAA Tournament bracket:

"For of all sad words of tongue or pen, the saddest are these: 'It might have been!'"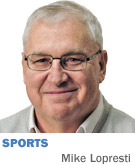 Ain't that the truth, especially with basketball in March? What if? Those words can linger forever when the tournament stuff starts. So, with the NCAA first rounds upon us, and the high schools down to the semistate, here are some of the most enduring and significant "what ifs" in Indiana history.

■ What if ...

Scott May, national player of the year, had not broken his arm late in Indiana's 1975 season?

He would not have been wearing a cast against Kentucky in the Elite Eight, and probably would have scored more than two points. The unbeaten Hoosiers likely would not have lost 92-90. They could well own not just the last perfect season, but the last two. Near-dynastic. Move over, UCLA

"We were rolling, we were confident, nothing could stop us," said John Laskowski, a senior on that team. He and fellow senior Steve Green weren't around for the perfect 1976 run. How frustrating is that, even now?

"I don't really look at it that way," Laskowski said. "And the reason is, I was so connected to those guys for my first three years of my career that I look at that next year, even though I wasn't there, as an extension of that previous year. I think what '75 taught them is, nothing's going to stop us. They mentally refused to let anything go wrong. I do feel a part of that; not officially, but being around them for three years.

"You look back at 31-1, and 18-0 in the Big Ten—that's a great way to end your senior year. So I don't look at that as a disappointment. I look at it as preparation for the next year. Without the 31-1 year, does the 32-0 year happen? I'd like to think we helped that team with what we went through.

"Coach Knight mentioned that in the locker room in Dayton after the loss. He was very calm and quiet and basically said, 'You know, you guys had a heck of a run. I hate to see it end this way. But let's not let this happen next year. I don't want this feeling in the locker room next year at any time.'

"And, boom, they didn't."

■ What if ...

Gordon Hayward's Hail Mary for Butler had gone in against Duke in 2010, rather than hit the rim and bounce away?

How does "national champion Butler Bulldogs" grab you? It would be on the short list of the greatest endings in the history of sport. We're talking immortal.

"That drives the imagination crazy to think about that," Butler Athletic Director Barry Collier said. "I believe we'd have at least somewhere between two and a dozen statues on campus. Gordon's and Brad's [Stevens] and such. I think there'd be movies. I'd like to think we'd still believe in the same things that got us there."

■ What if ...

Oak Hill didn't lose a four-point lead in the last 80 seconds in the 1975 sectional semifinals against Marion, which the Giants escaped 48-46?

That would have been the third sectional loss in five years for Bill Green at Marion. More than enough back then to get a guy fired. "There were people on that [school] board who have told me, had they lost that game, Monday morning he would have been gone," said longtime Marion broadcaster, former school board member and current City Councilman Jim Brunner. "No question about it."

Instead, the Giants went on to win the 1975 state championship and four more under Green. When you walk in the gym now, you see the name "Bill Green Arena" on the wall. So in 80 seconds he went from being canned to having the building named after him.

■ What if ...

Milan's Ray Craft didn't miss a layup with his team ahead by two points and 1:03 left in the 1954 state championship game?

It means the Indians probably never would have needed a last-second shot against Muncie Central. Hollywood, and lots of other people, would never have heard of Bobby Plump.

"I've thanked him ever since," Plump said of Craft.

■ What if ...

Terry Donnelly, a Michigan State guard averaging barely six points a game, didn't hit all five shots he took to score 15 points against Indiana State in 1979?

Yeah, it was Magic Johnson vs. Larry Bird that lives for the ages, but Donnelly was the one who put the dagger in the Sycamores. Without his big day, maybe Indiana State is the last perfect champion, not Indiana. And Bird is not haunted by one night nearly 40 years ago. He has never watched a replay of the game, and says he never will.

"I turned the channel real quick," Bird once mentioned of what happened when a segment about the game popped up on his TV.

"I watch it enough for him and I," Johnson said. "If he had won, trust me, I would never watch it, either."

■ What if ...

Valparaiso's Bryce Drew had missed that last-second shot against Mississippi in the 1998 NCAA Tournament—the one replayed every March?

Valpo's program would never have gotten the national push it did from The Shot, which lives on forever on NCAA Tournament fantastic-finish highlights.

"What it meant to Valpo was, it gave a significant memory that has lasted to this day," said Homer Drew, Bryce's father and then Valpo's coach. "Alums, or fans or even just people in basketball, they always know where they were when, quote, The Shot was taken. To show you what a good coach I was, I thought that summer that no one would ever remember that shot.

"It showed that even a small school from the state of Indiana can have their moment. We've had six NCAA tournaments since that time, so it surely was a door-opener for us."

What if ...

Ball State, down 69-67 in the final seconds against UNLV in the 1990 Sweet 16, had not tried to force an ill-fated pass inside, and instead made a 3-pointer to win?

No UNLV national championship. No 30-point blowout of Duke. No aura of the mighty Runnin' Rebels. And Ball State would be on the permanent short list of all-time tournament upsets.

"You look at it today, we still get recognized for what we did back in 1990," said Chandler Thompson, a forward for those Cardinals and now a Lawrence North assistant coach. "I think we could have won it all that year. I live with that all the time. The 3-point shooters that we had at the time, I think you go for the win. You're the smaller team; everyone is going to love you regardless. But if you pull it off—that's that big 'what if.'"

Aren't they all?•

__________

Lopresti is a lifelong resident of Richmond and a graduate of Ball State University. He was a columnist for USA Today and Gannett newspapers for 31 years; he covered 34 Final Fours, 30 Super Bowls, 32 World Series and 16 Olympics. His column appears weekly. He can be reached at mlopresti@ibj.com.