A mostly historic four-building commercial property that encompasses an entire city block near Massachusetts Avenue has changed hands.
The local development team of Gershman Partners and Citimark bought Lockerbie Marketplace March 14 from an entity operated by local businesswoman and philanthropist Christel DeHaan called Endless Success Foundation Inc.
Terms of the transaction were not disclosed. But real estate sources say the developers paid roughly $20 million for the property that's anchored by a Marsh supermarket at 333 N. Alabama St.
The new owners have no immediate plans to redevelop the property but intend to invest "millions" to upgrade the buildings and surrounding areas. The aim is to attract more office tenants and increase the 72 percent occupancy rate.
"We're not residential developers, so we're trying to capitalize on the activity that's there," said Eric Gershman, president of Gershman Partners. "Our plan is to make it more integral to the neighborhood and Mass Ave."
The building at 303 N. Alabama St. is marketed entirely for office use and the structure at 324 E. New York St. is occupied by Public Safety Medical Services. Office space also is available on the two floors above Marsh and the two floors above Fusek's True Value Hardware and Classic Cleaners, both at 350 E. New York St.
The four buildings range in size from 16,600 square feet to 101,000 square feet. The largest structure, home to the Marsh grocery, originally was occupied by a Sears department store and sits at the southeast corner of where Alabama intersects with Vermont Street and the diagonal-running Mass Ave.

Gershman
Built in the art-deco style in 1932, the building housed the Sears store until it closed in the early 1980s. A local O'Malia's grocery opened in the first-floor space in 1986. Marsh bought the O'Malia's chain in 2001 and has since renewed its lease to remain in Lockerbie Marketplace through at least 2023.
The two much smaller office buildings on Alabama and New York streets were built between 1900 and 1908. The other building on New York, where Fusek's operates, was built in 1986 as part of a redevelopment by local developers Harold Garrison and Lee Alig.
Real estate sources say much of the available office space is dated but, with upgrades, should attract interest.
"The location of the property is just getting better with time," said Jon Owens, an office broker at Cushman & Wakefield, who listed the office space for owner DeHaan. "Office tenants want to be in a location that has good proximity to amenities and restaurants."
Mass Ave is downtown's hot spot, bustling with retail activity. In December, The Eagle restaurant, based in Cincinnati and known for its fried chicken, arrived in the building last occupied by The Front Page Sports Bar & Grill—about a block from Lockerbie Marketplace.
With so many eateries within walking distance, the property is at "Main and Main" for office users, said Alex Cantu, director of capital markets at the local Colliers office.
"It's a historic and unique setting that cannot be replicated," he said. "I think that property is positioned for long-term success."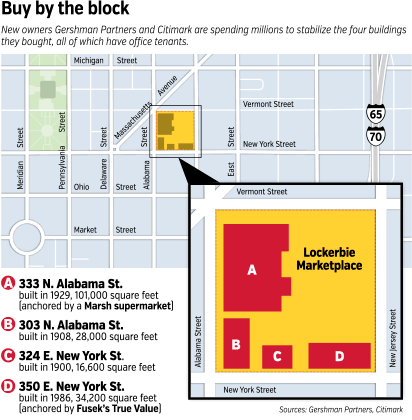 Regus Group PLC, a flex-office operator, and CTI Group Holdings Inc., which sells software for enterprise networks and telecommunications services providers, are among the property's largest office tenants.
Under the new ownership, Citimark will handle office leasing and management and Gershman retail. Both developers are firmly entrenched in the Indianapolis market.
Firm patriarch Jerry Gershman started his real estate career in 1965 and ultimately ascended to director of development at mall developer Melvin Simon and Associates, the predecessor to Simon Property Group Inc.
He launched Gershman Partners in 1993 and has since been joined by sons Eric, Brad and Ryan.
Among the several high-profile projects in Gershman's pipeline are the $90 million Greenwood Town Center, a $30 million second phase to the sprawling Bridges in Carmel, and a $15 million renovation and four-story addition to the downtown Marott Center, which it bought in 2014.
Gershman is set later this year to move its north-side headquarters to the addition, known as the Marietta and nearly across the street from Lockerbie Marketplace.
Citimark, meanwhile, plans to move its office from Allisonville Road to Lockerbie Marketplace, also later this year.
Founded in 1982, Citimark is developing a three-story, 60,000-square-foot office building at 11939 N. Meridian St. in Carmel that will be partly occupied by software firm Blue Horseshoe Solutions Inc.
Its other developments include the 215,000-square-foot Allison Pointe and the 130,000-square-foot Castle Creek I and II.
For the past 15 years, Citimark has focused more on acquisitions, said Matt Carlstedt, the firm's senior vice president of investments.
"You don't get a lot of opportunities to acquire a city block along Mass Avenue," he said. "We see a ton of value just from what's there."
Lockerbie Marketplace is Citimark's first foray into downtown and its lone partnership with Gershman. Eric Gershman and Carlstedt are longtime friends. When Gershman became serious about purchasing the property, it brought Citimark to the table.
DeHaan hadn't officially listed Lockerbie Marketplace but was entertaining offers. Gershman worked on the deal for about 10 months, Eric said.
"We're going to try to operate it at the highest level possible," he said.
Gershman and Citimark already have received approval from the Indianapolis Historic Preservation Commission to replace the second-story windows in the Marsh building.
The current windows stand about 9 feet above the floor—designed to leave space for the original Sears shelving—and make it impossible for tenants to enjoy street views.
The two companies also plan to improve the common areas and lighting, and repave the parking lots.
The purchase of Lockerbie Marketplace also included the parking lot owned by DeHaan that sits directly behind the Athenaeum, 407 E. Michigan St.
In a separate transaction, Gershman and Citimark bought the rectangular-shaped parking lot to the east of the Athenaeum and North Cleveland Street. The sellers were Phil Horner and Rathskeller owner Dan McMichael.
Gershman and Citimark hope the acquisition of the second parking lot will help attract more office tenants to Lockerbie Marketplace. A little-known fact about the property: It boasts an 82-space parking garage underneath the Marsh.•
 
Please enable JavaScript to view this content.