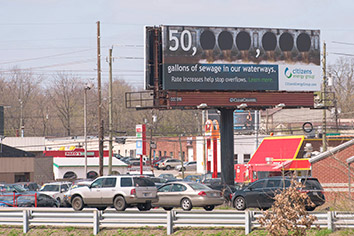 It's a big, splashy campaign about leaking underground pipes, and Citizens Energy hopes it will help win the hearts and wallets of Indianapolis customers.
The utility's message: The water and sewer systems are antiquated and falling apart. Rate increases will help fix things.
The campaign—one of the most aggressive by a utility here in recent years—comes as state regulators are considering Citizens' request to raise water and sewer rates by double-digit percentages on about 400,000 customers.
Citizens says the increases will generate millions of dollars to fund a massive upgrade of the water and sewer systems. That is needed, the utility says, to keep millions of gallons of water from leaking from pipes and raw sewage from spilling into creeks.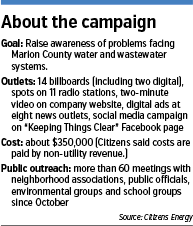 Citizens Energy is putting that message on billboards, radio spots, news websites, video and social media. The company said it has spent $350,000 since launching the campaign in February.
The ad campaign comes five years after Citizens bought the city's water and wastewater systems in 2011 for $1.9 billion. The utility says it has already spent more than $1 billion to modernize the systems, and needs to raise rates to keep the work going.
It's too early to say whether the campaign, handled by Indianapolis-based ad agency Caldwell VanRiper, is changing minds. Some marketing experts say Citizens is doing a good job highlighting an important message, but some critics wonder if it's worth all the money, and whether the ads are effective.
The Indiana Utility Regulatory Commission is expected to rule in coming months on the company's petition to increase water rates 17 percent and sewer rates about 30 percent to help fund the improvements.
"We wanted to get out in front of the rate increases and let people know why we're doing this work," said Citizens spokesman Dan Considine. "We know that customers don't like rate increases, but we want them to understand why they're so necessary."
Citizens is not paying for the ads with utility revenue, but is using revenue from its non-utility companies, such as oil and liquefied natural gas, he said.
Multi-pronged push
The campaign consists of several parts. One is a series of billboards, with short, punchy messages and high-impact visuals. One shows sewage running out of open pipes into a lake. "50,000,000 gallons of sewage in our waterways," the billboard says. "Rate increases help stop overflows."
Another shows antique trucks hauling water pipes down the road. The company said much of the current water system was installed before World War I. "100-year-old pipes break," the billboard says. "Rate increases help replace them."
A second part of the campaign is a series of radio spots and digital ads on news websites that keep pushing the message. A third is a Facebook campaign that urges customers to share their thoughts on the topic.

Harrison
And the fourth part is a two-minute video on Citizens' website. In it, CEO Jeff Harrison stands in the company's White River Treatment Plant, talking about the need for an upgrade.
"Each year, more than 700 water mains break in our city, wasting up to 6 billion gallons of water," he says on the video, while an eerie soundtrack plays in the background.
Tom Denari, president of Indianapolis-based ad agency Young & Laramore, which wasn't involved in the campaign, said he thinks the message is a good one. It can go a long way to helping people understand why their utility bill is increasing, he said.
"I think Citizens has done a good job of positioning these increases to repair very old and damaged systems as not only an infrastructure necessity, but also as an investment in the long-term viability of a city," Denari said.
Bruce Bryant, president and creative director of Promotus Advertising, said the strategy is sound, but he questioned the execution. "Some of the images are not of great technical quality," he said.
Others wonder how effective the campaign really is.
"I'm not sure how billboards of broken, rusted pipes builds public confidence and trust in the company and makes consumers feel good about how their current dollars are being spent," said Kerwin Olson, executive director of Citizen Action Coalition of Indiana, a grass-roots utility watchdog.
Citizens, for its part, said it inherited the dilapidated system from the city, and was not responsible for its decades of neglect.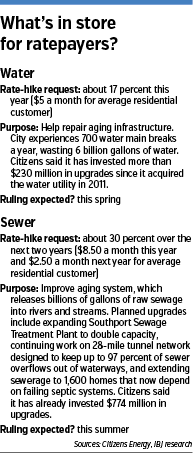 'Big PR'
At least one critic wonders why Citizens is advertising at all.
"Citizens Water is very strategic and savvy in producing [public relations] campaigns prior to IURC decisions on rate cases," said Clarke Kahlo, a local conservation advocate. "One would think … that the merits of its request, presumably carefully evaluated by the IURC and the Utility Consumer Counselor, should be demonstrable without the need for big PR to help persuade. Yet Citizens spends inordinate amounts, in my opinion, on burnishing its brand and image-building."
That difference between image-building and educating consumers is important. Under Indiana law, state regulators cannot allow utilities to pass along to customers the cost of "institutional or image building advertising."
But utilities can ask regulators for permission to pass along the cost of advertisements that "produce a material benefit for the ratepayers."
An example of a material benefit might be a consumer education ad on energy efficiency or water conservation, said Anthony Swinger, director of external affairs for the Indiana Utility Consumer Counselor's office.
For the moment, Swinger said, that is a moot point, because costs for the current Citizens ad campaign are not included in either of the pending rate cases.
"If the utility attempted to recover those expenses within a future rate request, though, then we would review them very closely," he said.
In the video, Harrison reminds viewers that the company is under the gun to fix the leaky sewer system. Under a federal consent decree, the sewer system must be reconfigured by 2025 to deal with storm-water overflow that can cause raw sewage to burst out into local streams.
In response, Citizens is boring a deep, 28-mile tunnel under the city to capture storm water until it can be pumped to treatment stations. It is also expanding the Southport Sewage Treatment Plant to double capacity.
"Fixing the systems won't be cheap," Harrison, Citizens' CEO, said on the video. "But it can't wait."
For now, Citizens will have to wait until state regulators approve the rate increase before it can start collecting more money.
And then, depending on how much customers grumble, Citizens will see how effective its ad campaign has been.•
Please enable JavaScript to view this content.