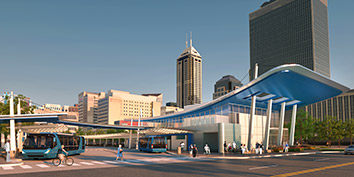 The long-awaited downtown transit center situated across East Washington Street from the City-County Building will be named after the late U.S. Rep. Julia Carson, the Democrat who represented much of Marion County from 1997 until her death in 2007.
Indianapolis City-County Councilors voted Monday night to approve a resolution naming the terminal the Julia M. Carson Transit Center.
Carson was instrumental in securing funding for an Indianapolis public transportation passenger facility, according to the resolution. A federal grant is covering $13.5 million of the cost, with the city picking up the rest of the $26.5 million tab.
The facility is the centerpiece of IndyGo's plan to boost ridership by rearranging its service map to favor more frequent trips on the most popular routes. The 14,000-square-foot bus terminal with 19 berths will be enclosed with glass and have Wi-Fi access.
Construction of the facility was expected to be complete in November 2015, but it was pushed back to this summer when excavators found remnants of previous buildings on the site.
 
Please enable JavaScript to view this content.