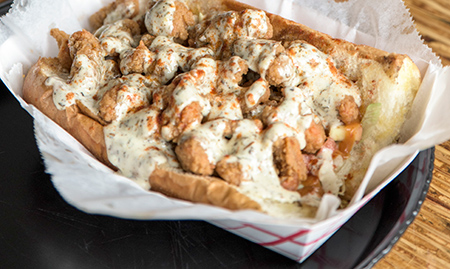 Thanks to the expansion of the Yats empire, jambalaya and gumbo have become nearly as ubiquitous in central Indiana as tacos and burritos—which is why Cajun newcomers in the market can't rely on novelty anymore.
SotSot (2405 N. College Ave., 602-5869) isn't exactly new. While the modest but comfortable brick-and-mortar spot is just a few weeks old, the now-retired food truck has been around a while. That could be why our visit demonstrated experience and care, with nary a rookie restaurant mistake.
It also showed a food-truck-like limit to its offerings. While the restaurant's name is short for Some of This, Some of That, there aren't many surprises on the menu. Here, the choices are a few entrees and combos of entrees, PoBoys, and a quartet of sandwiches. Drinks are canned (which I'm actually starting to appreciate because I don't really need those free refills).
A cup of Chicken & Sausage Gumbo (a notch high at $5, $10 for a bowl) featured a few giant chunks of poultry and meat in a well-flavored broth. And we were surprised by the fried Boudin Balls ($7 with fries), expecting something with more of a hush-puppy consistency but happy to find a softer pork/rice stuffing. For the record, the fries were done perfectly, which doesn't always happen but is always appreciated.
Crawfish and Shrimp Etouffee, Jambalaya, Bourbon Chicken, and Red Beans & Rice can be ordered individually ($7-$10), but we wanted to sample so went with a three-entree Sampler ($14.50). The Bourbon Chicken was far from what you are handed on a toothpick at a mall food court. Here, the chicken was shredded and the sweet sauce didn't wear out its welcome after just a few bites. The Jambalaya didn't contain as much smoked sausage as we expected, but the flavor was good enough to make you want a second helping. The standout was the Etouffee, delicious and full of small chunks of shellfish. (I'm still questioning the math of upcharging for three small portions that add up to a single standard-size portion, but that's not unique to SotSot.) 
One of my companions was as pleased with the Sausage PoBoy ($9) as I was with the Crawfish version ($11). The crusty bread—with plenty of interior squishiness—was substantial enough to hold the innards together without being too heavy. The sausage was lighter than one might have expected and the sauce was laid on a bit thick while about of a third of the smaller, fried crawfish pieces spilled out into the basket. No problem, though. Plenty remained in the roll to make for a satisfying sandwich.
Please enable JavaScript to view this content.