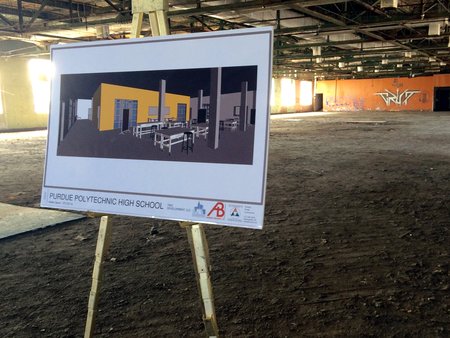 The long-abandoned P.R. Mallory factory on the east side of Indianapolis will get new life now that Purdue University has chosen to locate its new polytechnic high school at the facility.
Officials from the Indianapolis mayor's office, Purdue, and Indianapolis Public Schools announced Monday morning that the sprawling building on East Washington Street, which at its height in the 1960s employed 1,500 workers making dry cell batteries, will eventually serve students who hope to get an education focused on science, technology, engineering and math.
Applications to the school opened Monday. Space for 150 students will be available for the 2017-18 school year and a new freshman class is expected to be added each year, toward the goal of total school enrollment of 600. Students in IPS will have the first preference for spaces.
"It's a transformational investment that Purdue will be making," said Indianapolis Mayor Joe Hogsett. The building "has been abandoned for a long time. This is a disproportionally economically-disadvantaged area. We've been trying to invest and encourage as much investment as we can on the Near East side."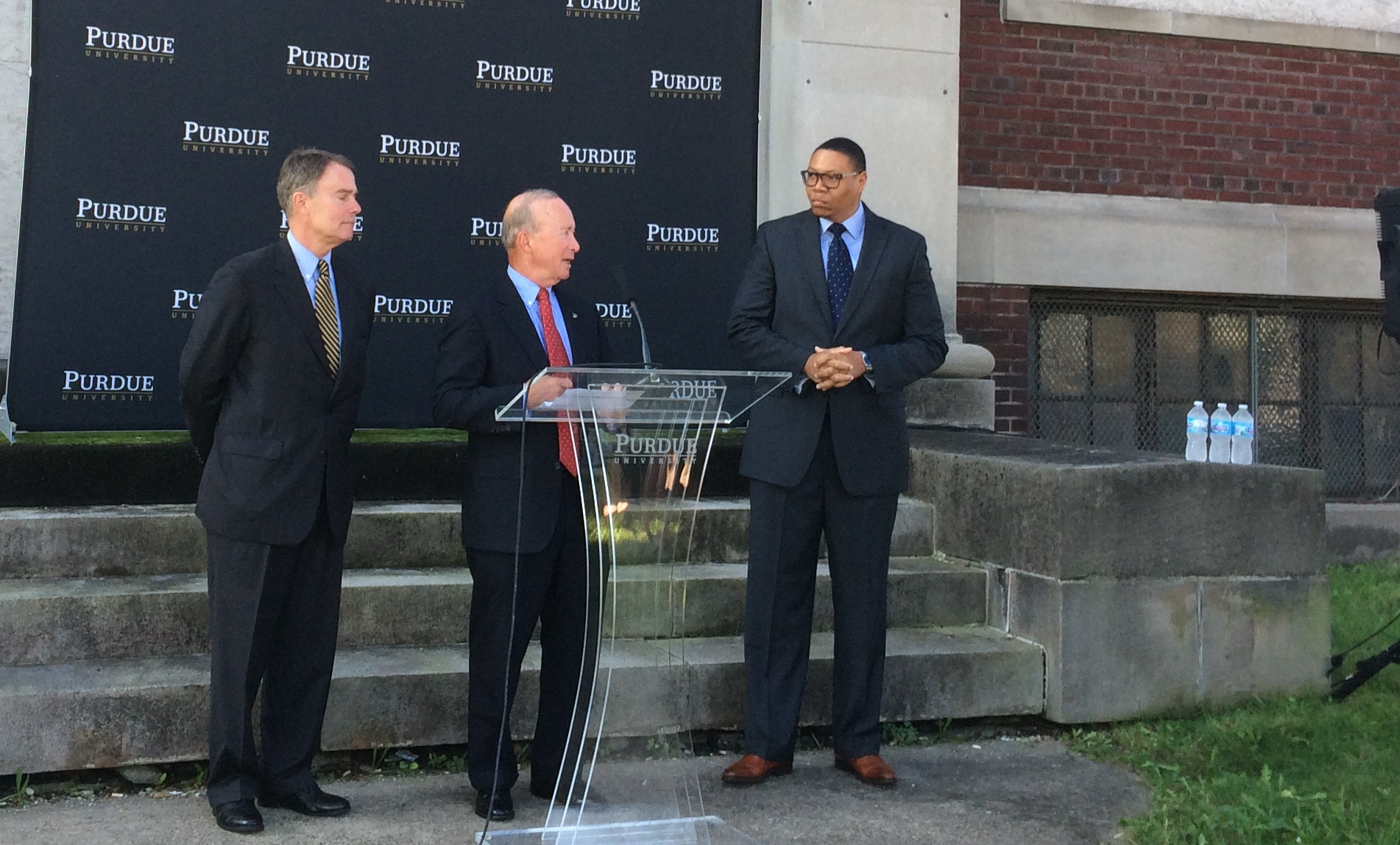 Purdue President Mitch Daniels said the university anticipates making a "seven-digit" investment in the building to renovate it and said he hopes to encourage Purdue graduates from across the city and state to help turn the abandoned, boarded-up building into an innovative space for student learning.
Daniels said the Purdue team looked at several spaces, including existing Purdue high schools, but he was "ultimately convinced" that putting in the work to renovate this one would be worth it. He said the curriculum of the high school will be patterned after Purdue's own polytechnic institute.
"It's project-based, hands on, team-based, team-taught, very multidisciplinary," Daniels said. "That requires a different kind of space than conventional classrooms and blackboards."
Hogsett touted the city's opportunity to "preserve a historic building and return it to the purpose it had along the venerable National Road, creating a new bridge between our past and [an] exciting future." The National Road—U.S. 40—is the nation's first major highway built by the federal government.
At the beginning of the 20th century, the Mallory site—at 3029 E. Washington Street—hosted baseball fields where the Indianapolis Indians played their first games. It was later the site of Wonderland, an amusement park that was destroyed by fire in 1911.
General Electric built the main building in 1921, but never moved in. Mallory bought it from GE in 1929 as a location for its tool-forging operation. Mallory, which later manufactured its trademarked Duracell battery there, expanded the complex in the 1930s and 1940s and employed 1,500 at the site by 1966.
Employment began to decline in the 1970s as Mallory sold off various business units. All that remains is CMW Inc., which bought Mallory's electrical-contact manufacturing operation in 1978. CMW, which also produces high-density metals and welding products, employs about 100 people in buildings that were formerly part of the Mallory complex. Those buildings are south of the one that will be used for the school.
"What was just a simple baseball field at one time for the newly formed Indianapolis Indians gave way to what became the P.R. Mallory" factory, Hogsett said. "At its peak in the mid-1960s, more than 1,500 Indianapolis women and men were employed within these walls, working with the cutting edge technology of their time. Over time those jobs dried up as our economy … evolved into the digital age in which we now live."
The city currently owns the building and will be doing some environmental remediation on the land, Hogsett said. It will also work with Purdue to secure a low-interest, community-development federal loan to help with financing the project.
Renovations to the building are expected to be finished before the 2018-19 school year. Students will temporarily be located at a nearby building on South Rural Street. The Englewood Community Development Corp. will also support the project.
Scott Bess, the head of school, said the city and the university are still figuring out what the ownership structure will look like, but Purdue will likely ultimately own the building. One option is an intergovernmental transfer of property, Bess said.
The Purdue Polytechnic High School aims to address what Superintendent Lewis Ferebee called a "dearth" of high-quality high school options in Indianapolis, and it also is intended to help more of those students attend universities like Purdue, which hopes to increase the number of enrollees who are first-generation college students and disproportionally-represented minorities like African American and Hispanic students.
According to Purdue, among the 48,000 Indiana high school graduates in 2014 who took the SAT, only 101 African Americans and 156 Hispanic students had SAT scores and GPAs in the range of the average Purdue freshman.
There are more than 1,100 seniors at IPS, but Daniels said just 26 were qualified and admitted to attend Purdue. He said just 12 of those showed up for classes on the first day.
"We cannot be the university we aspire to be and are determined to be if we don't do better than that in the single largest concentration of low-income and first generation students in our state," Daniels said. "We hope to open a new pathway to Purdue or to some other great launching pad for life for more students here in Indianapolis."
The school is considered a "innovation network school" with IPS, which means there will be a contractual relationship between the two. IPS will provide services such as transportation and food in return for counting the students as its own when it comes to accountability measures. The school will operate much like a charter school otherwise.
"With the expertise of Purdue's faculty and research," Ferebee said, "we have the opportunity to inspire students and unlock their limitless potential."
Please enable JavaScript to view this content.