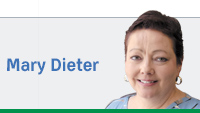 On the morning after the election, Hillary Clinton and President Obama began the age-old American tradition of peaceful transition of power, promising cooperation and wishing President-elect Donald Trump well.
Across the country, supporters of the losing side licked their wounds and vowed to rebound. A lot of them were saying, as losers have for eons, that we'd get through this.
Sorry; I'm not feeling it. Let me tell you why.
For the first time in my life, I feel devalued and diminished, a less-than-equal American. I have been told that my daughter and my sisters (blood and otherwise) and I are second-class citizens whose value lies only in physical appearance, child-bearing abilities and servitude. Voters have said it's OK for men, starting with our country's leader, to objectify and abuse us.
They also said they don't trust us to lead. With evidence to the contrary, they believed the worst about a woman who has spent her life serving others. In Indiana's 9th District, they preferred a carpetbagger who used Daddy's money to buy a congressional seat over an accomplished woman.
I have never deluded myself to think women had reached equality in America. I know my paycheck never equaled those of my male colleagues; I have felt the frustration of being overlooked while a male of lesser ability was chosen; I have heard the insults and the catcalls and the vulgarity intended to keep women in their place.
But I thought we had made progress. Now I know we have not.
I also thought that, while we had far to go, we had made progress toward the melting-pot ideal of America, toward a day when people of color and LGBTQ people would no longer be marginalized. Again, I was wrong.
Trump's message of "make America great again" was a dog whistle to white, rural and uneducated people who— yes—cling to their guns and religion and blame their troubles on anybody who doesn't look, act and believe like them. Trump gave voice to their fears but also to their bigotry. Instead of reminding them that a rising tide lifts all boats, he incited them to climb on the backs of women and minorities and flail for some solution.
His solution, he promised, while offering no details, "is going to be great. Believe me." And they did. Enabled by an antiquated electoral college, the incurious snake-oil salesman won. So did sexism. Racism. Isolationism. Anti-intellectualism and hypocritical religiosity. Vulgarity and meanness and bullying. Authoritarianism.
I despair for our country; I worry that it is headed toward a new civil war and I am not convinced it can survive. I fear a future of outlawed contraception, coat-hanger abortions and emboldened sexual predation. I fear a return to brazen bigotry, segregation and violence against the "other." I fear that America will no longer provide safe haven for those escaping persecution and violence in their homelands.
I fear that health care will again be a privilege of the rich, that people with pre-existing conditions and young adults and those stricken with grievous diseases will just be out of luck. I fear that future generations will inhale filthy air and that coastlines will be inundated.
I really thought we were better than this. My experience as a reporter covering politics warned me that Trump could win. But in my heart, I felt surely not; surely common sense and decency would prevail.
Alas, the heart faltered; I was wrong about that, too.•
__________
Dieter, a writer and an editor, is the former Statehouse bureau chief for The Courier-Journal and press secretary for Gov. Frank O'Bannon. Send comments on this column to ibjedit@ibj.com.
Please enable JavaScript to view this content.